+++ scroll down for English recipe +++ Die Freundin von meinem Onkel hat mir letztens erzählt, dass sie keinen Streuselkuchen mag. Da ist mir aufgefallen, dass das vorher noch nie irgendjemand zu mir gesagt hat! Denn wer mag bitte keinen Streuselkuchen? Ich liebe ihn sehr, vor allem in der Kombination mit Früchten und Pudding. Und da ich sehr viele Äpfel zu Hause hatte, habe ich kurzerhand diesen Apfel-Streusel-Kuchen kreiert. Er besteht aus einem einfachen Quark-Öl-Teig, darauf kommt selbst gemachter Pudding, Äpfel und ganz viele Streusel. Denn wenn es nach mir geht, gibt es nichts Besseres als eine schöne dicke Streuseldecke auf einem Kuchen! Und das Beste: Die Streusel sind mit Haferflocken vermischt, das macht sie noch ein bisschen knuspriger.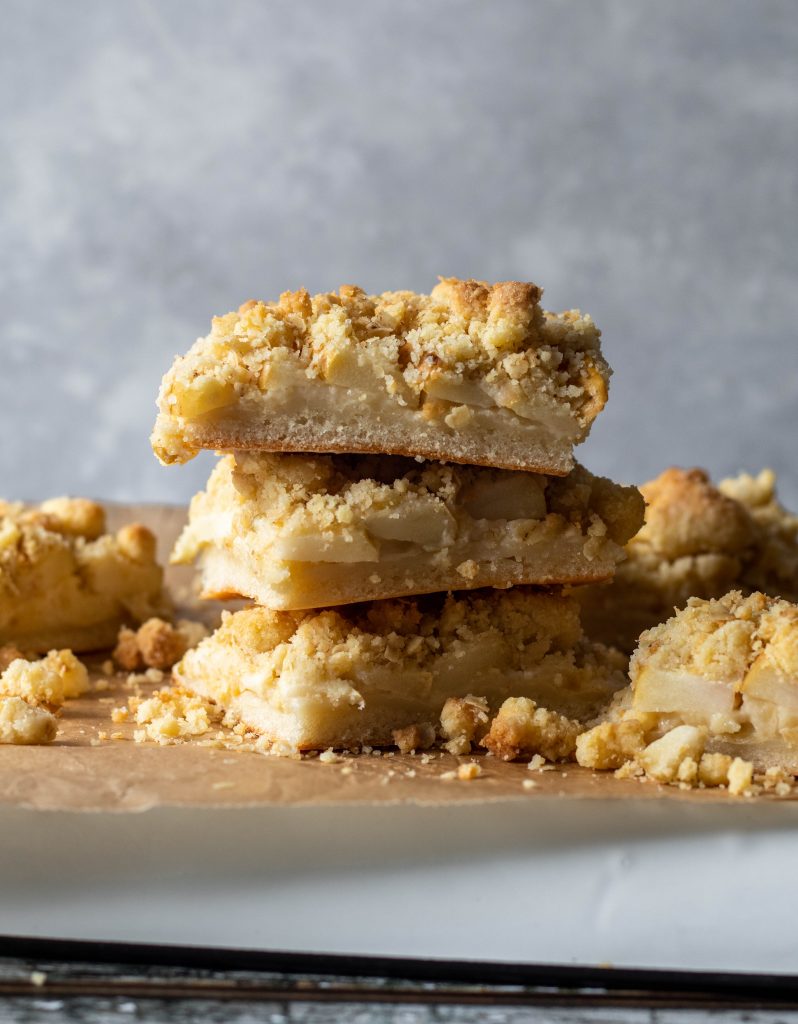 Quark-Öl-Teig ist einer meiner Favoriten für Obstkuchen vom Blech. Meine Oma hat ihn immer schon gemacht und er ist einfach wesentlich einfacher zuzubereiten als Hefeteig. Und ich behaupte einfach mal, dass er auch etwas gesünder ist – immerhin ist keine Butter darin und auch der Zuckeranteil ist recht gering. Aber verlasst euch nicht auf meine Pseudo-Experten-Einschätzung 🙂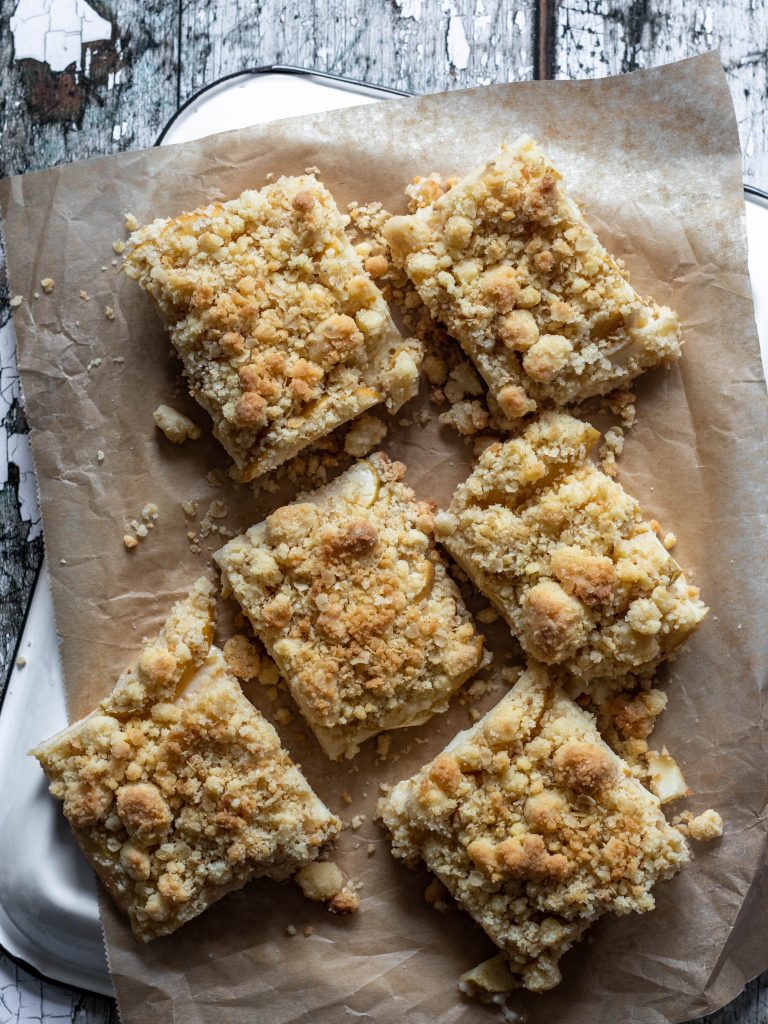 Den Pudding für diesen Kuchen habe ich selbst gemacht, da ich ungerne das fertige Puddingpulver verwende. Es dauert nicht lange, aber wenn es euch zu umständlich ist oder ihr fertiges Pulver zu Hause habt, könnt ihr das natürlich auch gerne nehmen. Die Menge entspricht ungefähr einem Päckchen. Ich habe den Pudding mit Mandelmilch zubereitet, da ich finde, dass diese ihm ein süßes, fast nach Vanille schmeckendes Aroma gibt. Ihr könnt natürlich auch Tiermilch oder jede andere Pflanzenmilch nehmen.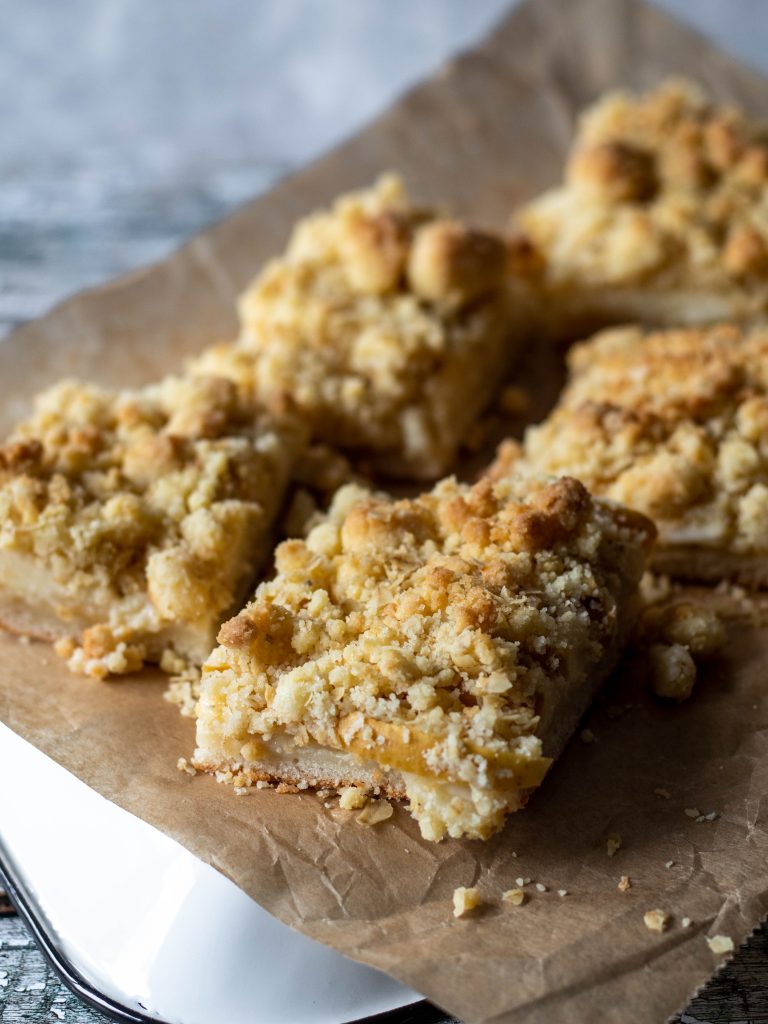 Die Menge an Streuseln ist ja offensichtlich nicht für jeden was 🙂 Wenn ihr weniger davon mögt, könnt ihr einfach zwei Drittel der im Rezept angegebenen Mengen verarbeiten. Meiner Meinung nach kann es nie genug Streusel auf einem Kuchen geben, aber das ist ja jedem selbst überlassen 🙂
Apfel-Streusel-Kuchen mit Vanillepudding
Zubereitungszeit
60
Minuten
Zutaten
Für den Quark-Öl-Teig

150g Quark

6 EL Milch

6 EL Öl

75g Zucker

1 EL Vanillezucker

1 Prise Salz

300g Mehl

2 TL Backpulver

Für den Pudding

500ml Mandelmilch

40g Speisestärke

50g Zucker

1 Eigelb

2 EL Vanilleextrakt

Für die Streusel

300g Mehl

180g Butter

150g Zucker

50g Haferflocken

4 Äpfel
Zubereitung
Quark, Milch, Öl, Zucker, Vanillezucker und Salz verrühren.
Mehl und Backpulver vermischen, zum Teig geben und gut verkneten.
Den Teig etwa auf die Größe eines Backblechs ausrollen. Das Blech mit Backpapier auslegen, ausgerollten Teig daraufgeben.
Für den Pudding sechs Esslöffel Milch von den 500 Millilitern abnehmen und mit Speisestärke und Zucker glatt rühren. Eigelb unterrühren.
Restliche Milch mit dem Vanilleextrakt aufkochen. Stärkemischung unterrühren, noch einmal aufkochen lassen, dabei immer rühren! Vom Herd nehmen und abkühlen lassen. Wenn ein paar kleine Klümpchen entstehen, ist das nicht schlimm, durch das Backen gibt sich das nachher wieder.
Die Äpfel waschen und entkernen, dann vierteln und in feine Scheiben schneiden.
Den ausgekühlten Pudding auf dem Teig verstreichen. Die Äpfel darauf dicht aneinander anrichten.
Den Backofen auf 190°C vorheizen.
Für die Streusel die Butter schmelzen und mit Mehl, Zucker und Haferflocken verkneten. Nicht zu lange kneten, die Streusel müssen nur gerade so zusammenkommen. Die Streusel auf den Äpfeln verteilen, bis diese am Ende vollständig bedeckt sind.
Das Blech in den Ofen schieben und den Kuchen 25 Minuten backen. Herausnehmen, gut auskühlen lassen und dann zum Servieren in kleine Quadrat schneiden.
English recipe
Apple streusel cake with pudding
+++ Makes 1 baking tray +++ prep time 35 minutes +++ baking time 25 minutes
Drucken
INGREDIENTS
To make the dough

150g quark

6 tbsp milk

6 tbsp oil

75g sugar

1 tbsp vanilla sugar

1 pinch of salt

300g flour

2 tsp baking powder

To make the pudding

500ml almond milk

40g cornflour

50g sugar

1 egg yolk

2 tbsp vanilla extract

To make the streusel

300g flour

180g butter

150g sugar

50g oatmeal

4 apples
Drucken
METHOD
Mix the quark, milk, oil, sugar, vanilla sugar and salt.
Mix the flour and baking powder, add to the dough and knead well.
Roll out the dough to about the size of a baking tray. Line a baking tray with baking paper, place the rolled out dough on it.
For the pudding, take six tablespoons of milk from the 500 millilitres and stir with cornflour and sugar until smooth. Stir in the egg yolk.
Bring the rest of the milk to the boil with the vanilla extract. Stir in the starch mixture, bring to the boil again, stirring all the time! Remove from the heat and leave to cool. If there are a few small lumps, don't worry, they will disappear during baking.
Wash and core the apples, then quarter them and cut them into thin slices.
Spread the cooled pudding on the rolled out dough. Arrange the apples close together on top.
Preheat the oven to 190°C.
For the crumble, melt the butter and knead with the flour, sugar and oat flakes. Do not knead too long, the crumble should only just come together. Spread the crumble over the apples until they are completely covered at the end.
Das Blech in den Ofen schieben und den Kuchen 25 Minuten backen. Herausnehmen, gut auskühlen lassen und dann zum Servieren in kleine Quadrat schneiden.