Frohes neues Jahr! Ich weiß nicht, wie es euch geht, aber nach der großen Esserei an Weihnachten und Silvester ist es mir jetzt eigentlich nach Joghurt und Salaten zu Mute. Aber andererseits habe ich zu Weihnachten ein Waffeleisen geschenkt bekommen und das will natürlich ausprobiert werden 🙂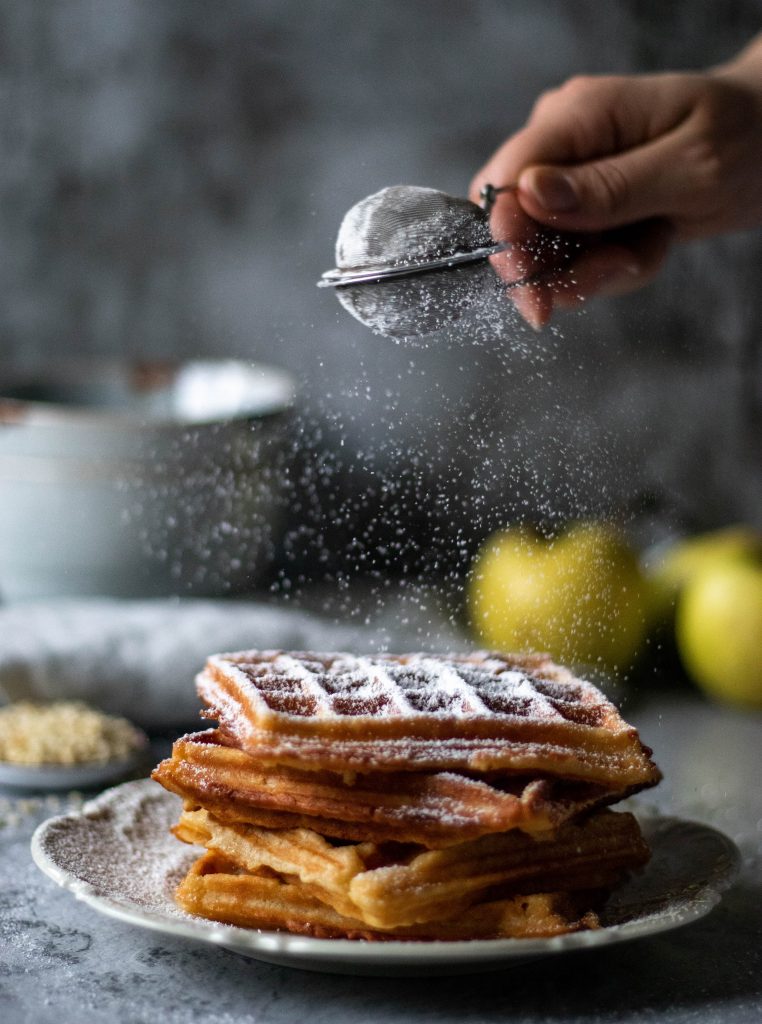 Für die Waffeln habe ich kurzerhand Zutaten zusammengesucht, die ich noch in der Küche hatte, und herausgekommen sind diese Apfel-Mandel-Waffeln. Sie sind wunderbar weich und fluffig, haben aber durch die gehackten Mandeln auch ein bisschen Crunch drin. Den Apfel habe ich auf der Küchenreibe ganz fein gerieben, dadurch entsteht quasi eine Art Mus. Wenn ihr also keinen Apfel, dafür aber Apfelmus zuhause habt, könnt ihr das auch nehmen – ich würde zwei Esslöffel empfehlen.
Das Rezept ist nur für vier Waffeln, da man, wenn man alleine oder zu zweit ist, ja nicht unbedingt so viele braucht, wenn man sich einfach mal etwas zum Frühstück gönnen möchte. So viele Waffelrezepte sind für 15 bis 20 Waffeln! Wenn ihr eine große Familie habt oder alle eure Freunde glücklich machen wollt, könnt ihr das Rezept einfach hochrechnen.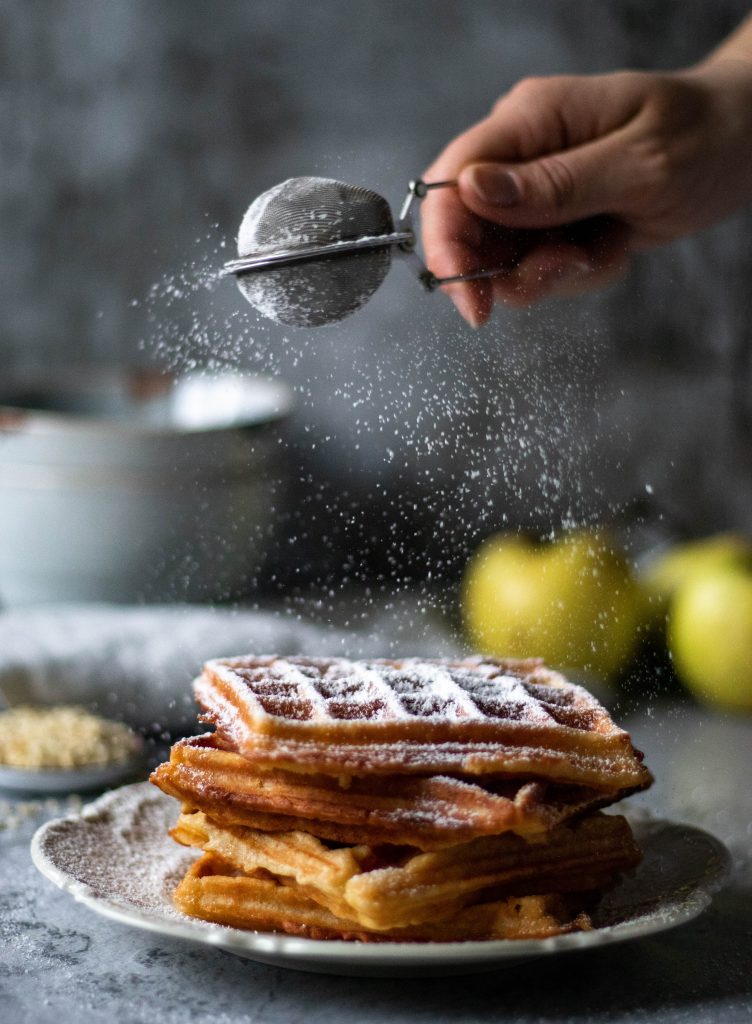 Die Waffeln schmecken pur oder einfach mit Puderzucker bestreut sehr gut, aber wenn ihr möchtet könnt ihr natürlich auch Apfelmus, Apfelschnitze oder Joghurt dazu essen – was immer euch einfällt und schmeckt 🙂
Apfel-Mandel-Waffeln
Zubereitungszeit
15
Minuten
Zutaten
70g weiche Butter

40g Zucker

1,5 TL Vanillezucker

1 Prise Salz

2 Eier

1 Apfel

120g Mehl

1 gestrichener TL Backpulver

100ml Milch

20g gehackte Mandeln

Puderzucker zum Garnieren
Zubereitung
Butter, Zucker, Vanillezucker und Salz vermengen. Eier einzeln unterrühren.
Apfel entkernen und in Viertel schneiden, dann auf der Küchenreibe klein reiben. Unter die Butter-Masse rühren.
Mehl und Backpulver vermischen, dann abwechselnd mit der Milch zum Teig geben. Als letztes die gehackten Mandeln unterheben.
Waffeleisen vorheizen und einölen. Den Teig darauf geben, sodass es gut bedeckt ist, der Teig jedoch nicht überläuft. Die Waffeln etwa 5 Minuten backen lassen – Achtung, die Zeit kann je nach Waffeleisen etwas variieren.
Die Waffeln vorsichtig aus dem Eisen lösen und auf einen Teller legen. Mit Puderzucker garnieren.
English recipe
Apple almond waffles
+++ Makes 4 waffles +++ prep time 15 minutes +++ baking time 5 minutes
Drucken
ingredients
70g soft butter

40g sugar

1,5 tsp vanilla sugar

1 pinch of salt

2 eggs

1 apple

120g flour

1 tsp baking powder

100ml milk

20g chopped almonds

Icing sugar to dust on top
Drucken
METHOD
Mix together the butter, sugar, vanilla sugar and salt. Stir in the eggs one at a time.
Core the apple and cut into quarters, then grate finely on a kitchen grater. Stir into the butter mixture.
Mix the flour and baking powder, then add to the dough alternately with the milk. Finally, fold in the chopped almonds.
Preheat the waffle iron and oil it. Pour the batter onto it so that it is well covered but the batter does not overflow. Bake the waffles for about 5 minutes – note that the time may vary slightly depending on the waffle iron.
Carefully remove the waffles from the iron and place on a plate. Garnish with icing sugar.