Jetzt poste ich bereits seit mehreren Wochen jeden Montag ein neues Plätzchen-Rezept, aber meine Lieblingsplätzchen habe ich euch bis jetzt vorenthalten. Aber diesen Montag sind sie endlich dran: Bethmännchen! Die Weihnachtsspezialität meiner Heimatstadt Frankfurt ist einfach unglaublich lecker – es sei denn, man mag kein Marzipan. Dann sollte man lieber die Finger davon lassen 🙂 Aber für Marzipanliebhaber sind sie einfach ideal, denn in erster Linie bestehen sie aus Marzipan, Puderzucker und Mandeln.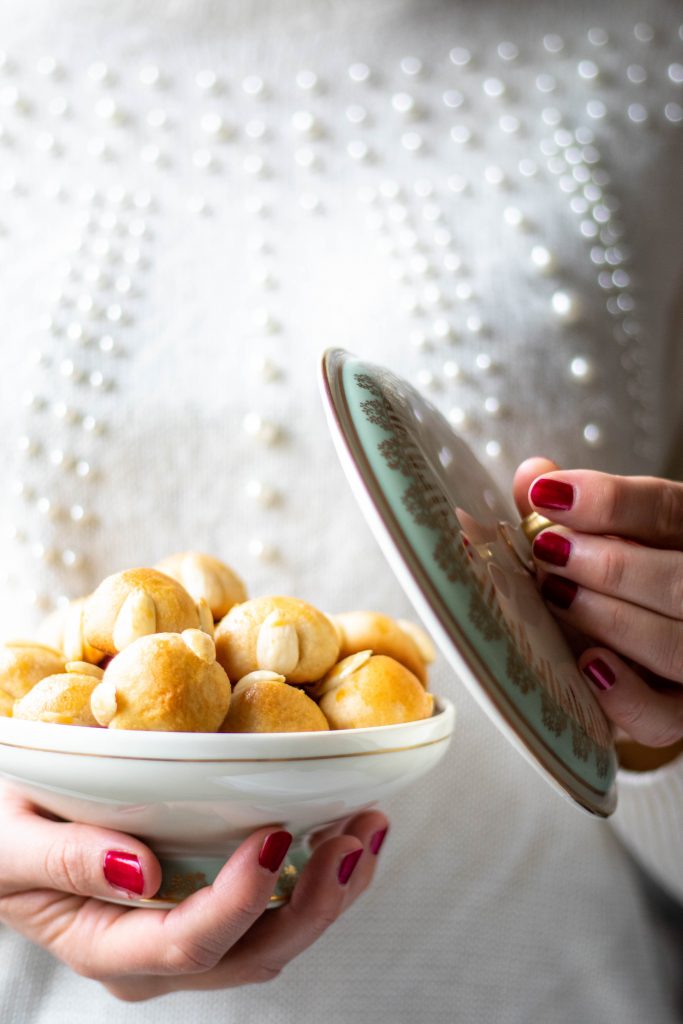 Ihren Namen haben die Bethmännchen übrigens von der Frankfurter Bankiersfamilie Bethmann. Die war im 19. Jahrhundert so reich, dass sie einen hauseigenen französischen Pâtissier eingestellt haben – und dieser entwickelte dann das leckere Marzipangebäck für seinen Arbeitgeber. Der Legende nach stehen die drei Mandeln, mit denen jedes einzelne Plätzchen verziert ist, übrigens für die drei Söhne von Simon Moritz von Bethmann, der das Gebäck in Auftrag gab.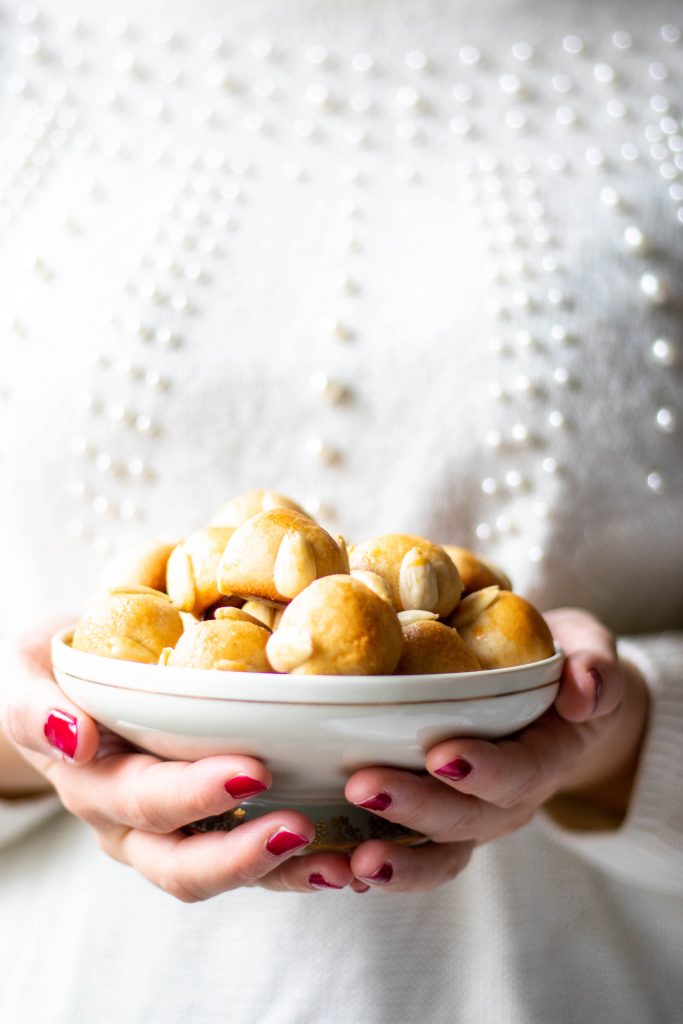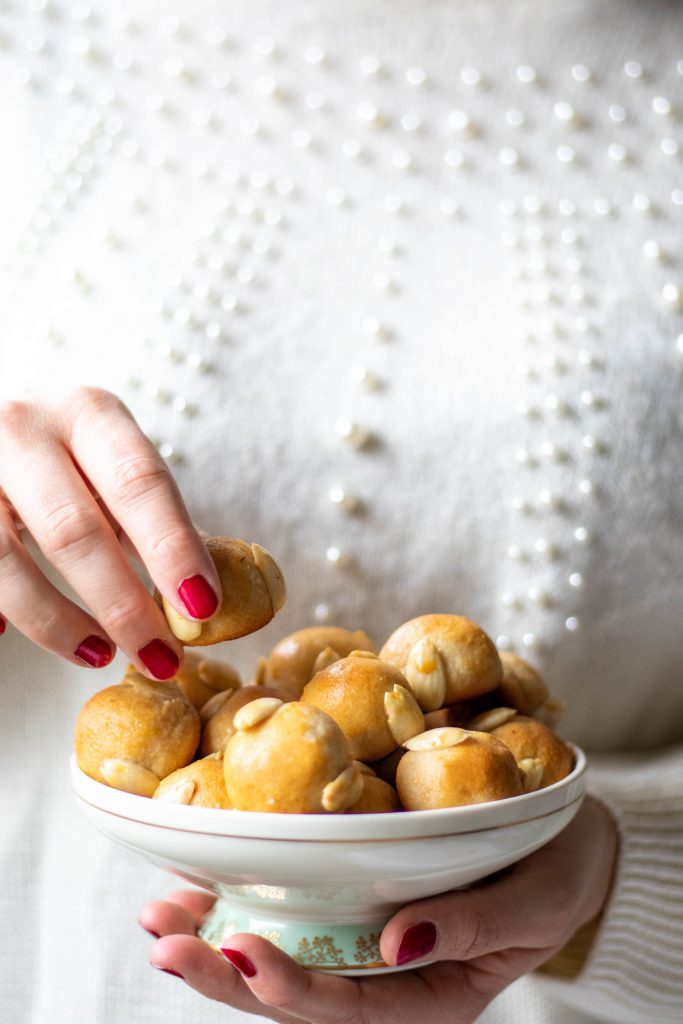 Auch wenn sie von einem Konditor erfunden wurden, sind sie tatsächlich gar nicht schwer zuzubereiten. Das einzige, was etwas Zeit in Anspruch nimmt und ein bisschen tricky ist, ist das Teilen der Mandeln. Danach geht alles schnell und easy.
Bethmännchen
Zubereitungszeit
30
Minuten
Zutaten
400g Rohmarzipan

100g Puderzucker

20g Mehl

2 Eiweiß

100g gemahlene Mandeln

100g Mandeln zum Verzieren

1 Eigelb

1 EL Wasser
Zubereitung
Zuerst die Mandeln schälen: Dazu 2 bis 3 Minuten in kochendes Wasser geben, danach kalt abspülen. Jetzt kann die Haut einfach abgezogen werden. Dann die Mandeln längs halbieren.
Den Backofen auf 150 Grad vorheizen.
Das Rohmarzipan mit Puderzucker, Mehl und Eiweiß mit den gemahlenen Mandeln verkneten.
Die Masse zu kleinen Kugeln formen und auf ein mit Backpapier ausgelegtes Backblech setzen.
Jeweils drei Mandelhälften auf die Kugeln drücken.
Eigelb und Wasser verrühren und Bethmännchen damit bestreichen.
Im heißen Backofen etwa 20 Minuten (wenn die Plätzchen sehr klein sind, nur 15 Minuten) backen.
English recipe
Bethmännchen
+++ Makes 40 cookies +++ Prep time 30 minutes +++ Baking time 20 minutes
Drucken
INGREDIENTS
400g raw marzipan

100g icing sugar

20g flour

2 egg whites

100g ground almonds

100g almonds to decorate

1 egg yolk

1 tbsp water
Drucken
METHOD
First peel the almonds: put them in boiling water for 2 to 3 minutes, then rinse with cold water. Now the skin can be easily removed. Then halve the almonds lengthwise.
Preheat the oven to 150°C.
Knead the raw marzipan with icing sugar, flour and egg white and the ground almonds.
Form the mixture into small balls and place on a baking tray lined with baking paper.
Decorate each ball with three almond halves.
Mix the egg yolk and water and brush the Bethmännchen with it.
Bake in a hot oven for about 20 minutes (if the biscuits are very small, only 15 minutes).