Zimtsterne sind ja ein echter Klassiker unter den Weihnachtsplätzchen, aber tatsächlich wurden sie bei uns zu Hause selten gebacken. Das liegt vielleicht auch daran, dass meine Mutter vier verschiedene Rezepte mit sehr unterschiedlichen Mengenangaben hat, und wir uns nie entscheiden konnten, welches davon wohl am besten schmeckt! Dieses Jahr habe ich mir die Zeit genommen und alle vier Rezepte getestet. Dabei habe ich auch einmal drei der Rezepte gemischt, was mit einem sehr seltsamen Ergebnis geendet ist… geschmeckt hat es, aber die Masse sah einfach komisch aus 😀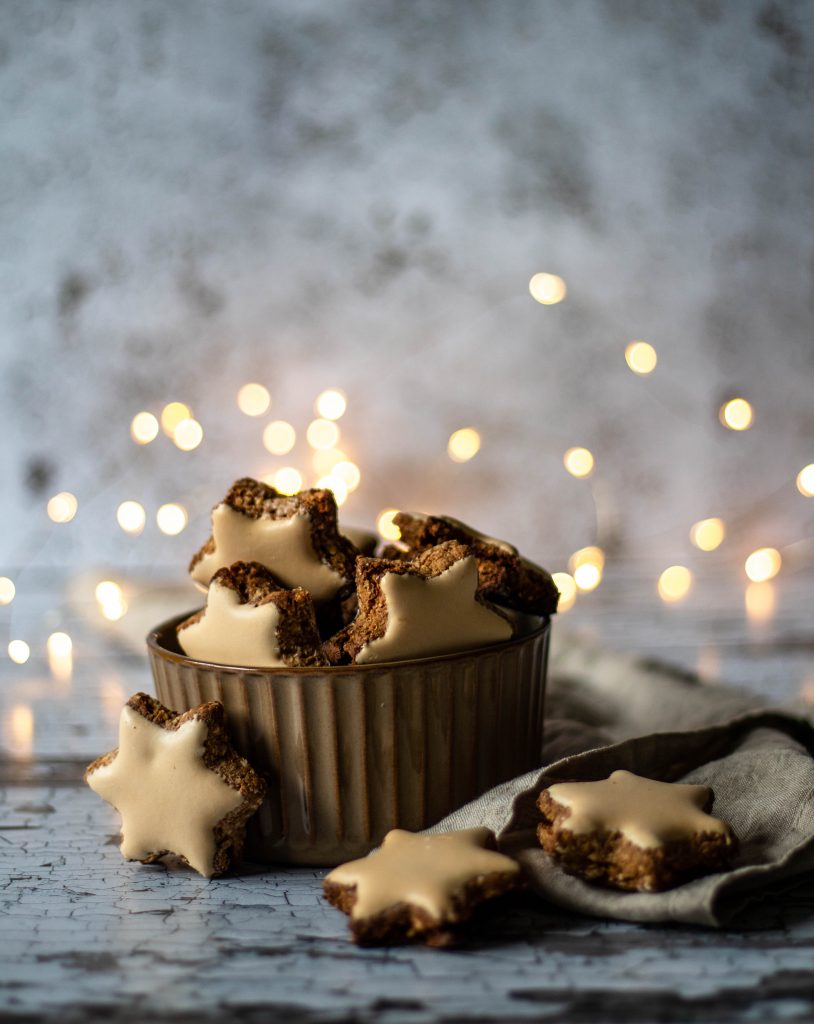 Am Ende habe ich ein Rezept ausgearbeitet, das nicht nur schnell zusammengerührt ist, sondern auch gut schmeckt. Das einzige, was etwas tricky ist und Zeit dauert, ist die Verzierung der Sterne mit der Glasur… aber wenn man sich ein bisschen Weihnachtsmusik dazu anmacht, geht die Zeit ganz schnell rum 🙂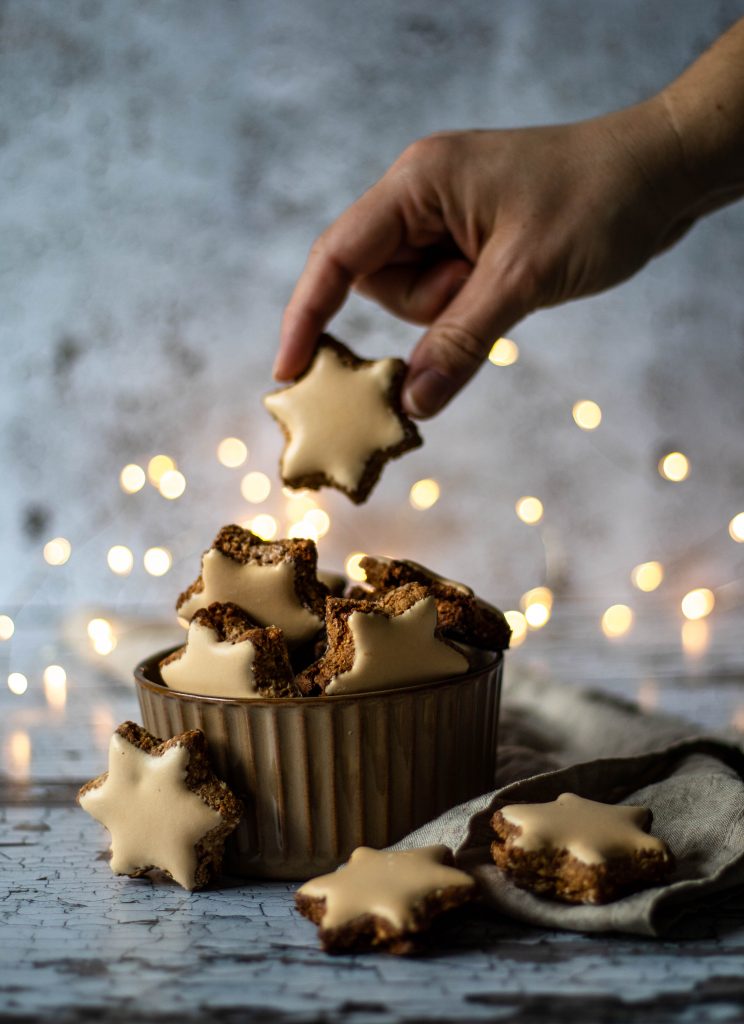 Bei diesen Plätzchen funktioniert übrigens der alte Trick mit der Apfelhälfte sehr gut: Ich Idiot habe die Zimtsterne abends gebacken und bin dann, faul wie ich bin, ins Bett gegangen, ohne sie wegzupacken. Stattdessen habe ich sie über Nacht auf dem Kuchengitter auskühlen lassen – als Ergebnis waren sie am nächsten Morgen ziemlich hart. Falls euch das auch passiert, gebt die Plätzchen in eine Keksdose und legt ein Stück Apfel dazu, dadurch werden sie tatsächlich wieder weicher!
Zimtsterne
Zubereitungszeit
30
Minuten
Zutaten
3 Eiweiß

250g Puderzucker

300g geriebene Mandeln (mit Schale)

1 TL Zimt

2 TL Rum

1 Päckchen Vanillezucker (8g)
Zubereitung
Eiweiß steif schlagen, Puderzucker sieben und dazugeben, weiterschlagen.
80 g von der Masse wegnehmen, zu dem Rest Mandeln, Zimt, Rum und Vanillezucker geben und vorsichtig verkneten. Am Ende sollte eine Art Teigkugel entstehen.
Die Arbeitsfläche mit Puderzucker bestreuen und den Teig darauf ausrollen. Man braucht einiges an Puderzucker, sonst klebt der Teig an der Arbeitsfläche und am Nudelholz. Den Teig etwa 0,5 Zentimeter dick ausrollen. Sterne ausstechen und auf ein mit Backpapier ausgelegtes Backblech legen.
Mit dem zu Beginn beiseite gestellten Guss bestreichen.
Im auf 130 Grad vorgeheizten Backofen 30 Minuten backen.
English recipe
Cinnamon stars
Makes about 30 cookies +++ Prep time 30 minutes +++ Baking time 30 minutes
Drucken
INGREDIENTS
3 egg whites

250g icing sugar

300g ground almonds (with skin)

1 tsp ground cinnamon

2 tsp rum

8g vanilla sugar
Drucken
METHOD
Beat the egg whites until stiff, sift in the icing sugar and continue beating.
Put 80 g of the mixture aside, add almonds, cinnamon, rum and vanilla sugar to the rest of the mixture and knead carefully. You should end up with a kind of ball of dough.
Sprinkle the work surface with icing sugar and roll out the dough. You need a lot of icing sugar, otherwise the dough will stick to the work surface and the rolling pin. Roll out the dough to a thickness of about 0.5 centimetres. Cut out the stars and place them on a baking tray lined with baking paper.
Brush with the icing set aside at the beginning.
Bake in an oven preheated to 130 degrees Celsius for 30 minutes.