Das Plätzchenbacken geht in die zweite Runde! Diese Woche habe ich ein sehr einfaches und leckeres Rezept für euch: Engelsaugen, auch bekannt als Husarenkrapfen. Runde Haselnussplätzchen gefüllt mit Preiselbeermarmelade – alternativ könnt ihr natürlich auch jede andere Marmelade verwenden. Ich persönlich fand die rote Farbe einfach besonders schön, aber sie sehen beispielsweise auch mit gelbgoldener Marmelade (Pfirsisch, Orange etc.) sehr hübsch aus.
Die Plätzchen lassen sich übrigens super einfach zu bereiten und brauchen auch nicht lange (in der unten angegebenen Zubereitungszeit sind 30 Minuten Kühlzeit schon mit eingerechnet). Ich habe die Engelsaugen an einem Abend gebacken und sie dann am nächsten Tag erst gefüllt – sie halten sich sehr gut und trocknen nicht aus.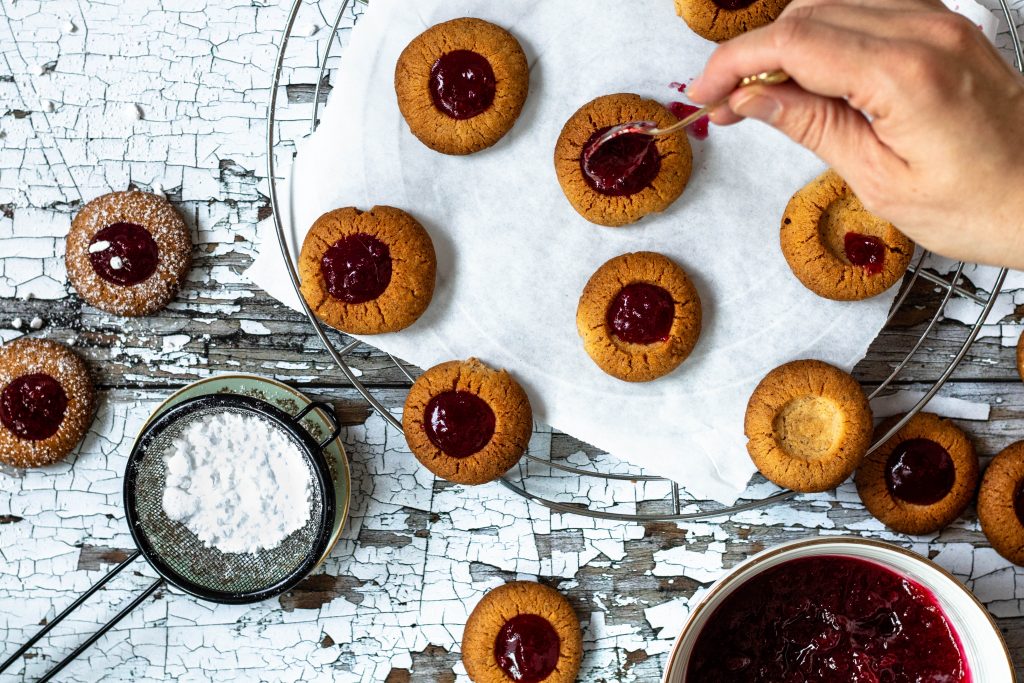 Das Rezept stammt aus einer Zeitschrift aus dem Jahr 1992 (und ist somit genauso alt wie mein Bruder), die schon lange nicht mehr publiziert wird. Meine Mutter hat es ausgeschnitten und in ihren Sammelordner für Rezepte geheftet – meine Lieblingsquelle für gute Backrezepte! 🙂
Engelsaugen
Zubereitungszeit
50
Minuten
Zutaten
300g Mehl

200g kalte Butter

100g Zucker

2 Eigelb

1 Prise Salz

80g gemahlene Haselnüsse

40g Puderzucker

100g Preiselbeermarmelade (oder andere Marmelade)
Zubereitung
Mehl in eine große Schüssel geben und in die Mitte eine Mulde drücken. Butter in Flöckchen auf dem Rand um die Mulde verteilen, Zucker, Eigelbe, Salz und Haselnüsse in die Mulde geben. Schnell zu einem glatten Teig verkneten (geht sowohl mit den Händen als auch mit der Küchenmaschine).
Den Teig auf der bemehlten Arbeitsfläche zu etwa 2 cm dicken Strängen rollen. 30 Minuten kühl stellen.
Jeden Strang in etwa zwei 2 cm dicke Scheiben schneiden. Jede Scheibe zu einer Kugel formen und mit dem Stil eines dünnen Kochlöffels eine Vertiefung in die Mitte drücken.
Die Plätzchen auf mit Backpapier ausgelegte Backbleche legen. Auf der zweiten Einschubleiste von unten in den auf 200 Grad vorgeheizten Backofen schieben und etwa 20 Minuten backen. Herausnehmen, auskühlen lassen.
Die abgekühlten Plätzchen mit Puderzucker bestreuen. Die Marmelade erwärmen, sodass sie flüssiger wird, dann vorsichtig in die Vertiefungen der Plätzchen geben.
English recipe
Thumbprint cookies
Makes 40 cookies +++ Prep time 50 minutes +++ Baking time 20 minutes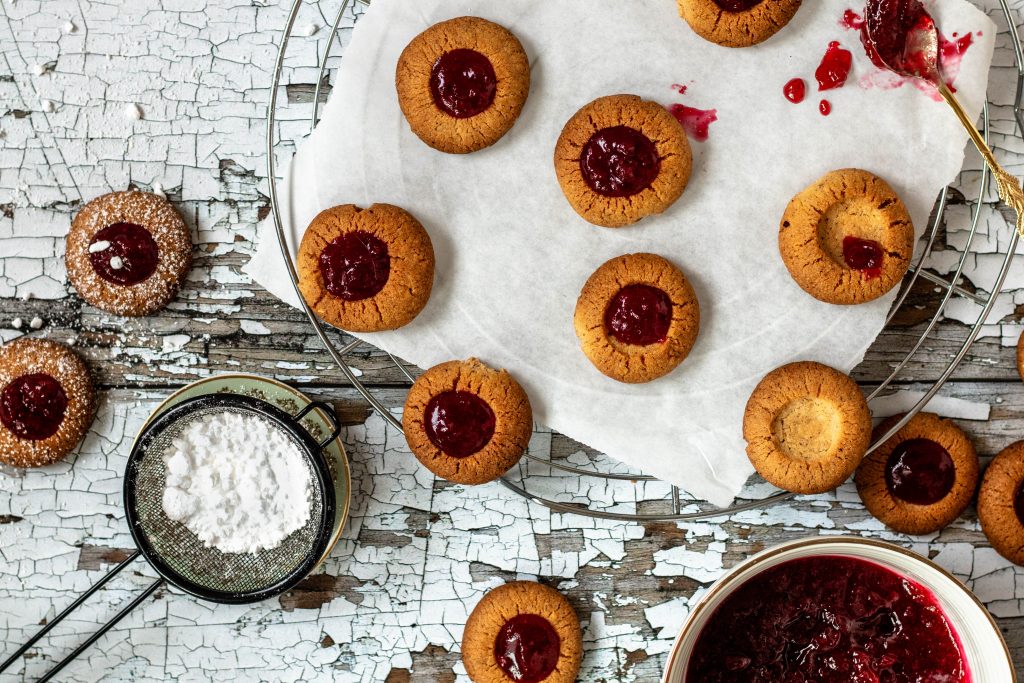 Drucken
INGREDIENTS
300g flour

200g cold butter

100g sugar

2 egg yolks

A pinch of salt

80g ground hazelnuts

40g powdered sugar

100g cranberry jam
Drucken
mETHOD
Put the flour in a large bowl and make a depression in the middle. Spread butter in flakes on the rim around the hollow. Add sugar, egg yolks, salt and hazelnuts to the hollow. Knead quickly to a smooth dough (can be done both with your hands and with a food processor).
Roll the dough on the floured work surface into strands about 2 cm thick. Chill for 30 minutes.
Cut each strand into about two 2 cm thick slices. Shape each slice into a ball and press a depression in the middle with the end of a thin cooking spoon.
Place the biscuits on baking trays lined with baking paper. Bake them for about 20 minutes at 200 degrees celsius. Take out and let cool down.
Sprinkle the cooled biscuits with icing sugar. Heat the jam so that it becomes more liquid, then carefully pour it into the hollows of the biscuits.