Die Adventszeit ist meine liebste Zeit im Jahr. Ich mag die Gemütlichkeit, die Kerzen, die Musik… und natürlich die Plätzchen. Weihnachtsplätzchen zu backen ist meine liebste Beschäftigung im Dezember, und da in diesem Jahr die Weihnachtsstimmung dank Kontaktverbot und gecancelten Weihnachtsmärkten vielleicht nicht ganz so schnell aufkommen will, habe ich beschlossen, einfach jetzt schon mit dem Backen anzufangen. Ich habe die alten Rezeptbücher von meiner Mutter gewälzt, die sich aus handgeschriebenen Rezepten von meiner Oma, aus Zeitschriften rausgerissenen Anleitungen und auf der Schreibmaschine geschriebenen Geheimtipps zusammensetzen. Am liebsten sind mir die Rezepte, bei denen in der krakeligen Handschrift meiner Oma "sehr gut" am Rand steht.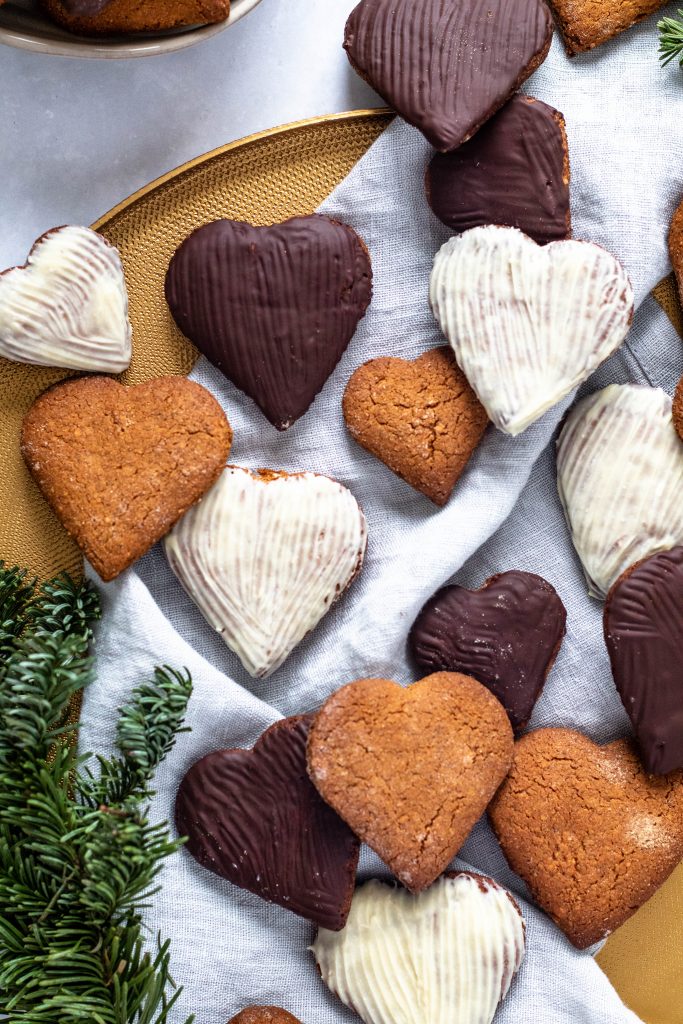 Dieses Rezept ist ein genau solches, das von meiner Oma mit dem Prädikat "sehr gut" versehen wurde. Ein einfaches Rezept für extrem leckere Lebkuchenherzen. Ihr könnt sie mit Schokolade oder Kuvertüre bestreichen oder einfach so essen – schmeckt alles lecker. Und sie lassen sich wunderbar aufbewahren, damit man auch noch etwas davon hat, wenn es dann wirklich mal Dezember ist 🙂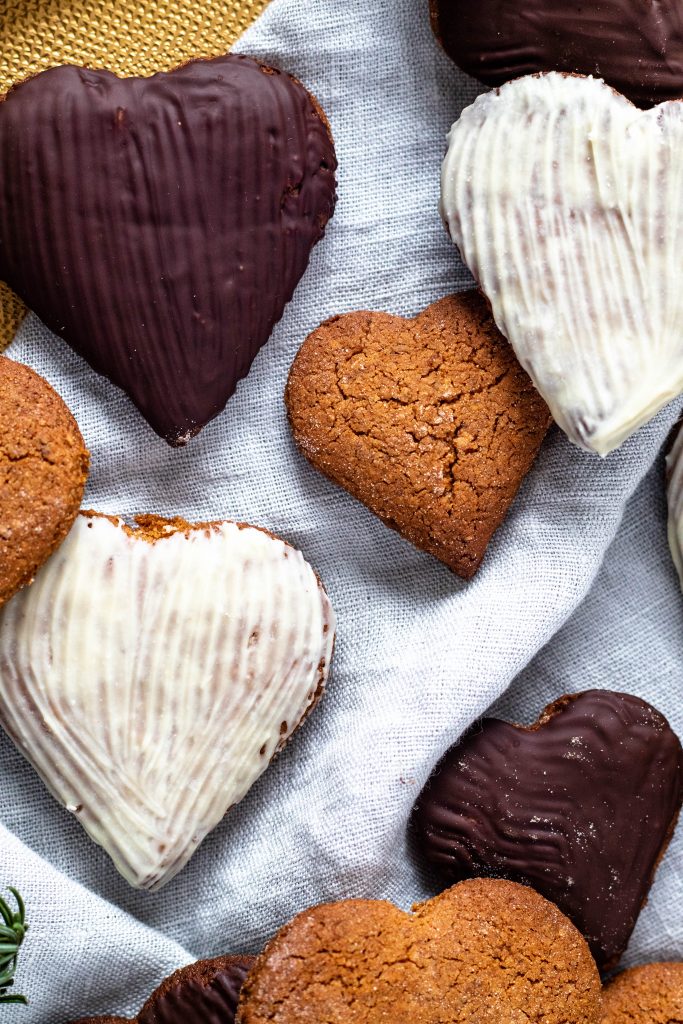 Mit diesem Rezept möchte ich eine Plätzchen-Reihe starten: Bis Weihnachten gibt es hier auf dem Blog jeden Montag ein neues Plätzchenrezept. Dabei wird es sich vor allem um die feinen Klassiker der deutschen Weihnachtsbäckerei handeln, also macht euch bereit für Zimtsterne, Bethmännchen und Co! Viel Spaß beim Backen 🙂
Lebkuchenherzen
Zubereitungszeit
30
Minuten
Zutaten
225g Mehl

100g gemahlene Haselnüsse

0,5 Päckchen Backpulver (8g)

50g Honig

1 TL Butter

2 TL Lebkuchengewürz

1 Ei

1 Eigelb

125g Zucker
Zubereitung
Mehl sieben und mit dem Backpulver vermischen. Gemahlene Haselnüsse dazugeben und mischen.
Honig, Butter und Lebkuchengewürz im Wasserbad erhitzen, bis sich die drei Zutaten vermischt haben, dann zum Abkühlen kalt stellen.
Ei, Eigelb und Zucker schaumig rühren, dann die Honigmasse und die Mehlmischung dazugeben und zu einem Teig verkneten.
Den Teig auf der bemehlten Arbeitsplatte 1 cm dick ausrollen, Herzen ausstechen.
Ausgestochene Plätzchen auf ein mit Backpapier ausgelegtes Backblech legen und im bei 180°C vorgeheizten Backofen 15 Minuten backen.
English recipe
Gingerbread hearts
Makes 50 cookies +++ Prep time 30 minutes +++ Baking time 15 minutes
Drucken
INGREDIENTS
225g flour

100g ground hazelnuts

8g baking powder

50g honey

1 ts butter

2 ts gingerbread spice

1 egg

1 egg yolk

125g sugar
Drucken
METHOD
Sift the flour and mix with the baking powder. Add ground hazelnuts and mix.
Heat honey, butter and gingerbread spice over a water bath until the three ingredients are mixed, then chill to cool.
Cream egg, egg yolk and sugar, then add the honey mixture and the flour mixture and knead into a dough.
Roll out the dough on the floured worktop 1 cm thick, cut out hearts.
Place cut-out biscuits on a baking tray lined with baking paper and bake in a preheated oven at 180°C for 15 minutes.