Die Erdbeersaison geht bald zu Ende und bevor wir auf das nächste Jahr warten müssen, habe ich noch zwei megaleckere Kuchenrezepte mit Erdbeeren für euch! Zuerst dieser Blechkuchen, der mit einem ganzen Meer von Erdbeeren bedeckt ist. Gerade wenn es heiß ist, will man ja nicht unbedingt eine schwere Torte essen, sondern lieber etwas Frisches mit vielen Früchten – dafür ist der Kuchen ideal. Denn auch wenn er durch Erdbeeren und weiße Schokolade etwas süßer ist, ist das Teig-Obst-Verhältnis so abgestimmt, dass man ohne Probleme auch mal ein zweites Stück essen kann, ohne völlig erledigt zu sein!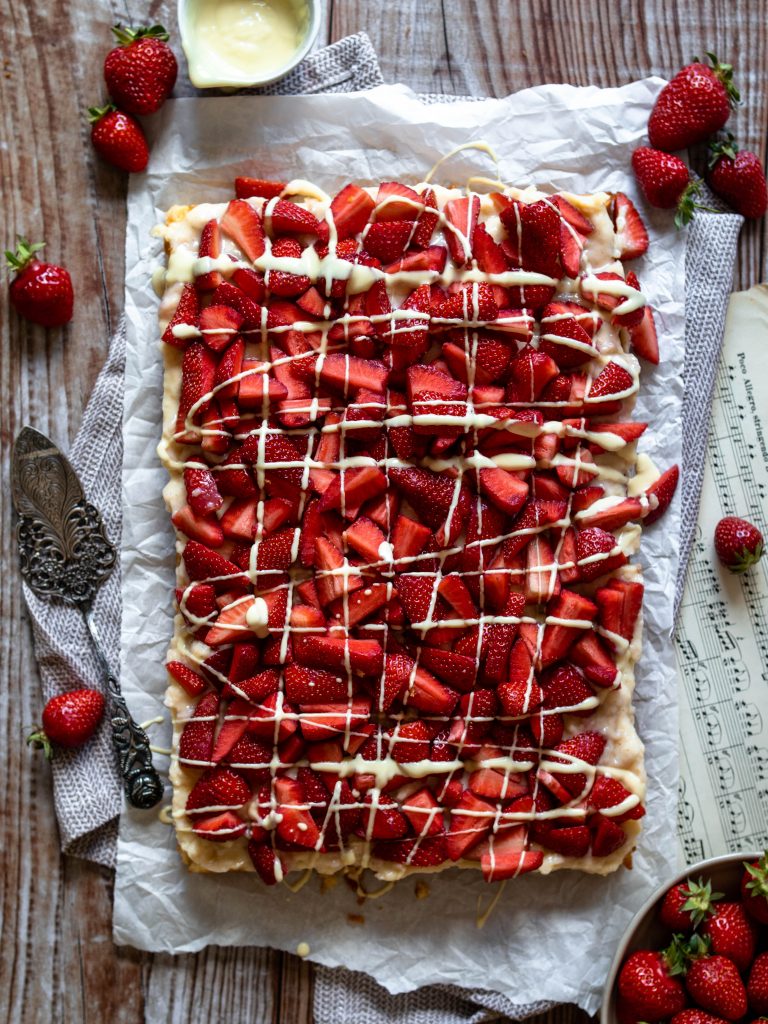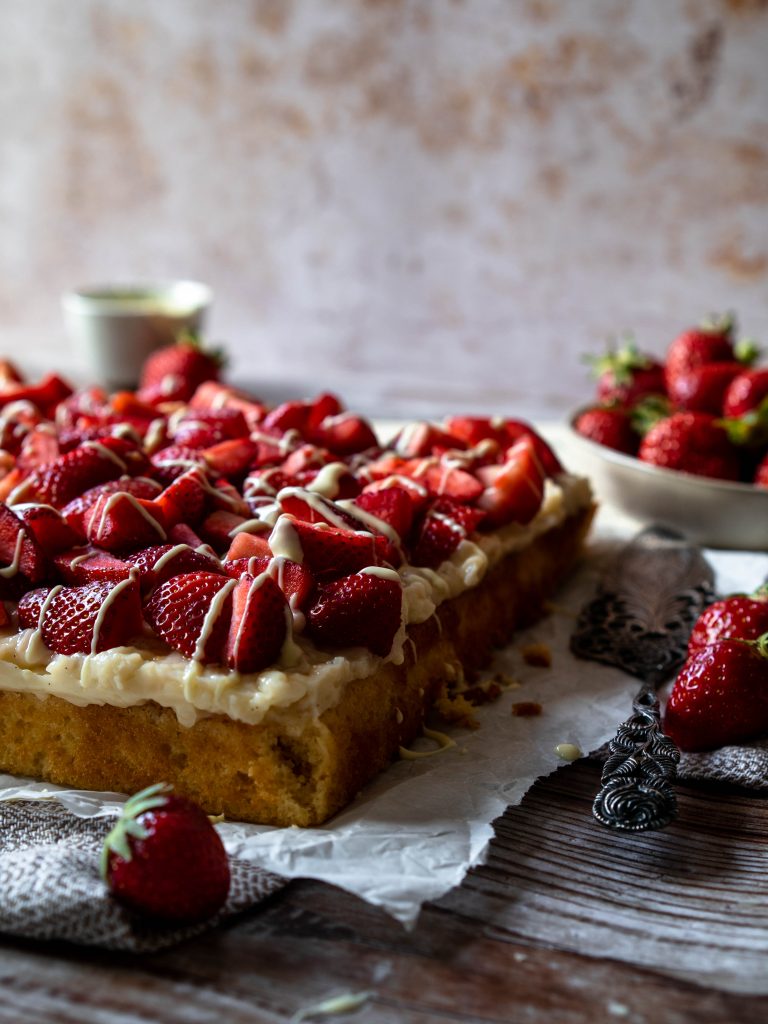 Ein bisschen crunchy muss sein: Dafür sorgen die Mandeln im Teig!
Das Beste an diesem Kuchen sind aber (neben seinem Geschmack natürlich) die Mandeln im Teig. Dadurch bekommt er einen feinen Crunch, der total gut zu dem sonst lockeren Kuchenteig und der weichen Konsistenz des Puddings passt. Wenn ihr keine Mandeln mögt, könnt ihr sie natürlich auch ersetzen, beispielsweise durch Haselnüsse oder auch Pistazien oder diverse andere Nusssorten. Achtet aber immer darauf, dass die Mandeln (oder die von euch gewählte Alternative) nicht zu grob gehackt ist, damit keine zu großen Stücke im Teig landen – das macht das Essen etwas schwierig. Gemahlene Mandeln schmecken zwar genauso gut, aber der Teig bekommt dadurch eine andere Konsistenz und der Kuchen wird weniger crunchy!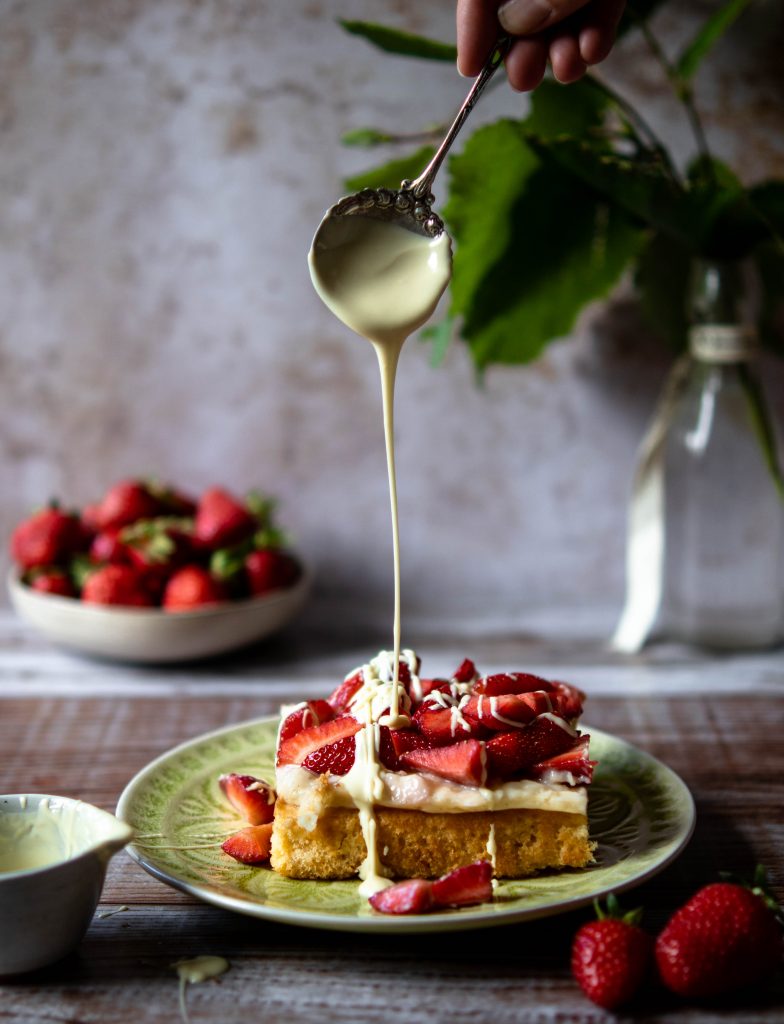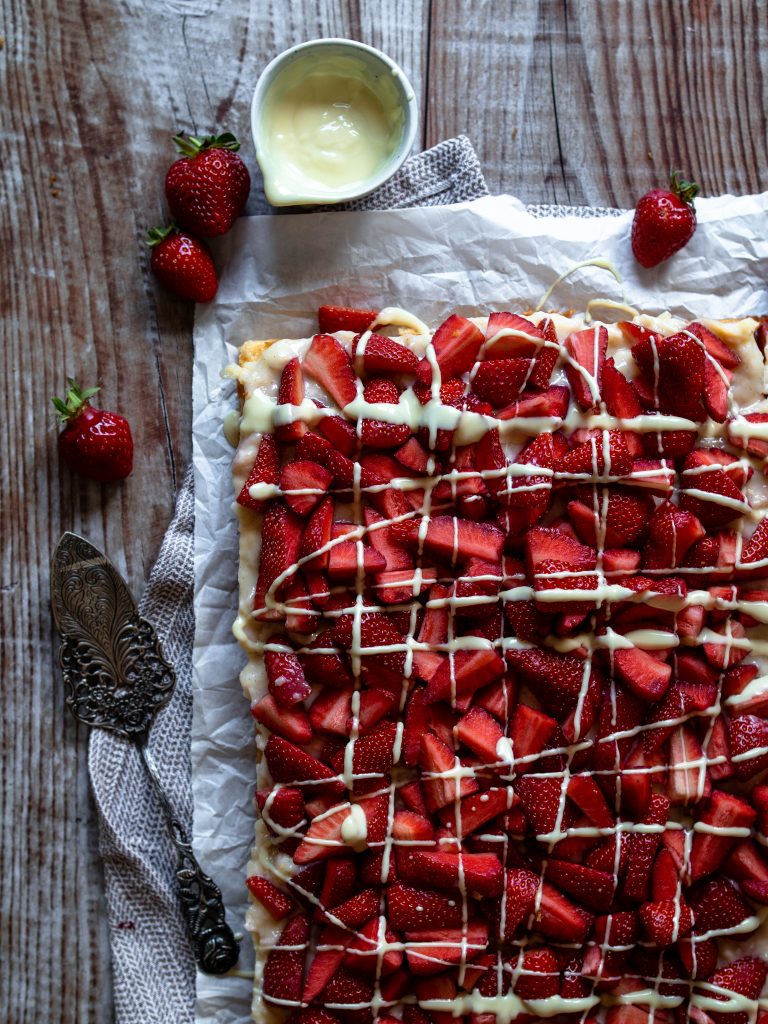 Schnell und easy zubereitet
Insgesamt (Backzeit inklusive) braucht ihr etwa eine Stunde für den Kuchen. Die Zubereitung ist zudem nicht sonderlich schwierig, denn der Teig ist ein einfacher Rührteig, den ihr auf dem Blech oder in der Backform verstreicht und backt. Während der Kuchen im Ofen ist, könnt ihr den Pudding zubereiten. Das schreibe ich wahrscheinlich in jedem meiner Rezepte mit Pudding, aber wenn ihr bisher immer das Pulver aus der Tüte benutzt habt, probiert doch einfach mal, Pudding selbst zu machen! Er ist super easy und schnell gemacht, und dazu braucht ihr lediglich Milch, Zucker, Speisestärke, ein Ei und eine Vanilleschote (je nachdem, welchen Geschmack ihr mögt, klar!). Den Pudding verstreicht ihr dann auf dem fertig gebackenen Kuchen. Wichtig: Achtet darauf, dass sowohl Pudding als auch Kuchen ausgekühlt sind! So weicht der Boden nicht durch. Auf den Pudding gebt ihr dann die kleingeschnittenen Erdbeeren, toppt alles mit geschmolzener weißer Schokolade und fertig! Happy baking und lasst es euch schmecken!
Erdbeerkuchen vom Blech mit weißer Schokolade, Pudding und Mandeln
Zubereitungszeit
35
Minuten
Zutaten
Für den Teig

300g weiche Butter

250g Zucker

5 Eier

250g Dinkelmehl

0,5 Päckchen Backpulver (8g)

1 Prise Salz

100g Sahne

100g weiße Schokolade

100g gehackte Mandeln

Für den Belag

500ml Milch

50g Speisestärke

50g Zucker

1 Eigelb

1 Vanilleschote

800g Erdbeeren

100g weiße Schokolade
Zubereitung
Backofen auf 180°C Ober-/ Unterhitze vorheizen.
Butter und Zucker cremig aufschlagen. Eier einzeln unterrühren.
Mehl, Backpulver und Salz verrühren, dann abwechselnd mit der Sahne unter die Butter-Zucker-Masse rühren.
100g weiße Schokolade klein hacken und zusammen mit den gehackten Mandeln unter den Teig heben.
Eine Backform (24x34cm) oder ein Backblech mit Backpapier auslegen, Teig hineingeben. 25 Minuten lang im vorgeheizten Backofen backen. Herausnehmen und in der Form auskühlen lassen.
In der Zwischenzeit den Pudding zubereiten. Dafür 8 EL von dem halben Liter Milch abnehmen und mit Zucker und Speisestärke glatt rühren. Eigelb dazugeben und gut verrühren.
Restliche Milch in einen Topf geben. Vanilleschote auskratzen und zur Milch geben, aufkochen.
Stärke-Mischung unterrühren. Etwa eine halbe Minute weiter rühren, während der Pudding aufkocht. Dabei dickt er sehr schnell ein. Vom Herd nehmen und abkühlen lassen.
Den abgekühlten Pudding auf den abgekühlten Kuchen streichen.
Erdbeeren waschen und klein schneiden, auf den Pudding geben.
100g weiße Schokolade über dem Wasserbad schmelzen, dann in Gitterform über den Kuchen gießen.
+++ English recipe +++
Strawberry sheet cake with white chocolate, pudding and almonds
Makes 1 sheet of cake +++ Bakes 25 minutes +++ Prep time 35 minutes
Drucken
INGREDIENTS
To make the dough

300g soft butter

250g sugar

5 eggs

250g spelt flour

8g baking powder

1 pinch of salt

100g heavy cream

100g white chocolate

100g chopped almonds

To make the toppings

500ml milk

50g cornflour

50g sugar

1 egg yolk

1 vanilla pod
Drucken
METHOD
Preheat the oven to 180°C top/bottom heat.
Beat the butter and sugar until creamy. Stir in the eggs one at a time.
Mix the flour, baking powder and salt, then stir into the butter-sugar mixture alternately with the cream.
Chop 100g white chocolate and fold into the dough together with the chopped almonds.
Line a baking tin (24x34cm) or baking tray with baking paper, pour in the dough. Bake in the preheated oven for 25 minutes. Remove and leave to cool in the tin.
In the meantime, prepare the pudding. Take 8 tbsp. of the half litre of milk and mix with sugar and cornflour until smooth. Add the egg yolks and mix well.
Pour the remaining milk into a saucepan. Scrape out the vanilla pod and add to the milk, bring to the boil.
Stir in the starch mixture. Continue stirring for about half a minute while the pudding comes to the boil. It will thicken very quickly. Remove from the heat and leave to cool.
Spread the cooled pudding on the cooled cake.
Wash and chop the strawberries and place on top of the pudding.
Melt 100g white chocolate over a bain-marie, then pour over the cake in a lattice shape.