die Rhabarbersaison angeht, ist es ja quasi schon fünf vor zwölf – wenn ihr also noch welchen im Supermarkt seht, ran an die Stangen! Einerseits finde ich es ja immer ziemlich schade, dass die Saison nur so kurz ist. Andererseits bleibt der Rhabarber so eben etwas Besonderes und ich freue mich jetzt schon auf das nächste Frühjahr. Und um die letzten Tage der Saison noch einmal richtig zu genießen, empfehle ich euch, diese Galette zu backen. Sie schmeckt einfach nur mega. Mehr gibt's dazu nicht zu sagen 🙂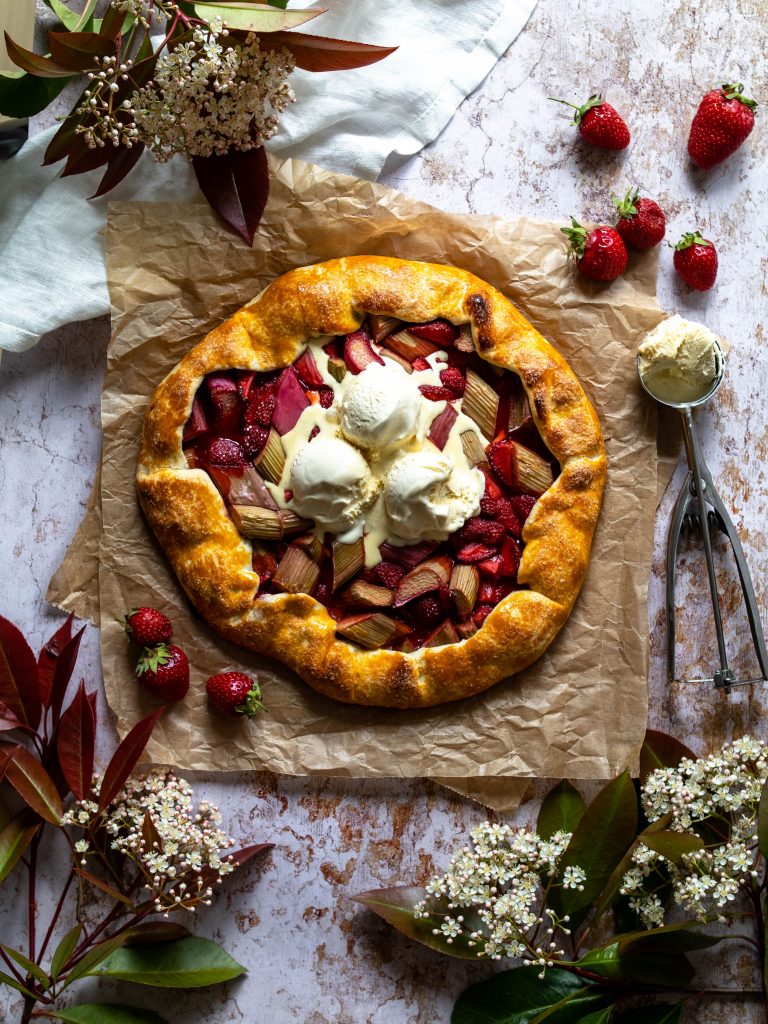 Galettes, die idealen Begleiter aller Sommerfrüchte
Vor ein paar Jahren hatte ich Galettes irgendwie nicht auf dem Schirm. Bis dahin waren Galettes für mich die herzhaften Buchweizen-Crêpes aus der Bretagne, am liebsten mit Schinken, Käse und Ei. Die runden, mit den unterschiedlichsten Sommerfrüchten gefüllten Galettes, die man jetzt überall sieht, kannte ich nicht. Als ich sie dann entdeckt hatte, war ich sofort ziemlich begeistert: Denn a) schmecken sie gut, und b) gefällt mir die lockere, unperfekte Form. Denn natürlich kann ich mich für fein gearbeitete und detailreiche Patisserie begeistern, aber es sind die unkomplizierten und unvollkommenen Backwerke, die mir am besten gefallen. Und das Beste an Galettes ist ja auch, dass man sie quasi füllen kann, mit was man möchte. Es gibt sogar herzhafte Varianten mit Tomaten. Ich habe mich aber – natürlich – für eine süße Variante entschieden: Erdbeeren und Rhabarber.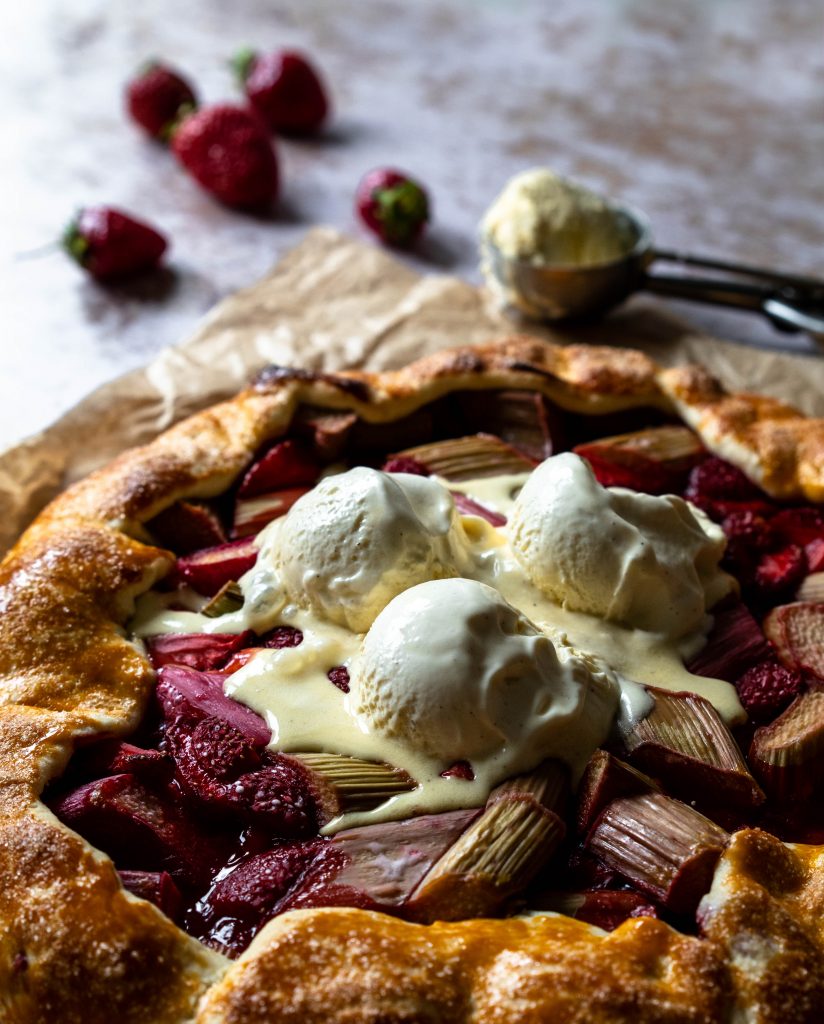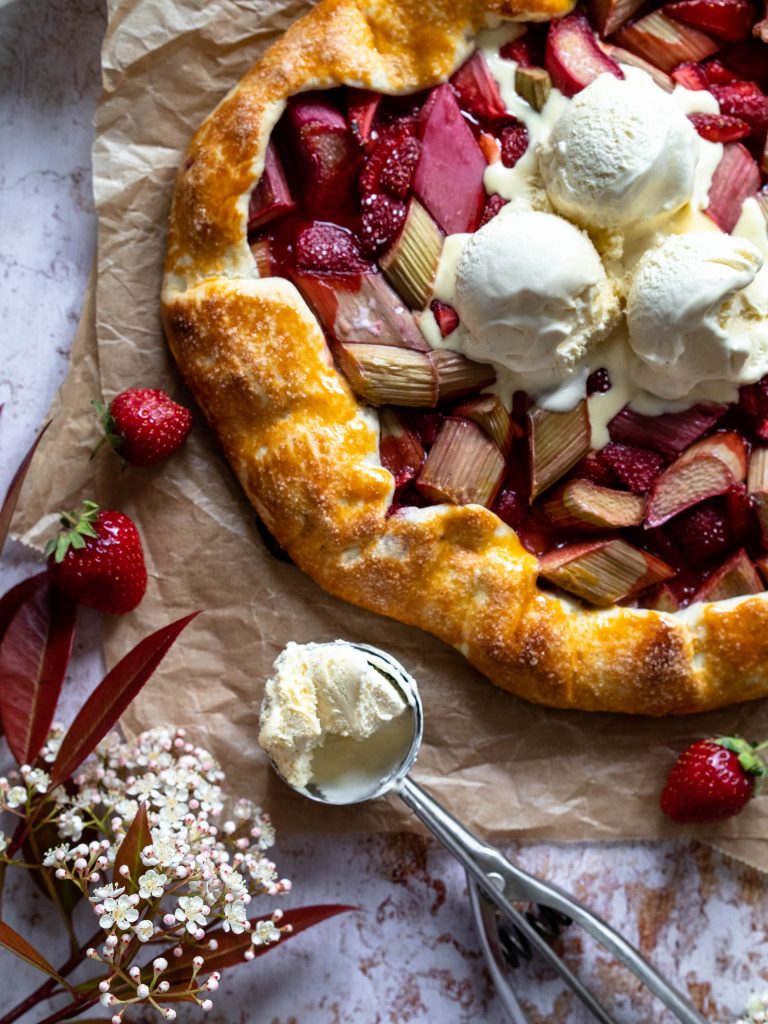 Rhabarber trifft Erdbeere: die perfekte Kombi aus süß und sauer
Das Erdbeeren und Rhabarber sich lieben, ist nichts Neues. Es gibt unzählige Rezepte mit der leckeren Kombi, die nicht nur eine schöne Farbe hat, sondern auch zwei ganz besondere Geschmacksnoten vereint. Ich mag den säuerlichen Rhabarber auch ohne süße Gegenkomponente, aber in Kombi mit Erdbeeren schmeckt er vielleicht sogar noch einen Tick besser. Und die leckere Füllung der knusprigen Galette wird dann mit ein paar Kugeln Vanille-Eis getoppt – einfach ideal für die mittlerweile wärmeren Temperaturen 🙂 Das ganze ist übrigens auch nicht kompliziert zu machen. Das Rezept findet ihr unten. Viel Spaß beim Backen!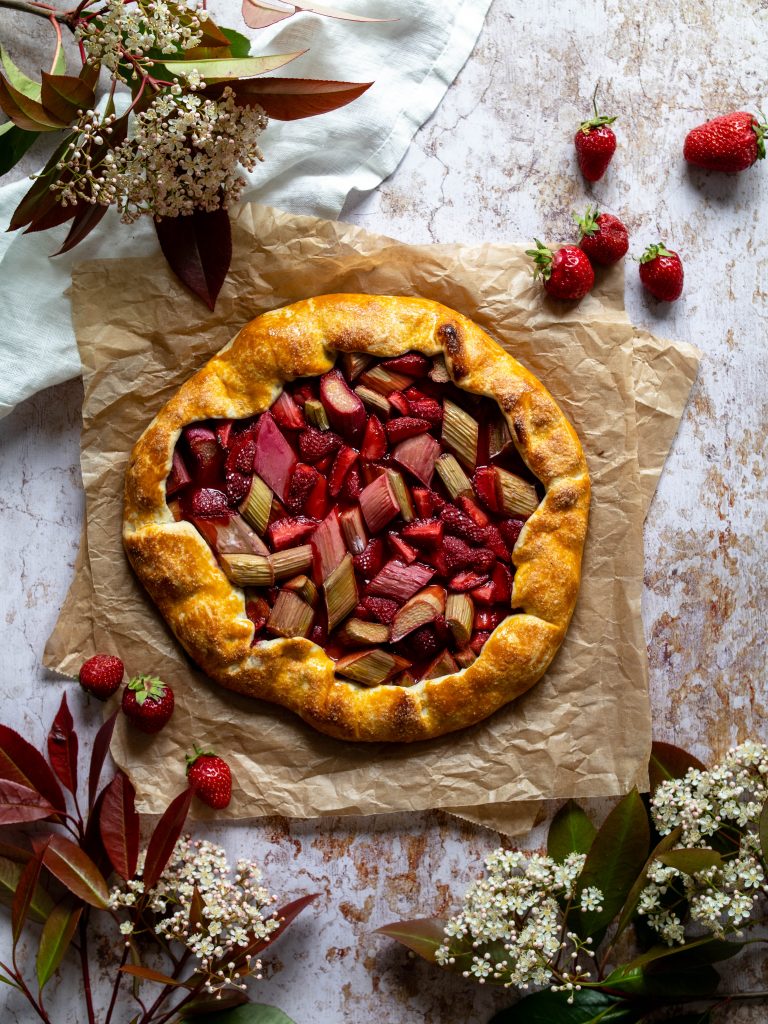 Rhabarber Erdbeer Galette
Zubereitungszeit
80
Minuten
Sommerliche Galette mit Erdbeeren und Rhabarber, mit einem knusprigen, blättrigen Teig und einer süß-sauren Füllung. Vanilleeis on top nicht obligatorisch, aber sehr zu empfehlen! 🙂
Zutaten
300g Dinkelmehl

2 EL Zucker

0,5 TL Salz

120g Butter

100ml kaltes Wasser

500g Rhabarber

300g Erdbeeren

50g Zucker

2 EL Speisestärke

1 Eigelb

etwas Zucker zum Bestreuen
Zubereitung
Mehl, Zucker und Salz in einer Schüssel mischen. Kalte Butter in Stücke schneiden und mit der Mehlmischung verkneten.
Wasser dazugeben und alles zu einem festen Teig verkneten. Zu einer Kugel rollen, in Frischhaltefolie wickeln und für 30 Minuten in den Kühlschrank legen.
Den Rhabarber putzen und waschen, dann in etwa ein Zentimeter breite Stücke schneiden.
Erdbeeren waschen und vierteln, mit dem Rhabarber in eine Schüssel geben und mit dem Zucker und der Speisestärke vermischen.
Backofen auf 200°C vorheizen (Ober-/Unterhitze).
Den Teig auf Backpapier – oder idealerweise einer Backmatte, da sie nicht verrutscht – ausrollen, bis ihr einen Kreis von etwa 30 bis 40 Zentimeter Durchmesser vor euch habt.
Füllung darauf geben, dabei rundherum am Rand etwa fünf Zentimeter freilassen. Diesen Rand dann auf die Füllung klappen.
Eigelb verquirlen und den Rand der Galette damit bestreichen, dann mit Zucker bestreuen.
Die Galette mit dem Backpapier auf ein Backblech geben und für 25 Minuten backen.
Aus dem Backofen nehmen und mit Vanilleeis oder Sahne servieren.
English recipe
Rhubarb strawberry galette
Makes 8 pieces +++ total time 80 minutes +++ baking time 25 minutes +++ cooling time 30 minutes
Drucken
ingredients
300g spelt flour

2 tbsp sugar

0,5 tsp salt

120g butter

100ml water

500g rhubarb

300g strawberries

50g sugar

2 tbsp cornstarch

1 egg yolk

Some sugar for sprinkling
Drucken
METHOD
Mix the flour, sugar and salt in a bowl. Cut the cold butter into pieces and knead into the flour mixture.
Add water and knead everything into a firm dough. Roll into a ball, wrap in cling film and place in the fridge for 30 minutes.
Clean and wash the rhubarb, then cut into pieces about one centimetre wide.
Wash and quarter the strawberries, place in a bowl with the rhubarb and mix with the sugar and cornflour.
Preheat the oven to 200°C (top/bottom heat).
Roll out the dough on baking paper – or ideally a baking mat, as it won't slip – until you have a circle about 30 to 40 centimetres in diameter in front of you.
Place the filling on top, leaving about five centimetres around the edge. Then fold this edge over the filling.
Whisk the egg yolk and brush the edge of the galette with it, then sprinkle with sugar.
Place the galette with the baking paper on a baking tray and bake for 25 minutes.
Remove from the oven and serve with vanilla ice cream or whipped cream.