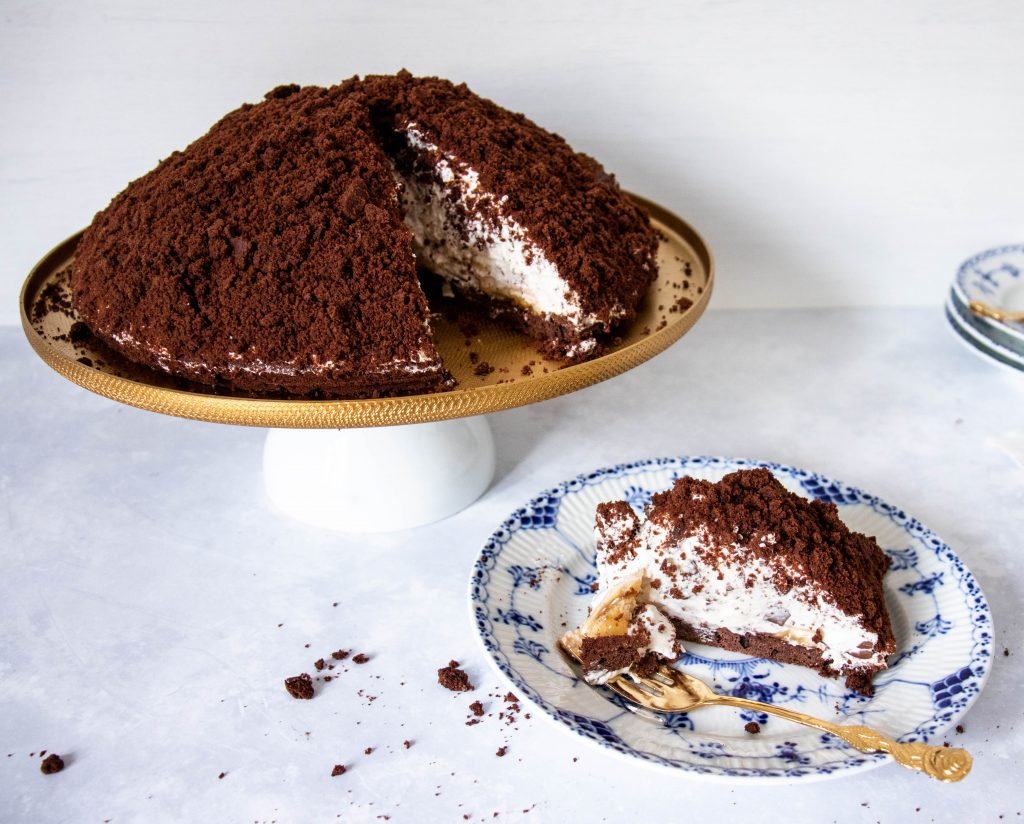 +++ Scroll down for English recipe +++
Ich war ungefähr 15, als ich zum ersten Mal für einen speziellen Anlass etwas backen wollte. Was das für ein Anlass war, weiß ich nicht mehr – aber ich fand es angebracht, einen Kuchen mitzubringen. Das Problem war nur, dass ich nicht wirklich eine Ahnung vom Backen hatte. Meine Mutter um Hilfe zu bitten, kam nicht in Frage, ich wollte es auf jeden Fall selbst machen. Ich wälzte jedes Backbuch, das ich in der Küche fand. In meinem Kopf backte ich eine dreistöckige Torte mit köstlichen Cremes und edlen Verzierungen – bis ich von meiner Mutter darauf hingewiesen wurde, dass ich vielleicht mit etwas Einfachem anfangen sollte. Überraschenderweise sah ich es ein (normalerweise lasse ich mich nicht so schnell davon abbringen, gleich auf Champions League Niveau etwas machen zu wollen, aber am Ende siegte doch die Faulheit), wollte jedoch trotzdem, dass es irgendwie fancy aussah (mein 15-jähriges Ich kannte das Wort "fancy" selbstverständlich nicht). Also ging ich in den Supermarkt und kaufte eine Backmischung, denn:
funktioniert ganz einfach
sieht trotzdem gut aus.
Ein Maulwurfskuchen war es. Ein Kuchen, den es nur als Backmischung gab. Ein Meisterwerk, dem Hirn des genialen Dr. Oetkers entsprungen. Weder jemand aus meiner Familie noch von meinen Freunden hatte jemals einen Maulwurfskuchen ohne Backmischung gebacken, keine Oma, keine Tante, niemand. Es war also auch nicht schlimm, ihn mit Backmischung zu backen. Anders ging es ja gar nicht.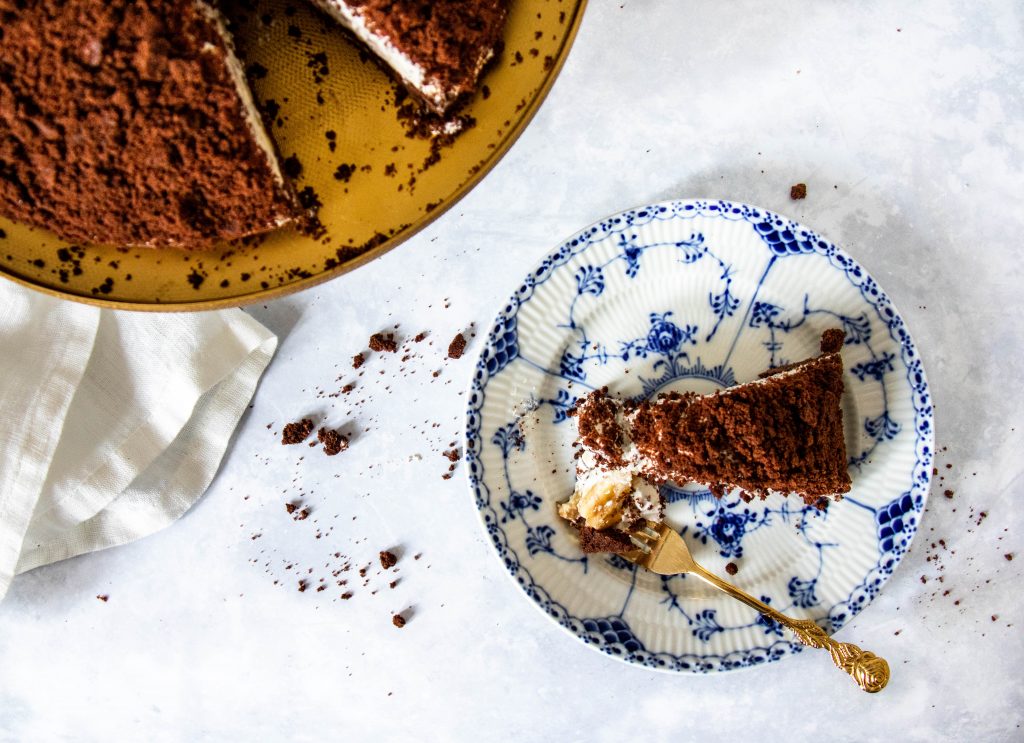 Also zurück in Muttis Küche und losgelegt mit dem Backen. Und dabei habe ich mich relativ schnell gefragt, was das Ganze eigentlich soll. Letzten Endes sind ja nur die trockenen Zutaten vorgemischt, der Rest muss fast genau wie beim "normalen" Backen verarbeitet werden. Was bringt das dann? Die trockenen Zutaten zu mischen, ist ja eigentlich das Einfachste an der Sache. 🙂
Versteht mich nicht falsch, ich sage nicht, dass Backmischungen etwas für Blöde sind oder ähnliches. Ich selbst habe seitdem nie wieder eine benutzt, aber mir macht Backen auch Spaß. Ich kann schon verstehen, dass Leute, die daran keine Freude haben, aber trotzdem jemandem einen Kuchen zum Geburtstag backen wollen, darauf zurückgreifen. Es spart Zeit und Nerven, sagen sie, und sie haben nicht unrecht. Trotzdem: Backen ist keine Kunst (Warum steht das eigentlich noch nicht an der U-Bahn-Station Dom/Römer, für alle Frankfurter?), zumindest muss es das nicht immer sein. Man kann es ganz einfach angehen und meistens dauert es dann nicht länger, als die verschiedenen Tüten aus der Packung der Backmischung herauszufriemeln. Und vor allem weiß man dann auch, was genau da eigentlich im Kuchen drin ist.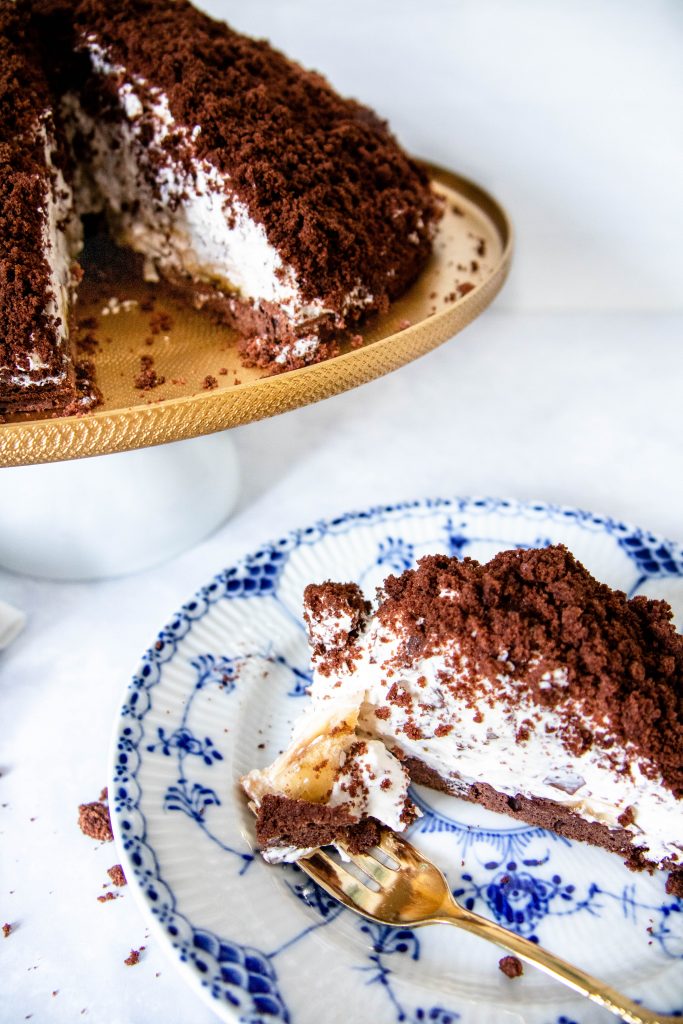 Das Ende vom Lied: Ich habe mir überlegt, dass das Ganze auch ohne Backmischung geht. Und tatsächlich ist es gar nicht so schwer – und lange dauert es auch nicht. Eins muss ich zum Abschluss aber noch zugeben: Der Backmischung-Maulwurfskuchen von damals kam verdammt gut an. Ob das am Geschmack lag oder daran, dass das Ding damals total im Trend war und Teenager einfach ziemlich viel Hunger haben, weiß ich nicht. 🙂
Maulwurfskuchen oder Die Geschichte einer Backmischung
Zubereitungszeit
30
Minuten
Zutaten
Für den Boden

100g Butter

120 g Zucker

1 EL Vanilleextrakt

2 Eier

150g Mehl

1 TL Backpulver

40g Kakao

1 Prise Salz

100 ml Milch (Tier- oder Pflanzenmilch)

Für die Füllung

500 ml Sahne

200g Mascarpone

2 Päckchen Vanillezucker

100g Schokoladenraspeln

3 Bananen
Zubereitung
Den Backofen auf 170 °C vorheizen und eine Springform mit 26 Zentimeter Durchmesser einfetten.
Für den Boden
Butter und Zucker schaumig schlagen. Die Butter muss unbedingt Raumtemperatur haben, sonst bekommt ihr Streusel statt einer schaumigen Mischung. Vanille-Extrakt hinzufügen. Eier nacheinander unterrühren. Wenn ihr eine Küchenmaschine nutzt, achtet darauf, dass der Quirl möglicherweise am Boden der Schüssel Reste zurücklässt – diese mit einem Löffel abkratzen und noch einmal gut rühren.
Mehl, Backpulver, Kakao und Salz in einer zweiten Schüssel vermengen.
Trockene Zutaten in zwei Portionen abwechselnd mit der Milch unter die Butter-Zucker-Mischung rühren.
Teig in die Springform geben und 30 Minuten backen. Auskühlen lassen.
Für die Füllung
Sahne steif schlagen, dabei langsam den Vanillezucker einrieseln lassen.
Mascarpone unter die geschlagene Sahne rühren.
Schokoraspeln unterheben.
Für die Streusel
Abgekühlten Kuchenboden auf eine feste Unterlage stellen (kein Kuchengitter). Mit einem Löffel circa einen Zentimeter tief aushöhlen, dabei einen etwa 1,5 cm breiten Rand stehen lassen. Immer darauf achten, dass der Kuchen nicht zu tief ausgehöhlt wird – sonst könnte er durchbrechen. Ausgehobenen Teig in kleine Streusel zerbröseln.
Den Kuchen zusammensetzen
Kuchenboden auf Tortenplatte oder Kuchenständer setzen.
Bananen längs halbieren und auf dem Boden verteilen.
Creme kuppelförmig darauf verteilen.
Kuchen vollständig mit Streuseln bedecken.
Mindestens 2 Stunden im Kühlschrank kalt stellen.
Schaufeln rausholen und dem Maulwurf auf die Pelle rücken. Bon appétit!
English recipe
Mole cake
Serves 12 ++ Prep time 30 minutes ++ Baking time 30 minutes ++ Chill time 120 minutes
Drucken
INGREDIENTS
To make the sponge

100g butter (room temperature)

120g sugar

1 tbs vanilla extract

2 eggs

150g all purpose flour

1 ts baking powder

40g dark cocoa

1 pinch of salt

100 ml milk

To make the filling

500 ml heavy cream

200g mascarpone

2 packages vanilla sugar

100g chocolate flakes

3 bananas
Drucken
InSTRuctions
Preheat the oven to 170 °C and grease a springform pan with a diameter of 26 cm.
Making the sponge
Cream butter and sugar. The butter must be at room temperature, otherwise you will get crumbles instead of a frothy mixture. Add vanilla extract. Stir in the eggs one by one. If you are using a stand mixer, make sure that the whisk doesn't leave any residue at the bottom of the bowl – if it does, scratch it off with a spoon and stir well once again.
Mix flour, baking powder, cocoa and salt in a second bowl.
Stir dry ingredients in two portions alternately with the milk into the butter-sugar mixture.
Put the dough into the springform pan and bake for 30 minutes. Let it cool.
Making the filling
Whip the cream until stiff, slowly adding the vanilla sugar.
Stir mascarpone into the whipped cream.
Fold in the chocolate shavings.
Making the streusel
Place the cooled cake base on a firm surface (no cake rack). Use a spoon to hollow out about one centimetre deep, leaving a rim about 1.5 cm wide. Always make sure that the cake is not hollowed out too deeply – otherwise it could break through. Crumble the hollowed out dough into small crumbles.
Assembling the cake
Place cake base on cake plate or cake stand.
Cut the bananas in half lengthwise and spread on the cake.
Spread the cream on top in the shape of a dome.
Cover the cake completely with crumbles.
Chill in the refrigerator for at least 2 hours.
Get shovels out and get the mole. Bon appétit!