+++ Scroll down for English recipe +++
Es war an einem Spätherbsttag in Barcelona, als ich zum ersten Mal Churros gegessen habe. Es war schon etwas kühler, von den Touristen waren nicht mehr so viele da wie noch ein paar Wochen zuvor, und wenn man durch die schmalen Straßen im Barri Gòtic lief, wünschte man sich, dass die Häuser nicht so eng zusammenständen, damit man noch etwas von der Sonne abbekäme. Irgendwo dort im Gewirr der Gassen stand ich mit einer spanischen Freundin vor einer winzigen Churrería, in der ein älterer Mann die Brandteigstängel in großen Portionen auf winzigen Tischen servierte. Ohne die Freundin hätte ich das kleine Lokal niemals gefunden und selbst wenn ich zufällig daran vorbeigelaufen wäre, hätte ich mich danach wahrscheinlich nicht mehr an den Weg erinnern können. Ich erinnere mich aber noch ziemlich gut, wie wir die Churros in die dickflüssige Schokoladensauce tunkten, ähnlich der dicken, heißen Schokolade, von der ich vor meiner Zeit in Barcelona nicht wusste, dass es sie gab – beziehungsweise, dass heiße Schokolade nicht überall so flüssig ist wie bei uns. Die meisten Dinge, die man mit den Fingern essen kann, schmecken köstlich, und so war es auch hier. Wir aßen so viele Churros, dass ich später auf das Abendessen verzichtete. Das war es wert.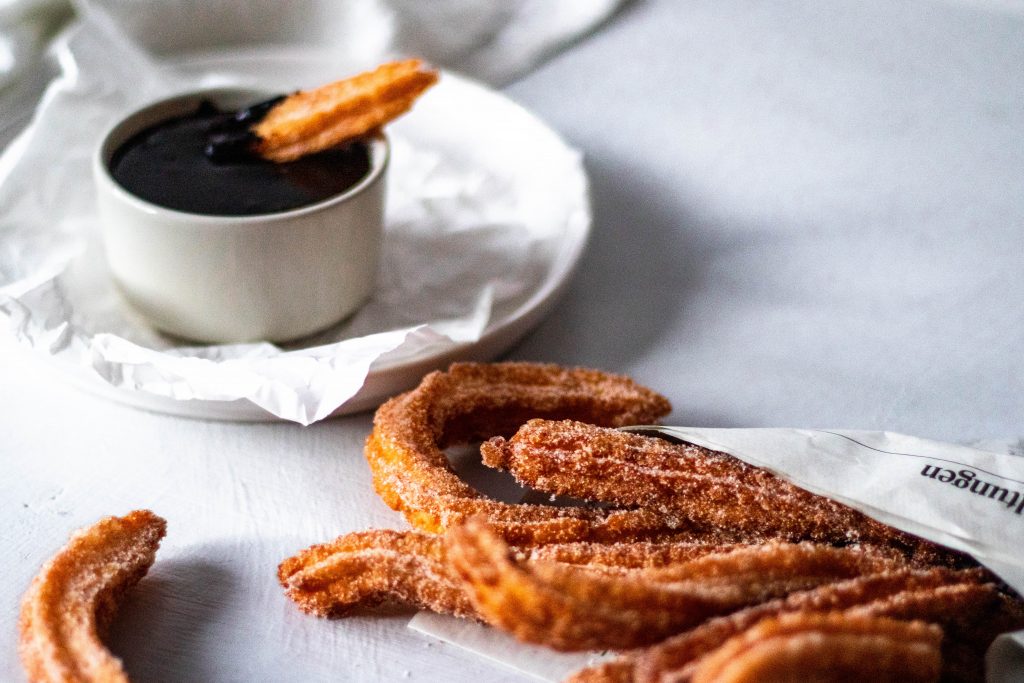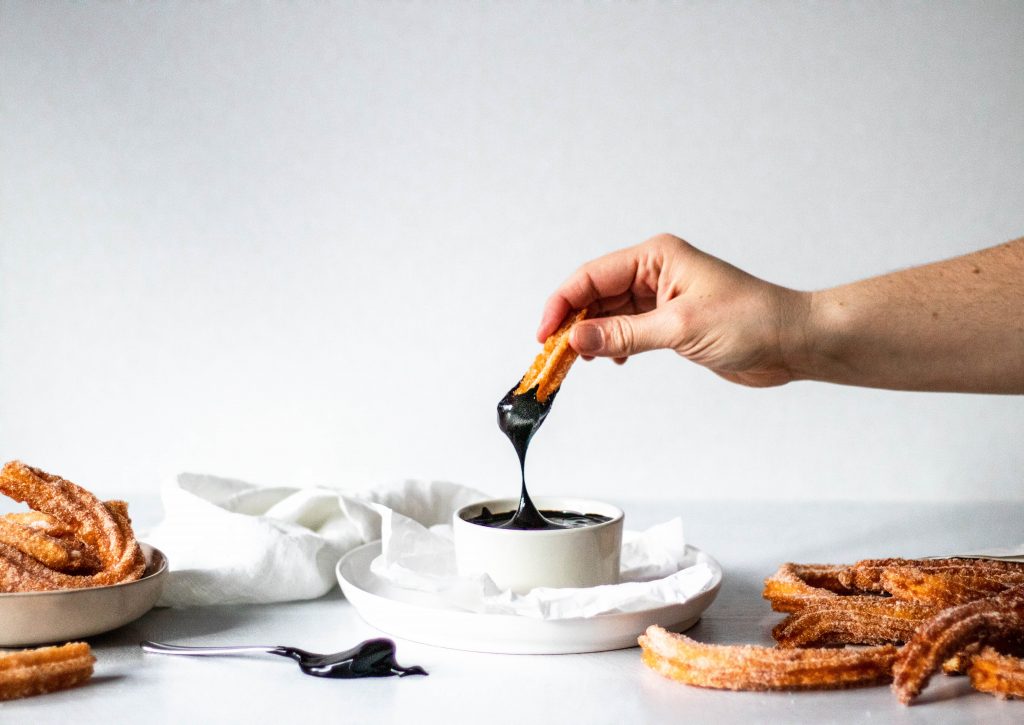 Wenn ich das so schreibe, könnte ich direkt losfliegen und mich auf die Suche nach dem winzigen Churro-Lokal in Barcelonas verwinkelter Altstadt machen. Aber da wir momentan nicht nach Spanien (oder sonst irgendwohin) reisen können, müssen wir das Gebäck eben plus Schokoladensauce selbst machen. Und überraschenderweise ist das weder schwierig noch besonders aufwändig, und ihr braucht auch keine völlig ausgefallenen Zutaten, die möglicherweise schwer zu bekommen sind – außer Mehl, haha. Aber davon zum Glück nur ganz wenig. Und wenn ihr euch dann auf eurem Balkon in die Sonne setzt und die Teigstangen in die Schokosauce tunkt und esst, könnt ihr euch vielleicht kurz nach Spanien träumen. Als kleine Vorbereitung dafür, wenn wir wirklich wieder hinfliegen dürfen.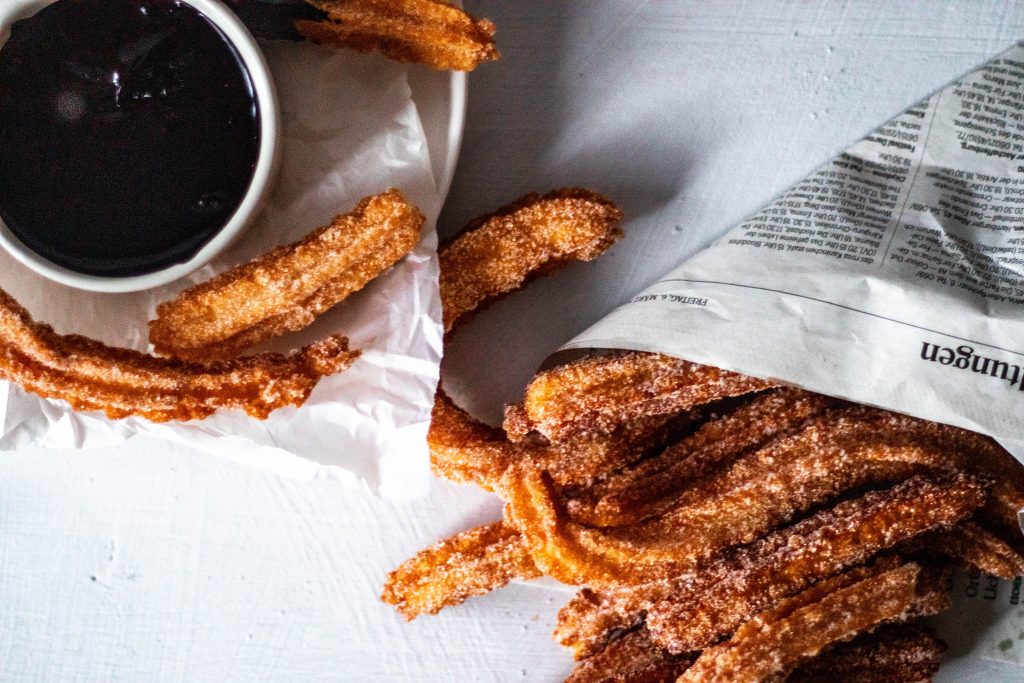 Churros con chocolate
Zubereitungszeit
30
Minuten
Zutaten
Für die Churros

80g Butter

250ml Wasser

1 Prise Salz

120g Mehl

3 Eier

1,5l Öl

50g Zucker

Für die Schokoladensauce

120g Zucker

150ml Wasser

1 Prise Salz

100g Kakao

2 EL Ahornsirup
Zubereitung
Butter, Wasser und Salz in einem Topf zum Kochen bringen.
Mehl darüber sieben und alles mit einem Kochlöffel verrühren.
Die Platte ausschalten, den Topf jedoch darauf stehen lassen. Teig so lange mit dem Löffel rühren, bis er sich zu einem Kloß formt und vom Boden löst. In eine Rührschüssel umfüllen.
Eier hinzufügen und kräftig mit dem Kochlöffel umrühren, bis sich alles zu einem Teig verbunden hat.
Öl in einem großen Topf auf 180°c erhitzen (wenn das Öl heißer wird, werden die Churros zu dunkel). Teig in einen Spritzbeutel füllen, große Sterntülle aufsetzen.
Streifen (etwa zehn Zentimeter oder länger, dann verbiegen sich die Churros jedoch leicht) direkt in das Öl drücken. Wenn der Teig nicht an der Tülle "abbricht", mit einem Messer abschneiden.
Die Churros etwa drei Minuten lang frittieren, dabei wenden.
Mit einer Grillzange oder Schöpfkeller aus dem Öl nehmen und auf Küchenpapier oder einem Küchenhandtuch abtropfen lassen.
Zucker auf einen flachen Teller streuen und Churros darin wenden, bis sie ganz mit Zucker bedeckt sind.
Für die Schokoladensauce Wasser, Zucker und Salz in einem Topf aufkochen. Kakao hinzugeben und mit dem Schneebesen einrühren. Drei Minuten kochen lassen. Sollte die Sauce zu zäh werden, etwas Wasser oder alternativ Ahornsirup einrühren, wenn man es etwas süßer haben möchte.
English recipe
Churros con chocolate
Makes 20 churros ++ Prep time 30 minutes ++ Baking time 3 minutes
Drucken
INGREDIENTs
For the churros

80g butter

250ml water

1 pinch of salt

120g flour

3 eggs

1,5l plant oil

50g sugar

For the chocolate sauce

120g sugar

150ml water

1 pinch of salt

100g cocoa

2 tbs maple sirup
Drucken
Instructions
Bring butter, water and salt to the boil in a pot.
Sift flour over it and mix everything with a wooden spoon.
Turn off the plate, but leave the pot on it. Stir the dough with a spoon until it forms a dumpling and comes off the bottom. Pour into a mixing bowl.
Add the eggs and stir vigorously with a wooden spoon until everything has combined into a dough.
Heat the oil in a large pot to 180°c (if the oil gets hotter, the churros will become too dark). Pour the dough into a piping bag, put on large star-shaped tip.
Press strips (about ten centimetres or longer, but then the churros bend slightly) directly into the oil. If the dough does not "break off" at the tip of the piping bag, cut it off with a knife.
Fry the churros for about three minutes, turn them from time to time.
Remove from the oil and drain on kitchen paper or a kitchen towel.
Sprinkle sugar on a plate and turn churros in it until they are completely covered with sugar.
For the chocolate sauce, boil water, sugar and salt in a pot. Add the cocoa and stir in with a whisk. Let it boil for three minutes. If the sauce gets too thick, stir in some water or alternatively maple syrup if you want it a little sweeter.