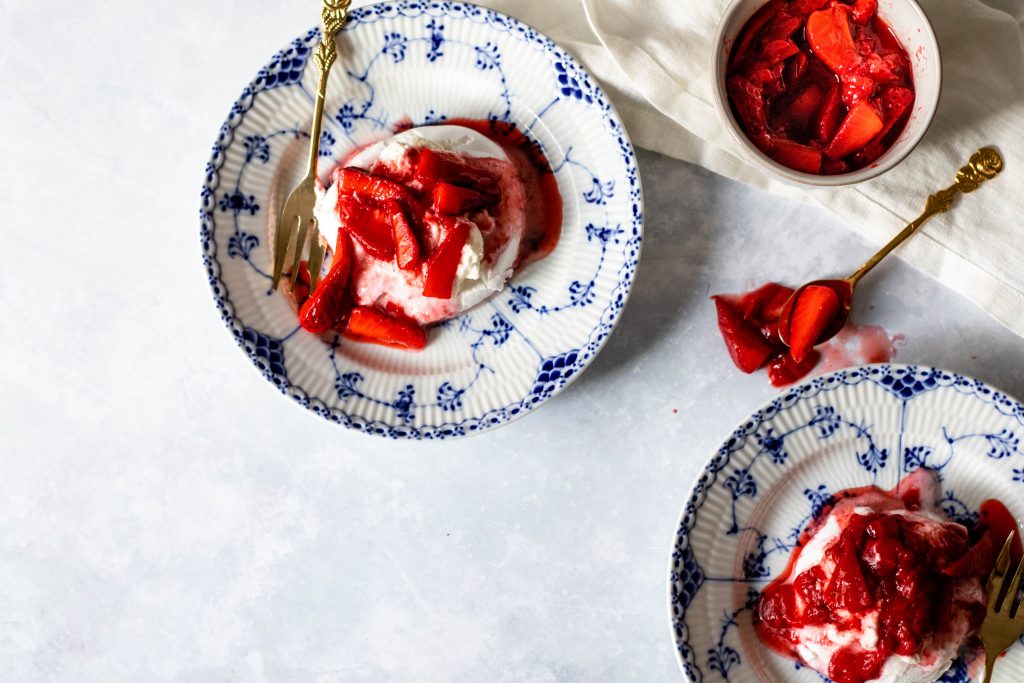 Die erste Pavlova meines Lebens habe ich in der 9. Klasse gesehen – in meinem Englischbuch. Wir gingen gerade das Kapitel über Australien durch und mein 15-jähriges Selbst hatte kurzerhand keinerlei Interesse mehr an den Bildern vom Opernhaus in Sydney oder dem Ayers Rock. Neben dem Foto des eigenartigen, mit Beeren und Mango verzierten weißen Gebildes stand nämlich das Rezept dazu, und während ich mich wunderte, wie es wohl schmecken würde, fragte meine Freundin schon: "Wollen wir das nicht zusammen backen?" Das Ergebnis war ein ziemliches Desaster, jedenfalls vom Aussehen her. Wir hatten keine Ahnung, wie man das mit dem Eischnee gescheit hinbekommen sollte und am Ende hatte die Pavlova nicht viel Ähnlichkeit mit dem hübschen Kunstwerk im Englischbuch, sondern sah mehr nach Schneesturm aus (hauptsächlich, weil wir zu ungeduldig waren und sie zu früh vom Backblech genommen haben). Geschmeckt hat es aber trotzdem 🙂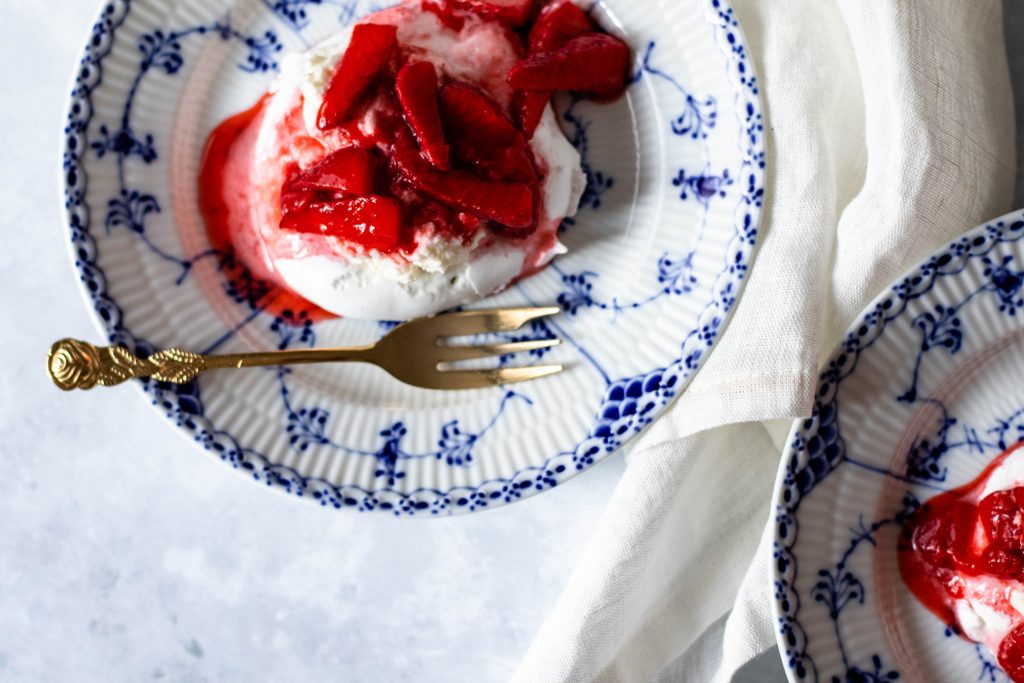 Mittlerweile schaffe ich es, dass meine Pavlovas auch ganz gut aussehen. Dieses Mal habe ich mich an Mini-Varianten probiert und muss sagen, das Ergebnis war überzeugend 🙂 Das gute an den kleinen Dingern ist, dass man sie einzeln auf die Teller legen kann, ohne sie anzuschneiden. Große Pavlovas sehen ja meistens ziemlich zerstückelt aus, wenn man einmal mit dem Messer dran war. In der kleinen Version ist es einfacher, sie hübsch auf den Tellern für die Gäste zu arrangieren. Also ran an den Eischnee! 🙂
Mini-Pavlovas mit Vanillesahne und Erdbeeren
Zubereitungszeit
40
Minuten
Zutaten
3 Eiweiß

160 g Puderzucker

Saft von 1 Zitrone

1 EL Stärke

200 ml Sahne

2 Päckchen Vanillezucker

300 g Erdbeeren
Zubereitung
Backofen auf 100°c vorheizen.
Eier trennen und das Eiweiß gemeinsam mit dem Zitronensaft im Mixer schaumig schlagen, etwa zwei Minuten.
Puderzucker und Stärke hinzugeben und weiterschlagen, bis der Eischnee fest und glänzend ist und auch über Kopf in der Schüssel bleibt.
Ein Backbleck mit Backpapier auslegen und die Masse in 10 kleinen Portionen darauf setzen. Oben mit einem Löffel eine kleine Mulde eindrücken, damit die Pavlovas wie flache Vulkane aussehen (in die Mulde kommt später die Füllung).
Für 50 Minuten backen. Achtung: Die Pavlovas sollen keine Farbe annehmen, sondern schön weiß bleiben! Beim Herausnehmen mit dem Finger testen, ob die Masse fest geworden ist. Sie härtet mit dem Auskühlen jedoch auch noch nach.
Erdbeeren waschen und putzen und je nach Größe in Viertel oder Achtel schneiden.
Eines der Vanillezucker-Päckchen in einem Topf bei mittlerer Hitze flüssig werden lassen. Die Hälfte der Erdbeeren und vier Esslöffel Wasser hinzugegen. Alles köcheln lassen bis die Erdbeeren weich sind und die Flüssigkeit eingedickt ist. Dann den Topf vom Herd nehmen und die restlichen Erdbeeren hinzugeben.
Die Sahne mit dem zweiten Päckchen Vanillezucker steif schlagen.
Sahne und abgekühlte Früchte auf die Pavlovas geben.
Beim Ablösen der Pavlovas vom Backpapier sehr vorsichtig sein, sie sind zerbrechlich.
English recipe
Mini pavlovas with vanilla cream and strawberries
Makes 10 pavlovas +++ prep time 40 minutes +++ baking time 50 minutes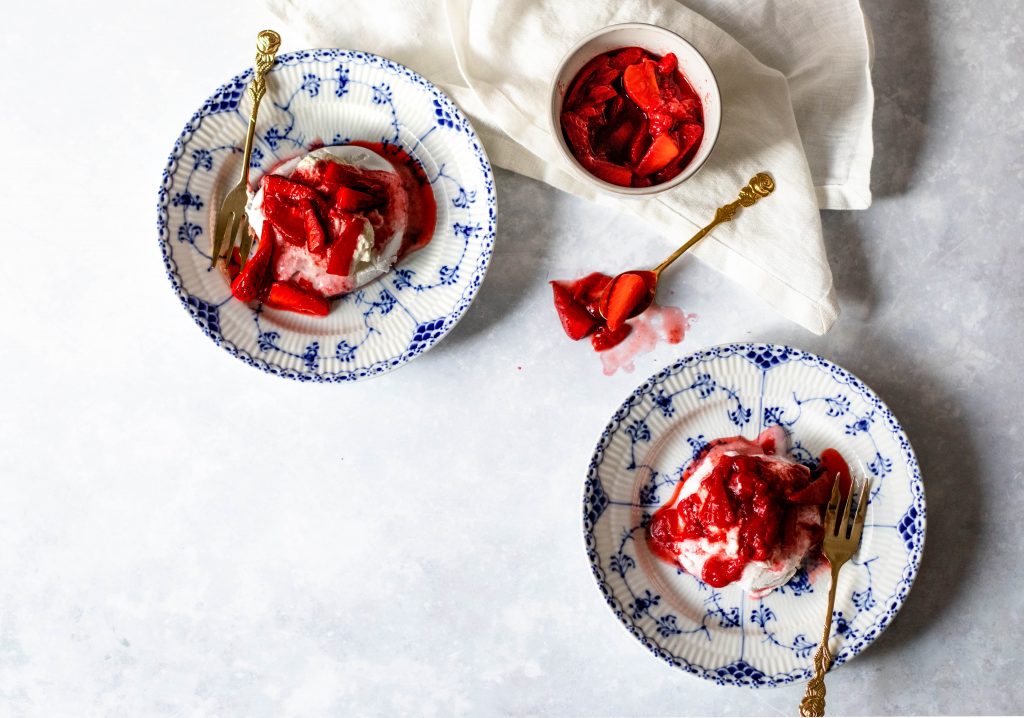 Drucken
INGREDIENTS
3 egg whites

160 g icing sugar

Juice of 1 lemon

1 tbsp cornstarch

200 ml heavy cream

2 sachets of vanilla sugar (8g each)

300 g strawberries
Drucken
INSTRuctions
Preheat oven to 100°c.
Separate the eggs and beat the egg whites together with the lemon juice until foamy, about two minutes.
Add icing sugar and starch and continue beating until the egg whites are firm and shiny and remain in the bowl even when upside down.
Line a baking tray with baking paper and place the mixture on top in 10 small portions. Use a spoon to make a small hollow at the top so that the pavlovas look like flat volcanoes (the filling will be placed in the hollow later).
Bake for 50 minutes. Attention: The pavlovas should not change colour, but remain white! When taking them out, check with your finger whether the mixture has set. It also hardens as it cools down.
Clean the strawberries and cut into quarters or eighths depending on size.
Put one of the vanilla sugar sachets in a saucepan and let it liquidise over medium heat. Add half of the strawberries and four tablespoons of water. Let everything simmer until the strawberries are soft and the liquid has thickened. Then remove the pot from the heat and add the remaining strawberries.
Whip the cream with the second packet of vanilla sugar until stiff.
Pour cream and cooled fruit onto the pavlovas.
Be very careful when removing the pavlovas from the baking paper, they are fragile.