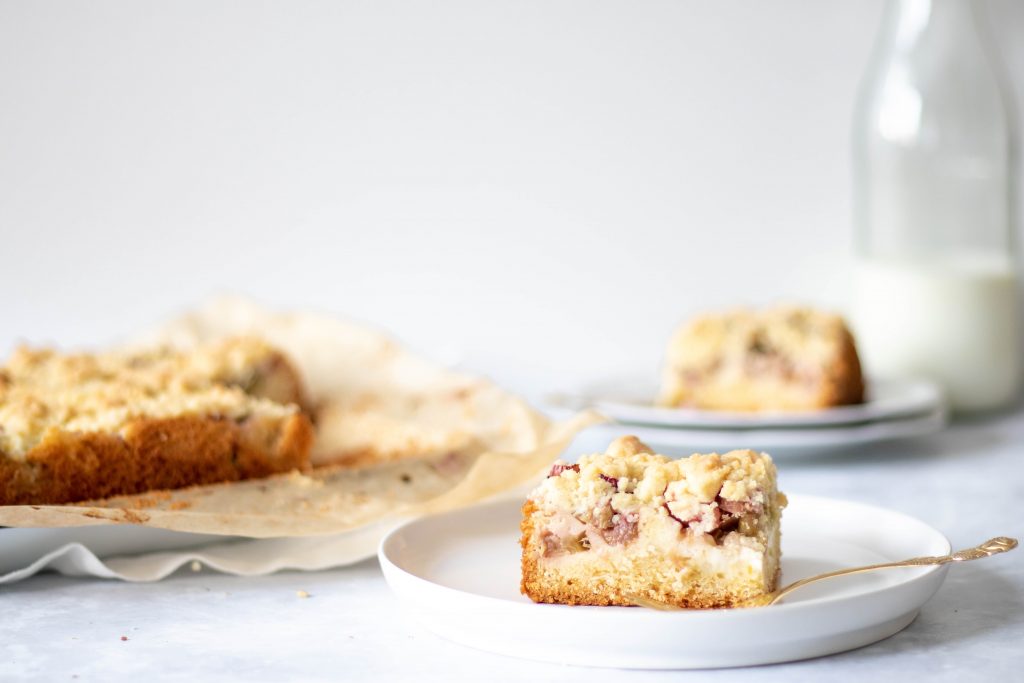 Die Rhabarbersaison ist jedes Jahr zu kurz. Ich überlege mir immer so viele Sachen, die ich mit den leckeren Stangen backen möchte, und dann schaffe ich davon meistens nicht besonders viel. Dieses Jahr habe ich sage und schreibe nur einen einzigen Rhabarberkuchen gebacken – aber der hat dafür ganz besonders gut geschmeckt: Dieser Rhabarber-Streuselkuchen mit Vanillepudding.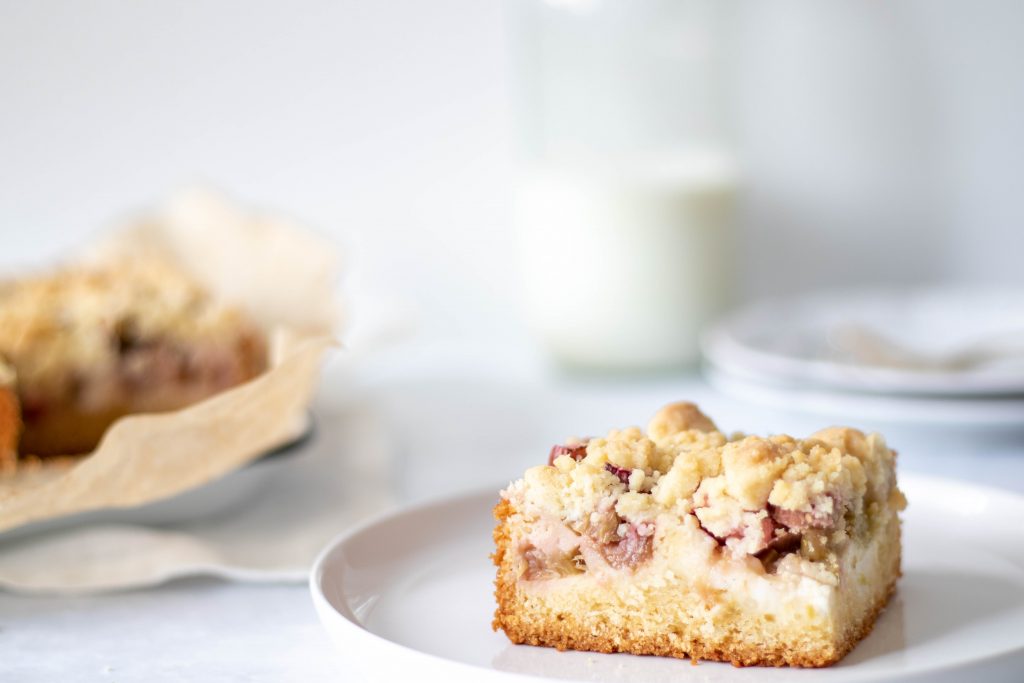 Denn ja, neben Rhabarber liebe ich auch Streusel und Pudding. Vor allem, wenn er selbst gemacht ist und nicht aus der Tüte kommt! Wer es eilig hat, kann natürlich auch zum Tütenpudding greifen, schlecht schmecken tut er ja nicht 🙂 Aber wenn ihr euch mal etwas besonders Gutes gönnen wollt, dann rührt den Pudding schnell selbst an. Es ist gar nicht so schwer und dauert auch nicht lange. Ich nutze dafür immer dieses Rezept und es klappt immer gut. Man muss nur viel rühren, damit keine Klümpchen entstehen.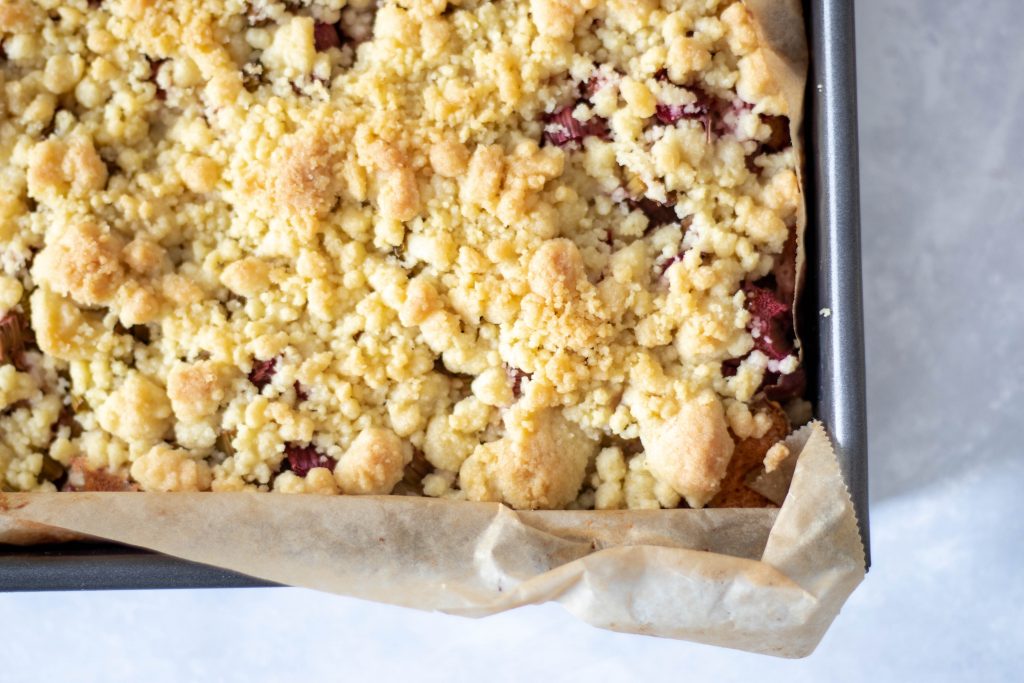 Ach doch, eine andere Sache habe ich dieses Jahr noch mit Rhabarber gemacht: Marmelade. Oder jedenfalls habe ich es versucht, das gute Zeug ist mir nämlich im Topf fies angebrannt, weil ich nebenher wahnsinnig wichtige Nachrichten auf Whatsapp geschrieben habe. Konzentration hilft eben auch in der Küche…
Rhabarber-Streuselkuchen mit Vanillepudding
Zubereitungszeit
30
Minuten
Zutaten
250 g Butter, Raumtemperatur

220 g Zucker

4 Eier

300 g Mehl

1 Päckchen Backpulver

1 EL Vanilleextrakt

1 kg Rhabarber

Für den Pudding

500 ml Milch

50 g Speisestärke

50 g Zucker

1 Ei

1 Vanilleschote

Für die Streusel

100 g Zucker

150 g Butter

250 g Mehl
Zubereitung
Den Vanillepudding zubereiten: Das Rezept findet ihr hier.
Den Backofen auf 180°c vorheizen (Ober-/Unterhitze).
Für den Teig Butter und Zucker verrühren, bis die Masse schaumig ist. Die Eier einzeln hinzugeben, nach jeder Zugabe gut verrühren.
Mehl und Backpulver in einer zweiten Schüssel vermischen, dann unter die Butter-Zucker-Mischung geben. Danach den Vanilleextrakt einrühren.
Eine 24×34 cm große Backform mit Backpapier auslegen, die Seiten einfetten. Wenn ihr keine solche Form besitzt, könnt ihr den Teig auch einfach auf ein mit Backpapier ausgelegtes Backblech streichen.
Vanillepudding auf dem Teig verstreichen.
Den Rhabarber in etwa 1 cm große Stücke schneiden und auf dem Vanillepudding verteilen. Den Kuchen 30 Minuten backen.
In der Zwischenzeit die Zutaten für die Streusel verkneten und diese dann über dem Kuchen verteilen. Weitere 30 Minuten backen. Auskühlen lassen.
English recipe
Rhubarb crumble cake with vanilla pudding
Makes 20 slices +++ Baking time 60 minutes +++ Preparation time 30 minutes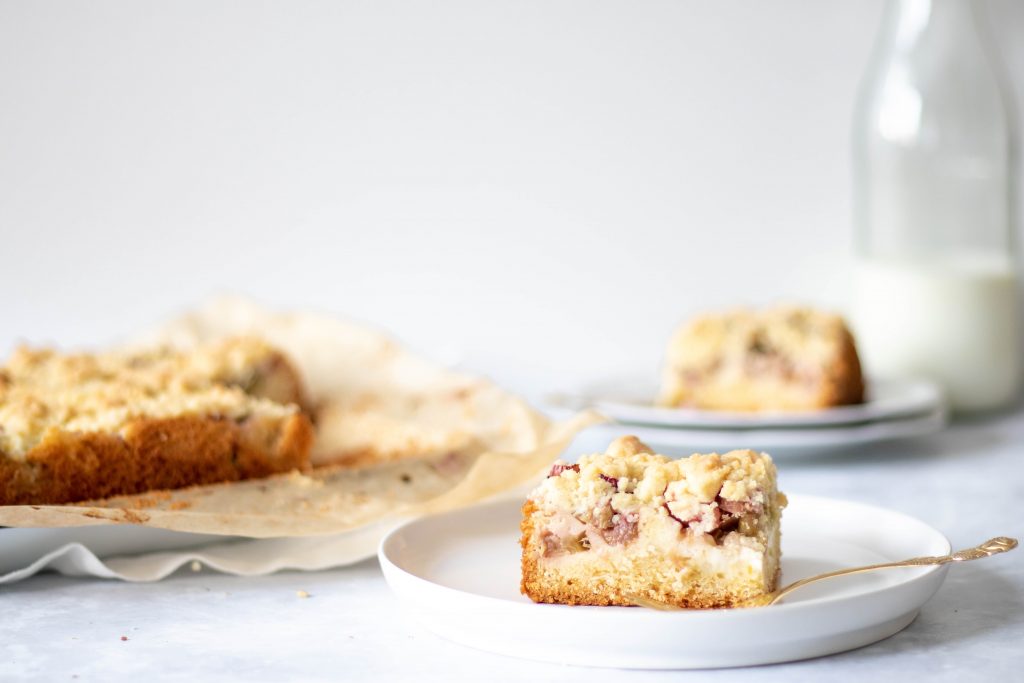 Drucken
INGREDIENTS
250 g butter, room temperature

220 g sugar

4 eggs

300 g flour

4 tsp baking powder

1 tbsp vanilla extract

1 kg rhubarb

For the pudding

500 ml milk

50 g cornstarch

50 g sugar

1 egg

1 vanilla bean

For the streusel

100 g sugar

150 g butter

250 g flour
Drucken
Instructions
Prepare the vanilla pudding: You can find the recipe here.
Preheat the oven to 180°c.
For the dough, mix butter and sugar until the mixture is frothy. Add the eggs one by one, stirring well after each addition.
Mix flour and baking powder in a second bowl, then add to the butter-sugar mixture. Then stir in the vanilla extract.
Line a 24×34 cm baking tin with baking paper, grease the sides. If you do not have such a form, you can also simply spread the dough on a baking tray lined with baking paper.
Spread the vanilla pudding on the dough.
Cut the rhubarb into pieces of about 1 cm and spread them on the custard. Bake the cake for 30 minutes.
In the meantime, knead the ingredients for the crumbles and then spread them over the cake. Bake for another 30 minutes. Let it cool down.