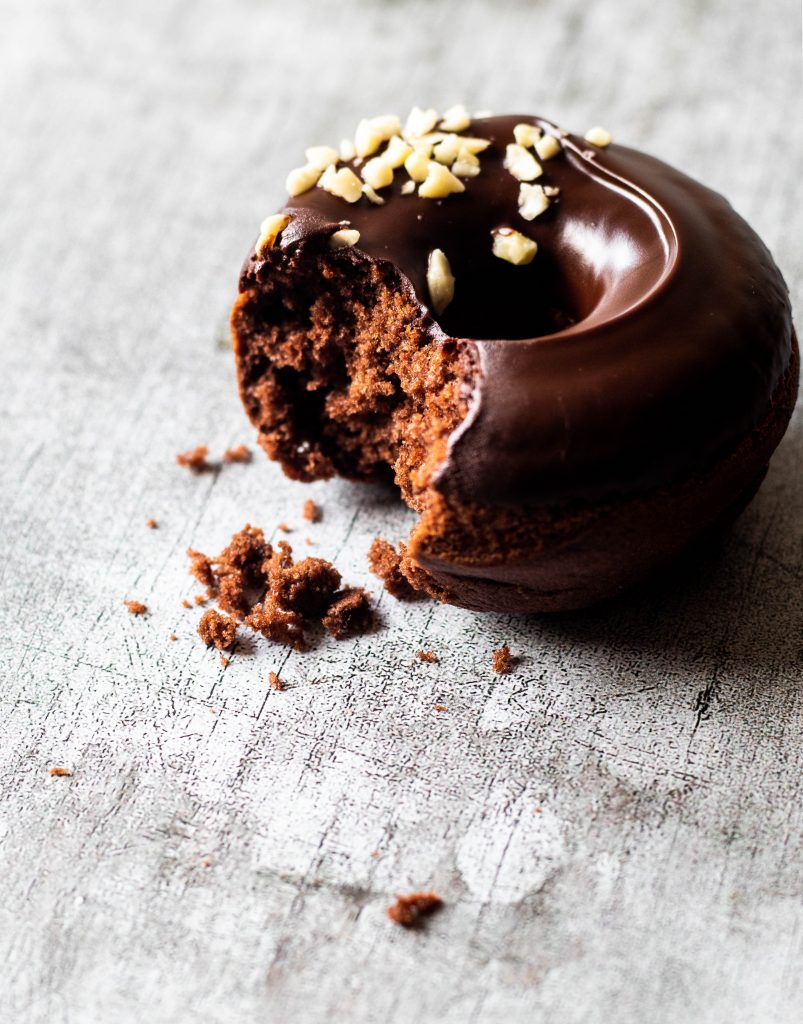 Ich kenne so viele Leute, die geradezu hysterische Nutella-Fans sind. Irgendwie war ich das lange Zeit nicht – früher fand ich den Aufstrich ziemlich lecker, aber irgendwann wurde ja die Rezeptur geändert und dann war er meiner Meinung nach einfach nur süß. Vor kurzem habe ich dann aber doch mal wieder ein Glas gekauft, weil ich damit backen wollte, und musste vorstellen, dass die gute Nutella doch ziemlich lecker ist 😀 Also entweder wurde die Rezeptur wieder geändert oder meine Geschmacksnerven haben sich einfach angepasst 😀
Es stand also ein großes Glas in der Küche, da ich nur einen Teil davon fürs Backen gebraucht hatte (das Ergebnis seht ihr hier auch bald), und der Rest musste natürlich auch verbraucht werden. Und da ich im Herbst eine neue Doughnut-Form gekauft hatte und diese noch nicht allzu oft verwendet hatte, war die Entscheidung für Nutella-Doughnuts schnell gefallen 🙂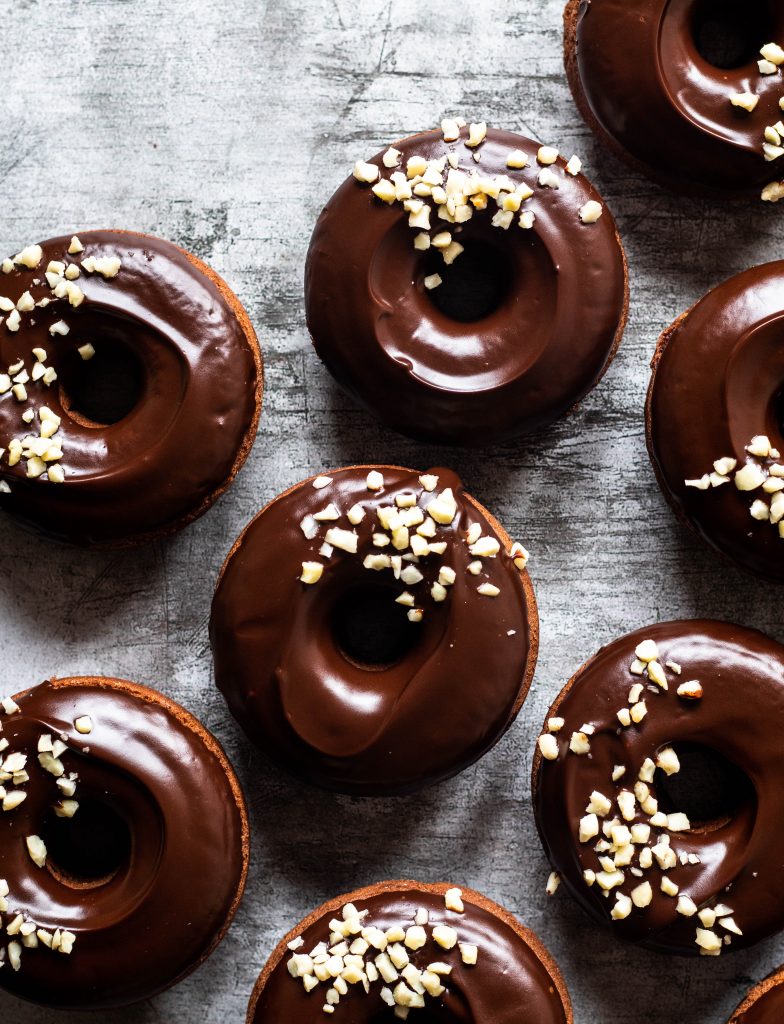 Ich muss sagen, ich mag die gebackenen Doughnuts wirklich gerne. Sie sind einfach nicht so ein süßer Overkill wie die frittierten es häufig sind. Bei dieser Variante ist relativ wenig Zucker drin, da die Nutella ja auch für Süße sorgt. Und durch die Schokoladenglasur kommt ja auch noch einmal süß dazu, auch wenn es sich um Zartbitter-Schokolade handelt. Auf jeden Fall sieht sie sehr schön im Licht aus und glänz ganz wunderbar 🙂
Nutella Doughnuts
Zubereitungszeit
30
Minuten
Zutaten
30g Zucker

50g Butter

2 Eier

120g Nutella

200g Mehl

1 EL Kakao

1 TL Backpulver

1 Prise Salz

100ml Milch

100g Zartbitter-Schokolade

50g Butter

gehackte Nüsse zum Dekorieren (optional)
Zubereitung
Zucker und Butter schaumig rühren. Eier einzeln unterrühren, dann die Nutella dazugeben.
Mehl, Backpulver, Kakao und Salz vermischen und zur Butter-Mischung geben, dann die Milch unterrühren.
Den Backofen auf 180°C Ober-/Unterhitze vorheizen.
Das Doughnutblech gut einfetten. Den Teig in einen Spritzbeutel geben und in die Form füllen. Achtung: Die einzelnen Doughnut-Formen sollten nicht mehr als zwei Drittel voll sein, sonst gehen die Doughnuts so sehr auf, dass sie oben mehr wie Muffins aussehen!
Zehn Minuten auf der mittleren Schiene backen. Herausholen, vorsichtig aus der Form herausnehmen und auskühlen lassen.
Während die Doughnuts auskühlen, bereits die Glasur zubereiten: Die Schokolade in Stücke hacken und gemeinsam mit der Butter über einem Wasserbad schmelzen, bis eine glatte Glasur entsteht.
Glasur in eine Schüssel geben und die glatte Seite der Doughnuts (die, die in der Form nach unten geguckt hat) hinein tauchen. Wer möchte, kann die glasierten Doughnuts jetzt noch mit ein paar gehackten Haselnüssen garnieren.
English recipe
Nutella Doughnuts
Makes 12 doughnuts +++ prep time 30 minutes +++ baking time 10 minutes
Drucken
INGREDIENTS
30g sugar

50g butter

2 eggs

120g nutella

200g flour

1 tbsp cocoa powder

1 tsp baking powder

1 pinch of salt

100ml milk

100g dark chocolate

50g butter

chopped hazelnuts for decoration (optional)
Drucken
method
Cream the sugar and butter until fluffy. Stir in the eggs one at a time, then add the Nutella.
Mix the flour, baking powder, cocoa and salt and add to the butter mixture, then stir in the milk.
Preheat the oven to 180°C top/bottom heat.
Grease the doughnut tray well. Pour the batter into a piping bag and fill the moulds. Caution: The individual doughnut moulds should not be more than two-thirds full, otherwise the doughnuts will rise so much that they will look more like muffins on top!
Bake for ten minutes on the middle shelf. Take out, carefully remove from the tin and leave to cool.
While the doughnuts are cooling, prepare the glaze: Chop the chocolate into pieces and melt it together with the butter over a water bath until you have a smooth glaze.
Pour the glaze into a bowl and dip the smooth side of the doughnuts (the side that was facing down in the mould) into it. If you like, you can now garnish the glazed doughnuts with a few chopped hazelnuts.