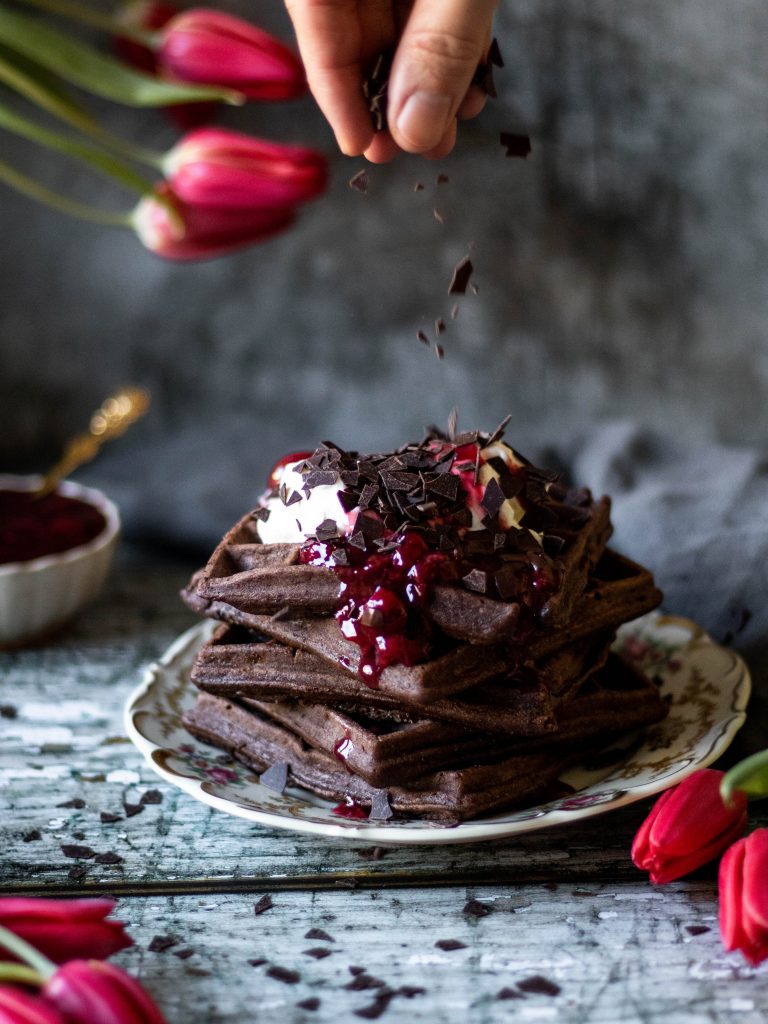 Ich liebe Schwarzwälder Kirschtorte. Ich weiß, es ist nicht sonderlich einfallsreich, aber sie ist einfach eine meiner Lieblingstorten. Und was ich auch liebe, ist ein richtig schönes dekadentes Frühstück (am besten natürlich am Wochenende). Also warum nicht beides kombinieren? Aus diesem Grund habe ich mir dieses Rezept hier überlegt und muss zugeben, dass ich sehr stolz darauf bin, denn meiner Meinung nach ist es eins der besten Rezepte, das ich kreiert habe 🙂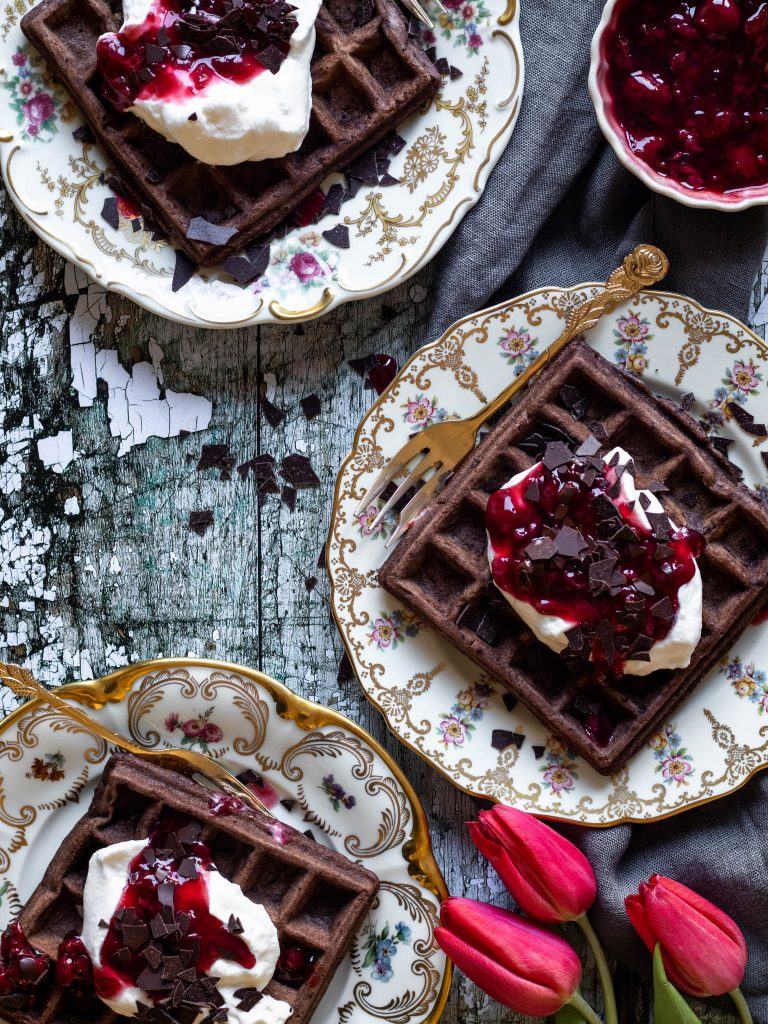 Ich habe mein klassisches Waffel-Rezept als Grundlage verwendet und Kakao sowie Schokoladenstücke dazugegeben. Ihr könnt die Schokolade hacken oder, wenn ihr so faul seid wie ich, sie einfach in der Küchenmaschine oder dem Mixer zerkleinern. Sie gibt den Waffeln ein bisschen Crunch und der Geschmack ist einfach himmlisch. Dazu gibt es eingekochte Kirschen und natürlich Schlagsahne. Ihr könnt frische Kirschen verwenden, wenn gerade Saison ist – wenn nicht, nehmt einfach die aus dem Glas. Ich habe jede Waffel mit Sahne, den Kirschen und natürlich, wie es sich auch für jede Schwarzwälder Kirschtorte gehört, mit jede Menge Schokostreuseln getoppt.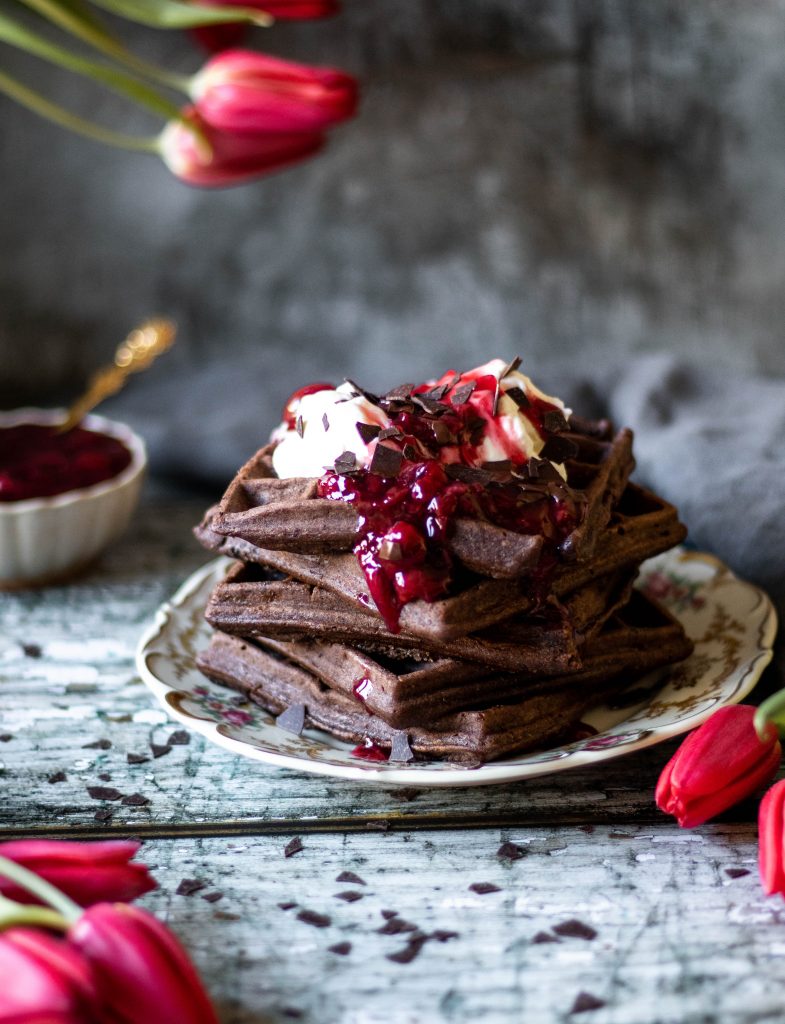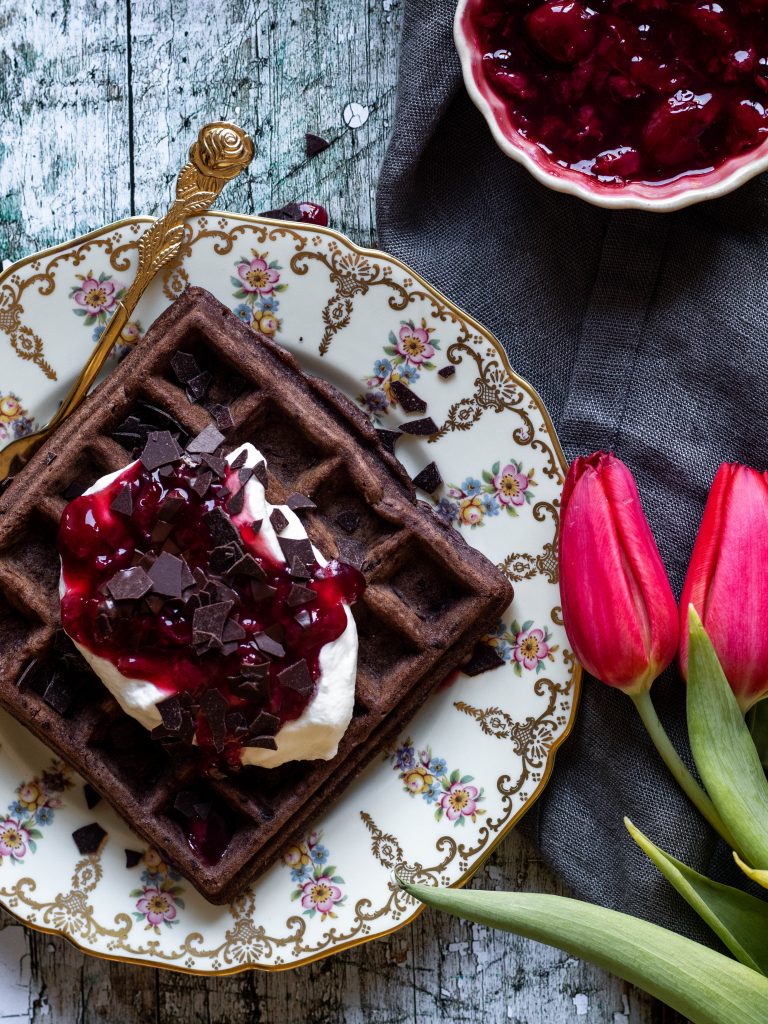 Das Rezept ergibt acht Waffeln – wie ihr auf den Bildern sehen könnt, verwende ich ein Eisen für viereckige Waffeln, wenn ihr herzförmige Waffeln macht, könnten es weniger werden. Das müsstet ihr mal ausprobieren 🙂
Schwarzwälder Kirschwaffeln
Gang: Allgemein, Frühstück & Brunch, Waffeln & Pancakes
Zubereitungszeit
30
Minuten
Schokoladen-Waffeln mit Sahne, Kirschen und Schokostreuseln – also einfach die berühmte Schwarzwälder Kirschtorte in Waffelform!
Zutaten
150g weiche Butter

80g Zucker

1 Päckchen Vanillezucker

1 Prise Salz

4 Eier

250g Mehl

2 TL Backpulver

2 EL Kakao

200ml Milch

100g Zartbitterschokolade

1 Glas Sauerkirschen (Abtropfgewicht 350g) + 300ml Saft aus dem Glas

2 TL Speisestärke

1 TL Zimt

50g Zucker

200ml Sahne

Schokoraspeln
Zubereitung
Die weiche Butter, den Zucker und den Vanillezucker aufschlagen, bis die Masse hell und cremig wird. Salz dazugeben, dann die Eier einzeln einrühren.
Mehl, Backpulver und Kakao in einer separaten Schüssel mischen. Dann abwechselnd mit der Milch zum Teig geben und gut verrühren.
Die Schokolade klein hacken oder in der Küchenmaschine zerkleinern. Unter den Teig heben.
Den Teig in das Waffeleisen geben, dabei darauf achten, dass es nicht zu viel ist. Die Waffelform sollte gerade so bedeckt sein. Etwa 3 Minuten backen, dann schauen, ob die Waffel fertig ist oder noch etwas braucht. Das kann je nach Waffeleisen unterschiedlich sein. Wenn sie sich gut aus dem Eisen löst, ist sie fertig und ihr könnt sie herausnehmen.
Die Sahne steif schlagen. Es ist nicht nötig, Zucker dazuzugeben, da die Waffeln und die Kirschen bereits süß sind.
Die Kirschen mit 300ml Saft aus dem Glas in einen Topf geben und gemeinsam mit Zimt und Zucker aufkochen lassen.
Die Stärke mit etwas Wasser glatt rühren und zu den kochenden Kirschen dazugeben, für eine Weile weiterkochen lassen, bis sich der Saft langsam verfestigt.
Den Topf vom Herd nehmen und abkühlen lassen – die Masse wird fester, umso kühler sie wird.
Die Waffeln auf Tellern anrichten und mit Sahne und Kirschen toppen, am Ende Schokoraspeln oder -streusel darüber geben.
English recipe
Black forest waffles
Makes 8 waffles +++ prep time 30 minutes +++ baking time 3 minutes
Drucken
ingredients
150g soft butter

80g sugar

8g vanilla sugar

1 pinch of salt

4 eggs

250g flour

2 tsp baking powder

2 tbsp cocoa powder

200ml milk

100g dark chocolate

350g sour cherries + 300ml juice (if you don't buy fresh cherries but cherries in a jar, you can use the juice in it)

2 tsp cornstarch

1 tsp cinnamon

50g sugar

200ml heavy cream
Drucken
METHOD
Beat the soft butter, sugar and vanilla sugar until the mixture is light and creamy. Add the salt, then beat in the eggs one at a time.
Mix the flour, baking powder and cocoa in a separate bowl. Then add to the dough alternately with the milk and mix well.
Chop the chocolate or grind it in a food processor (if you're a lazy person like me). Fold into the dough.
Pour the batter into the waffle iron, making sure it's not too much. The waffle mould should just be covered. Bake for about 3 minutes, then see if the waffle is done or needs a little more time. This may vary depending on the waffle iron. If it releases well from the iron, the waffle is ready and you can take it out.
Whip the cream until stiff. It is not necessary to add sugar as the waffles and cherries are already sweet.
Place the cherries in a saucepan with 300ml juice (from the jar) and bring to the boil together with the cinnamon and sugar.
Mix the starch with a little water until smooth and add to the boiling cherries, continue to cook for a while until the juice slowly solidifies.
Remove the pan from the heat and leave to cool – the mixture will become firmer the cooler it gets.
Arrange the waffles on plates and top with cream and cherries, adding chocolate shavings or sprinkles at the end.