Irgendwie hat After Eight nicht den besten Ruf. Ich kenne ziemlich viele Leute, die die kleinen Schokotafeln ziemlich seltsam finden, dabei schmecken sie in meinen Augen mega 🙂 So richtig oft kaufen tue ich sie trotzdem auch nicht, aber nachdem ich eine Back-Challenge zum Thema "Pfefferminz" zugesagt hatte, sind sie mir gleich als erstes in den Kopf geschossen. Die Kombi Schokolade und Minze ist nämlich unschlagbar! Und was soll ich sagen, die Cupcakes sind wirklich lecker geworden.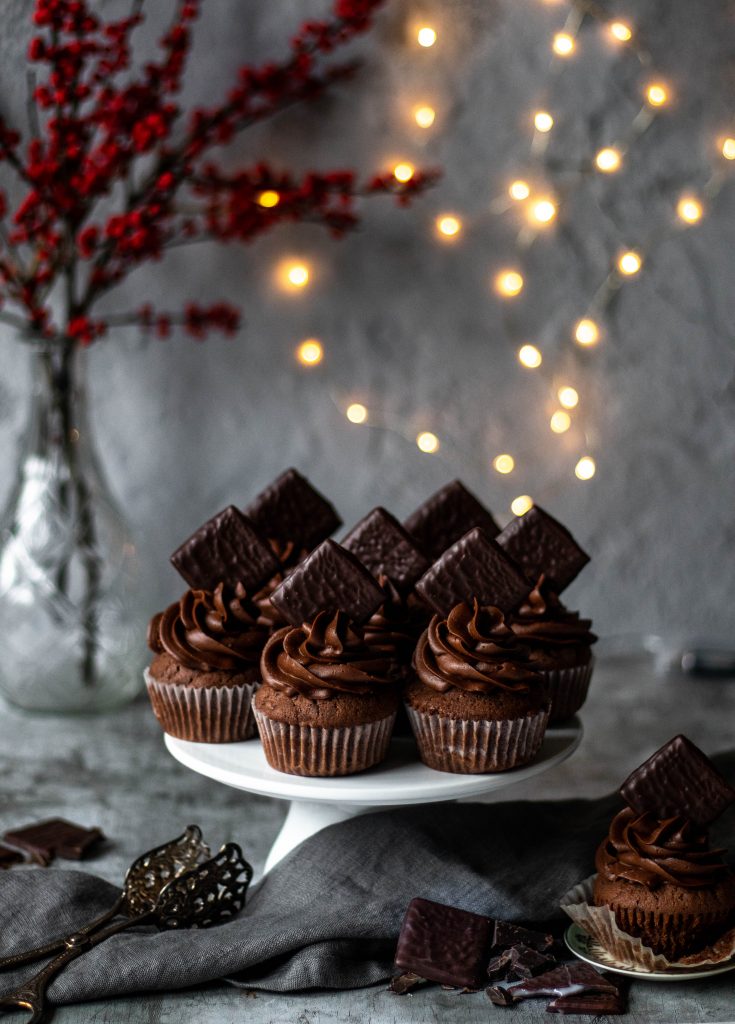 Ich wollte in erster Linie bei der Challenge mitmachen, weil ich Pfefferminz quasi nie zum Backen nutze. Während der Geschmack ja zum Beispiel in den USA zu Weihnachten sehr beliebt ist, gibt es ihn bei uns eher selten um diese Jahreszeit – oder bekomme ich das nur nicht mit? Für mich ist Pfefferminze jedenfalls eigentlich eher ein Sommergeschmack. Ihn in die Weihnachtszeit zu verorten, war eine neue Herausforderung für mich.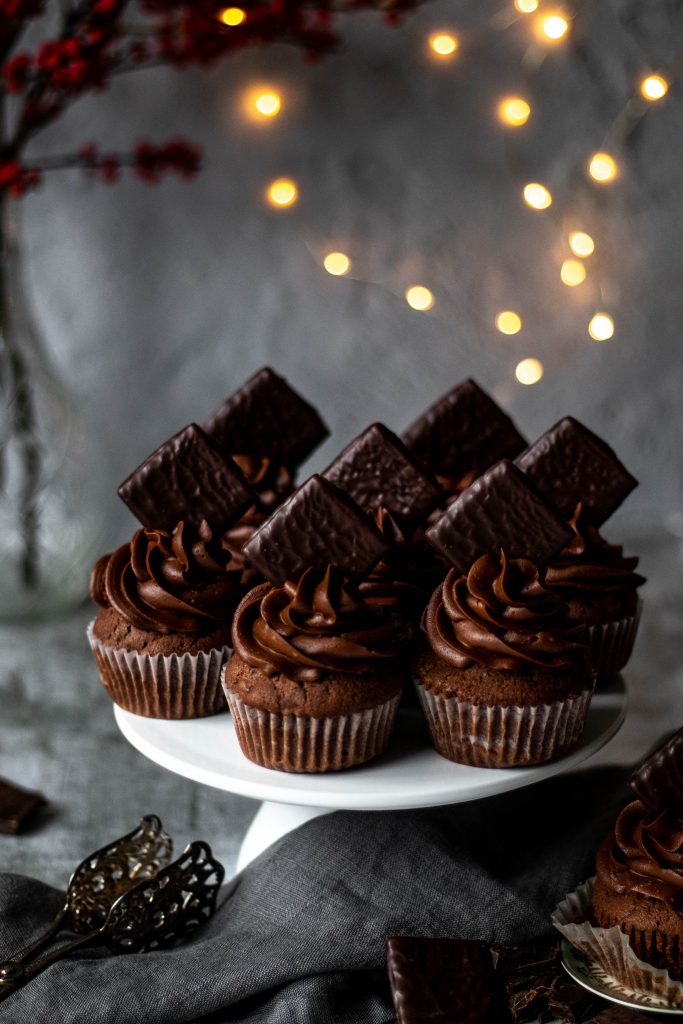 Die Cupcakes bestehen aus einem köstlichen Schokoladenteig mit großen Zartbitter-Schokoladenstücken darin, darauf sitzt ein dunkles Frosting, mit echter Schokolade und nicht mit Kakao gemacht. Sowohl in den Teig als auch in das Frosting kommt ein Schuss Pfefferminz-Extrakt. Das Ergebnis ist ein sehr schokoladiger Cupcake mit einem Hauch Minze, die geschmacklich nicht zu übergriffig wird. Obendrauf gehört natürlich noch ein After Eight zur Dekoration. Die gehen nach acht und zu jeder anderen Zeit des Tages auch 🙂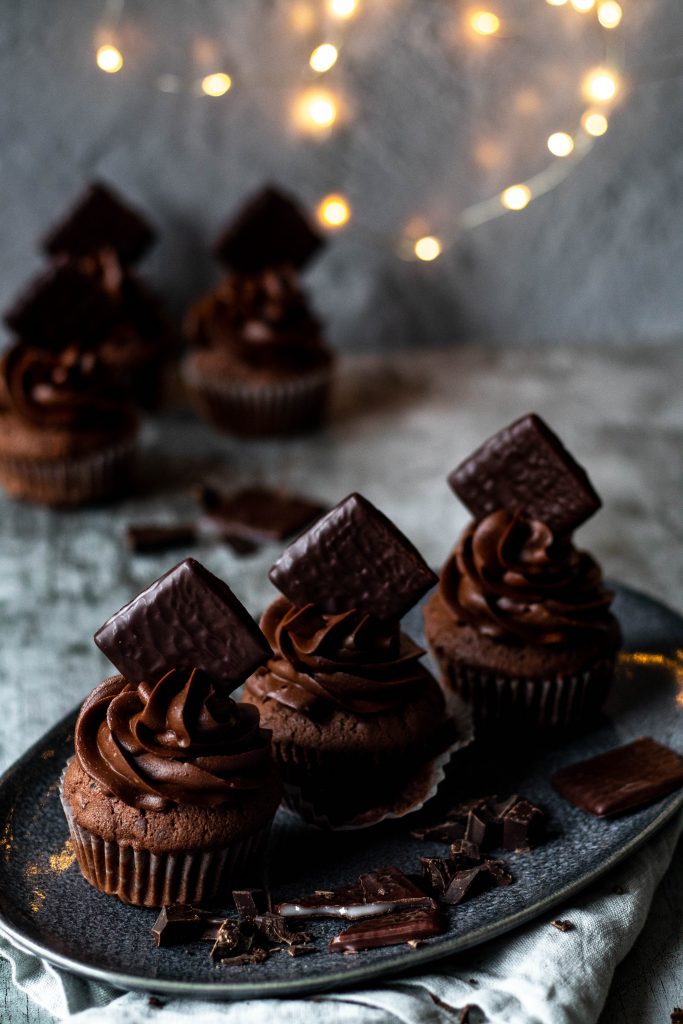 After Eight Cupcakes
Zubereitungszeit
30
Minuten
Zutaten
Cupcakes

250g weiche Butter

250g Zucker

4 Eier

400g Mehl

1 Päckchen Backpulver

125ml Sahne

3 EL Kakao

1 TL Vanille-Extrakt

2 EL Pfefferminz-Extrakt

200g Zartbitter-Schokolade

Frosting

300g weiche Butter

300g Puderzucker

300g Zartbitter-Schokolade

2 EL Pfefferminz-Extrakt

18 After Eight
Zubereitung
Butter und Zucker schaumig rühren. Eier einzeln unterrühren, jeweils gut verrühren.
Mehl, Backpulver und Kakao vermischen, dann abwechselnd mit der Sahne unter die Masse rühren.
Vanille und Pfefferminze hinzugeben und gut verrühren.
Schokolade in grobe Stücke hacken und unter den Teig heben.
Den Backofen auf 175 Grad vorheizen.
Ein Muffinblech mit Papierförmchen auskleiden, jeweils zu 2/3 füllen. 15 Minuten backen, danach auskühlen lassen.
Für das Frosting die Butter mit dem Pfefferminz-Extrakt verrühren. Den Puderzucker sieben und dazu geben.
Die Schokolade schmelzen und etwas abkühlen lassen, dann zur Butter-Zucker-Mischung geben und gut verrühren.
Frosting in einen Spritzbeutel mit Sterntülle geben und die Cupcakes damit verzieren. Auf jeden Cupcake ein After Eight setzen.
English recipe
After Eight cupcakes
Makes 18 cupcakes +++ prep time 30 minutes +++ baking time 15 minutes
Drucken
INGREDIENTS
Cupcakes

250g soft butter

250g sugar

4 eggs

400g flour

8g baking powder

125ml heavy cream

3 tbsp cocoa

1 tsp vanilla extract

2 tbsp peppermint extract

200g dark chocolate

Frosting

300g soft butter

300g icing sugar

300g dark chocolate

2 tbsp peppermint extract

18 After Eights
Drucken
METHOD
Cream the butter and sugar until fluffy. Add the eggs one at a time, beating well each time.
Mix the flour, baking powder and cocoa, then stir into the mixture alternately with the cream.
Add the vanilla and peppermint and mix well.
Chop the chocolate into coarse pieces and fold into the dough.
Preheat the oven to 175 degrees celsius.
Line a muffin tin with paper cups, fill 2/3 full. Bake for 15 minutes, then leave to cool.
For the frosting, mix the butter with the peppermint extract. Sieve the icing sugar and add it.
Melt the chocolate and leave to cool slightly, then add to the butter and sugar and mix.
Pour the frosting into a piping bag with a star-shaped nozzle and decorate the cupcakes with it. Place an After Eight on each cupcake.