Für viele Menschen sind Äpfel das ultimative Herbst-Obst – für mich um ehrlich zu sein auch. Ich mag nicht nur ihren Geschmack, sondern auch ihre Farbe, und es macht einfach wahnsinnig viel Spaß, mit ihnen zu backen. Über die ganze Begeisterung für Äpfel vergisst man aber schnell, dass es noch so viel mehr leckere Obstsorten im Herbst gibt: zum Beispiel die Birne. Sie wird leider ziemlich oft übersehen, obwohl sie so lecker ist! Ich wollte diesen Herbst neben den klassischen Apfelrezepten unbedingt auch mehr Birnen zum Backen nutzen, und hier ist das erste Rezept, dass ich mit den leckeren grün-gelben Früchten entwickelt habe 🙂
Neben Obst sind ja auch Gewürze im Herbst eine große Sache. Hier habe ich mich mal an Kardamom probiert, mit dem ich sonst noch nie wirklich gebacken habe, und ich muss sagen, ich bin überzeugt. Dazu noch ein leichter Kakaogeschmack und gesalzenes Karamell – alles in allem eine sehr gute Mischung 🙂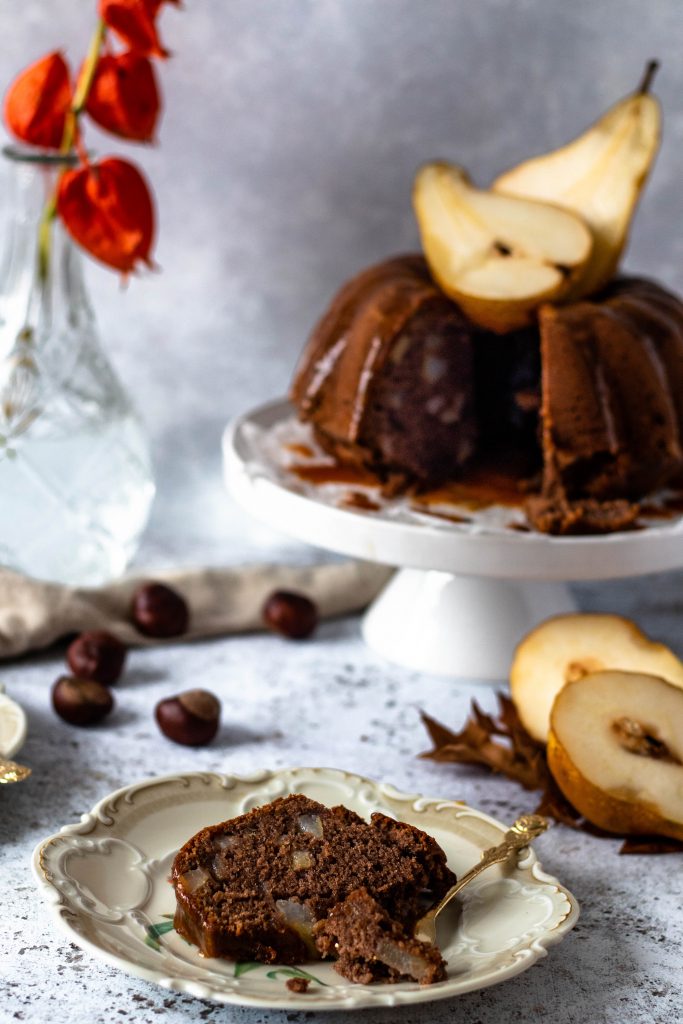 Das Gute an diesem Kuchen ist aber nicht nur der Geschmack, sondern auch, dass er superschnell zusammengerührt ist. Das Rezept ist an einen simplen, klassischen Rührkuchen angelehnt, und tatsächlich dauert es gerade mal 15 Minuten, bis der Kuchen im Backofen ist. Also ran an die Birnen und viel Spaß beim Backen!
Birnen-Kardamom-Kuchen mit Salzkaramell
Zutaten
Für den Kuchen

250g Butter

250g Zucker

4 Eier

400g Mehl

1 Päckchen Backpulver

0,5 TL gemahlener Kardamom

2 Birnen

125ml Milch

2 EL Kakaopulver

Für das Salzkaramell

100g Zucker

50g Butter

50ml Sahne

1 TL Salz
Zubereitung
Butter und Zucker schaumig schlagen, Eier einzeln unterrühren.
Mehl, Backpulver und Kardamom mischen, dann abwechselnd mit der Milch unter die Masse rühren.
Birnen waschen, entkernen und in kleine Würfel schneiden, unter den fertigen Teig heben.
Guglhupfform fetten und einmehlen, Teig einfüllen.
Im auf 175 Grad vorgeheizten Backofen eine Stunde backen. Herausnehmen, in der Form abkühlen lassen. Den Kuchen stürzen.
Während der Kuchen abkühlt, das Salzkaramell zubereiten: Zucker in einem Topf schmelzen lassen. Die Butter in Stücken dazugeben und verrühren. Sahne hinzugeben, kurz aufkochen lassen. Salz hinzugeben und vom Herd nehmen. Abkühlen lassen, bis das Karamell fester wird. Dabei nicht zu fest werden lassen, da das Karamell ja noch über den Kuchen gegossen wird.
Karamell über den abgekühlten Kuchen gießen.
English recipe
Pear cardamom bundt cake with salted caramel
Makes 16 pieces of cake +++ baking time 60 minutes +++ total time 75 minutes
Drucken
INGREDIENTS
250g butter

250g sugar

4 eggs

400g flour

15g baking powder

0,5 tsp ground cardamom

2 pears

125ml milk

2 tbsp cocoa powder
Drucken
METHOD
Beat butter and sugar until fluffy, stir in eggs one by one.
Mix flour, baking powder and cardamom, then alternately stir into the mixture with the milk.
Wash pears, remove seeds and cut into small cubes, fold into the finished dough.
Grease and flour the bundt cake pan and fill in the dough.
Bake in the oven preheated to 175 degrees Celsius for one hour. Remove from the oven and leave to cool in the mould. Turn out the cake.
While the cake is cooling down, prepare the salted caramel: Melt the sugar in a saucepan. Add the butter in pieces and mix. Add the cream and bring to the boil briefly. Add salt and remove from the heat. Leave to cool until the caramel becomes firm. Do not let it get too firm, as the caramel will still be poured over the cake.
Pour the caramel over the cooled cake.