Im letzten Post habe ich ja schon meine große Liebe für Pflaumen verkündet, und genau damit geht es jetzt auch weiter! Ich habe mir an einem Wochenende mal richtig Zeit genommen, um selbst Pflaumenmus zu machen – und tatsächlich muss man zwar relativ lange warten, aber die Zubereitung selbst (also die einzelnen Arbeitsschritte) dauern gar nicht mal so lange.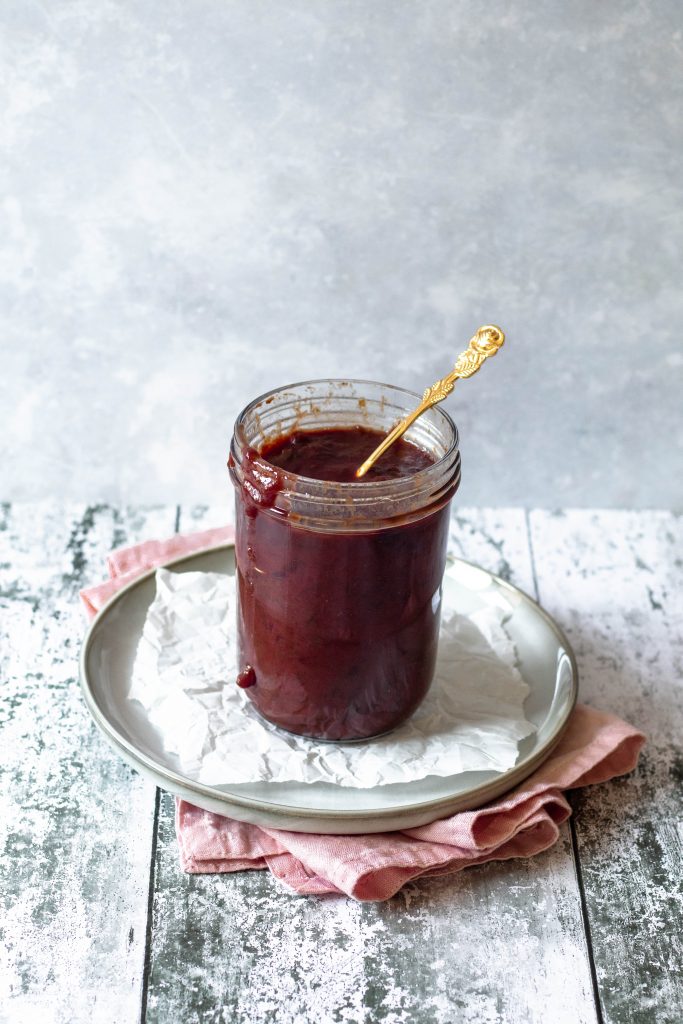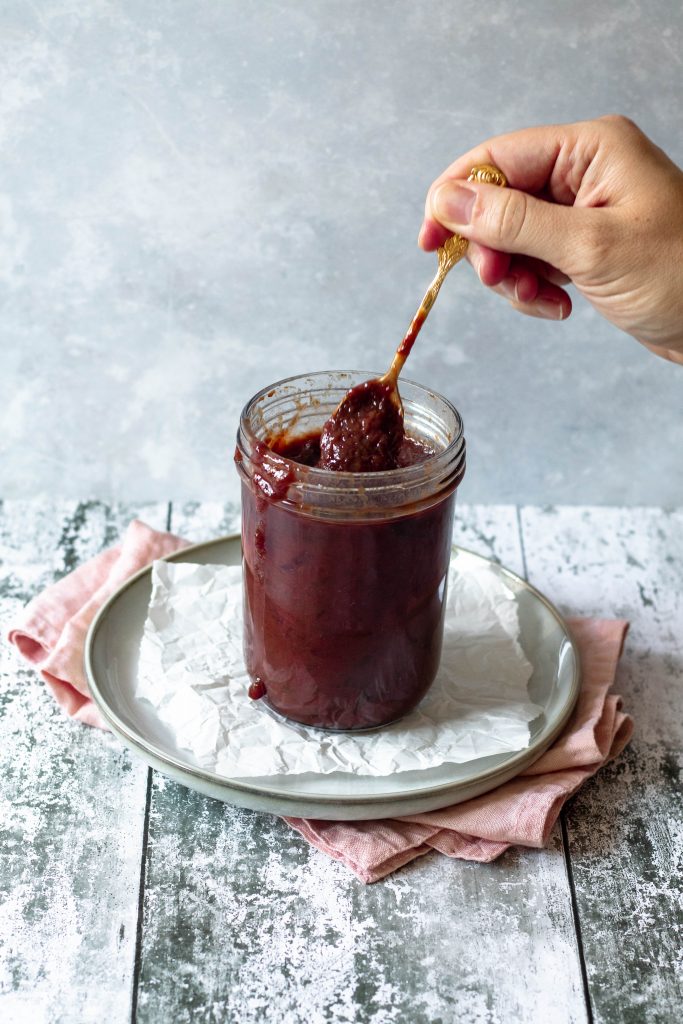 Im ersten Schritt muss man die Pflaumen (oder Zwetschgen) einfach kleinschneiden und mit Zucker und Gewürzen vermengen, dann wartet man bis zum nächsten Tag. Am nächsten Morgen (oder auch Abend, man sollte das Obst nur mindestens zwölf Stunden ziehen lassen) haben die Pflaumen Saft gezogen und man kann beginnen, alles aufzukochen. Dafür braucht es jetzt tatsächlich etwas Zeit – am besten macht ihr euch einen Podcast oder ein gutes Album an oder schnappt euch euer Buch und macht es euch in der Küche gemütlich, während das Mus vor sich hin kocht. Es lohnt sich auf jeden Fall, das Ergebnis ist ein samtweiches, nicht zu süßes Pflaumenmus, das köstlich auf Brot, aber auch als Füllung für Kuchen und Gebäck schmeckt. Viel Spaß!
Pflaumenmus mit Zartbitter-Schokolade
Zutaten
3 kg Pflaumen (oder Zwetschgen)

500 g brauner Zucker

2 Zimtstangen

2 Nelken

1/2 Prise Kardamom

2 EL Zitronensaft

100 g Zartbitterschokolade
Zubereitung
Pflaumen waschen, halbieren und entkernen, in eine große Schüssel geben. Die Schüssel sollte wirklich groß sein, damit man die Pflaumen gut mit den Gewürzen vermischen kann.
Zucker, Gewürze und Zitronensaft dazugeben und vermengen.
Mischung über Nacht abgedeckt stehen lassen – mindestens 12 Stunden.
Pflaumen mit dem sich über Nacht gebildeten Saft in einen Topf geben und aufkochen. 2,5 Stunden weiter kochen lassen, dabei regelmäßig umrühren. Am Ende sollte eine Art Brei entstehen.
Nach etwa 2 Stunden die Schokolade klein hacken und in das Mus geben, dann verrühren, bis sich die Schokolade aufgelöst hat.
Schraubgläser sterilisieren: Sowohl das Glas als auch den Deckel mit kochendem Wasser ausspülen – danach nicht mehr in das Glas fassen! Sonst riskiert man, das Bakterien hineinkommen.
Das heiße Pflaumenmus in die Gläser geben, verschließen und dann auf den Kopf drehen, auskühlen lassen.
English recipe
Plum jam with dark chocolate
Makes 4 jars of 250 ml +++ Prep time 3 hours +++ Total time 15 hours
Drucken
INGREDIENTS
3 kg plums

500 g brown sugar

2 cinnamon sticks

2 cloves

1/2 pinch of cardamon

2 tbsp lemon juice

100 g dark chocolate
Drucken
METHOD
Wash the plums, cut them in half and remove the seeds, put them in a large bowl. The bowl should be really big so that you can mix the plums well with the spices.
Add sugar, spices and lemon juice and mix.
Leave the mixture covered overnight – at least 12 hours.
Place the plums in a pot with the juice that has formed overnight and bring to the boil.Continue cooking for 2.5 hours, stirring regularly until it becomes jam.
After about 2 hours, chop the chocolate into small pieces and add to the jam, then stir until the chocolate has dissolved.
Sterilize jars: Rinse both the jar and the lid with boiling water – do not touch the inside of the jar again afterwards! Otherwise you run the risk of bacteria getting in.
Pour the hot plum jam into the jars, close them and then turn them upside down, let them cool down.