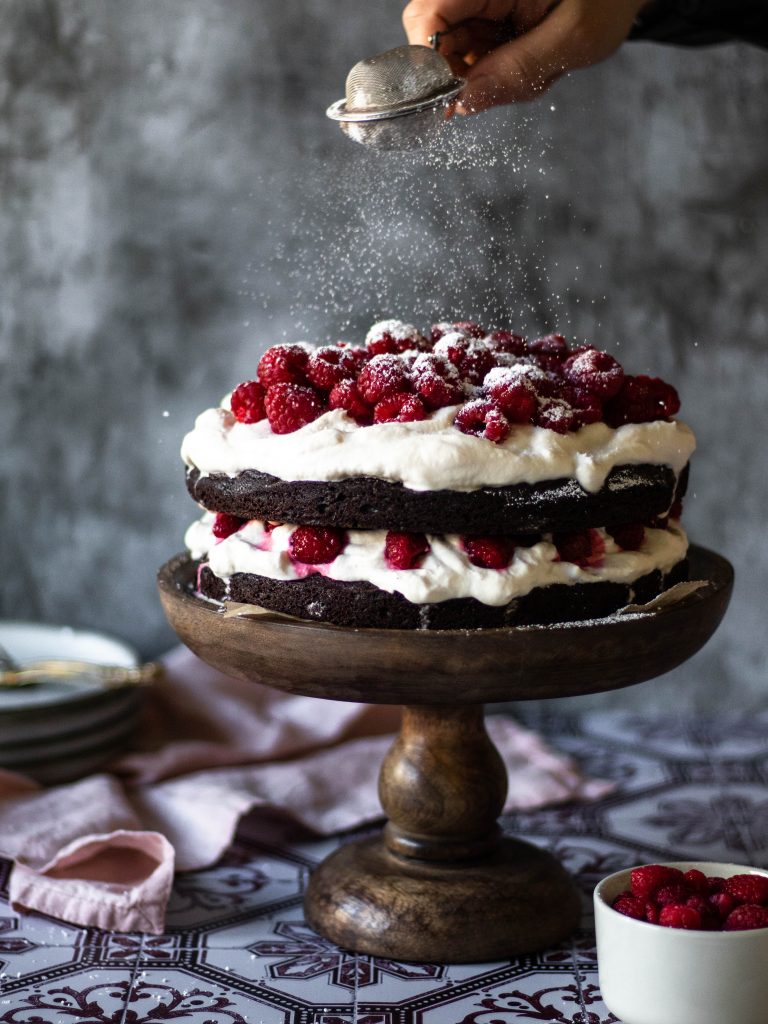 +++ scroll down for English version +++
Happy St. Patrick's Day! Ich bin ja eigentlich kein großer Fan davon, irgendwelche x-beliebigen Feiertage zu feiern, nur weil andere es tun (Stichwort Halloween), aber St. Patrick's Day mag ich gern. Das liegt vielleicht auch daran, dass ich vor vielen Jahren mal mit einer lieben Freundin an diesem Tag in Dublin war und wir einfach rundherum eine gute Zeit hatten. Abgesehen davon mag ich Guinness. Baileys dagegen finde ich als Getränk ein bisschen klebrig. Im Kuchen dagegen schmeckt es mega. Deswegen war es klar, dass ich für den 17. März irgendetwas tolles Süßes damit backen musste – das Ergebnis ist dieser Brownie-Kuchen mit Baileys-Sahne und Himbeeren! Und das ganz ohne grüne Farbe.
Der Boden: Zwei große runde Brownies
Beginnen wir mit den Böden. Durch viel Zartbitterschokolade und dunklem Kakao sind sie fast schwarz und schmecken extrem schokoladig, aber nicht zu süß. Das muss auch nicht sein, denn immerhin kommt noch jede Menge Sahne darauf (und ein leichter Balance-Kuchen ist das hier auch trotzdem nicht…). Durch die Zugabe von Öl werden die Böden schön saftig. Da ich nur eine Springform in der passenden Größe besitze, habe ich den Teig vor dem Backen abgewogen und dann genau die Hälfte in die Form gegeben – so kann man sicher gehen, dass die Böden nach dem Backen relativ gleich groß sind. Falls sich die Böden beim Backen nach oben wölben, könnt ihr sie beim Zusammensetzen des Kuchens begradigen (dazu findet ihr unten im Rezept mehr). Das ist allerdings nicht unbedingt nötig, solange die Kuppel nicht riesig ist. Durch die Himbeeren wird der Kuchen nämlich etwas stabiler – ich habe, nachdem ich den zweiten Boden aufgesetzt hatte, noch einige Himbeeren darunter geschoben, so dass er rundum etwas fester saß. Hat gut funktioniert, der Kuchen hat nämlich sogar den Transport ins Büro überlebt.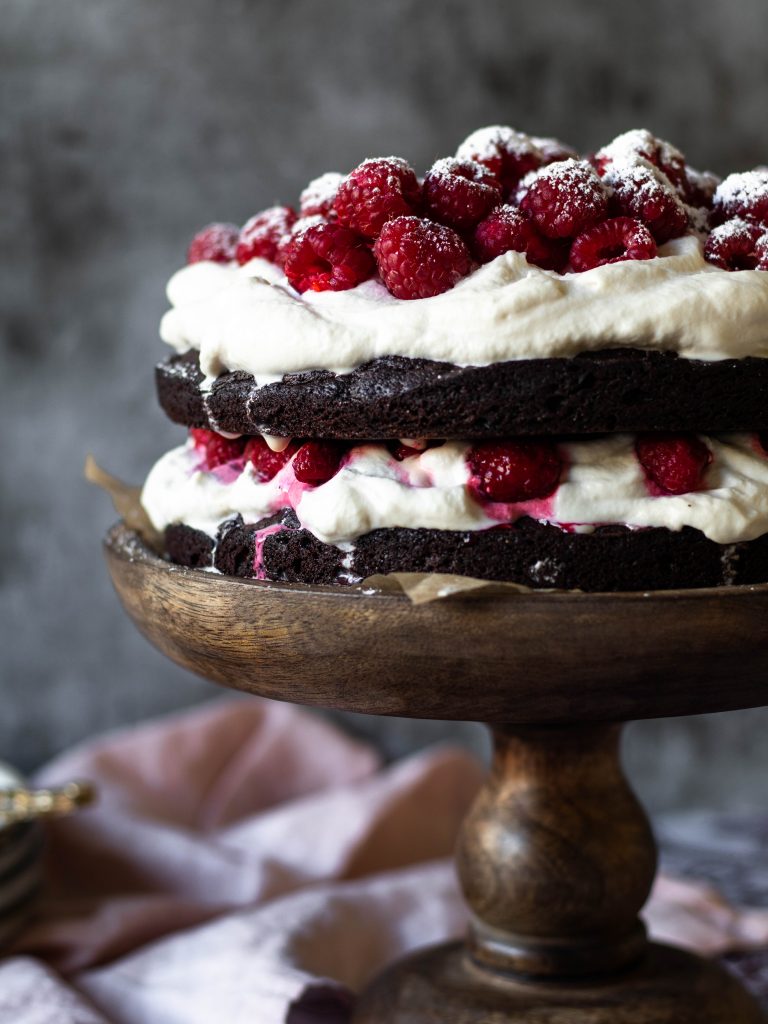 Aber bitte mit Sahne
Der Baileys kommt in die Sahne – er wird also nicht mitgebacken. Solltest du schwanger sein oder einfach generell keinen Alkohol trinken, oder wenn eins davon auf einen der Menschen zutrifft, mit denen du den Kuchen isst, dann musst du den Likör leider weglassen. Der Kuchen schmeckt trotzdem – und statt Baileys kannst du zum Beispiel auch ein wenig Vanille-Aroma, Zimt oder ähnliches unter die Sahne rühren.
Brownie-Baileys-Torte
Zutaten
140g Butter

300g Zartbitterschokolade

300g Zucker

130g Mehl

100g Kakao

1 TL Backpulver

0,5 TL Salz

6 Eier

220ml Sonnenblumenöl

400ml Sahne

3 EL Baileys

400g Himbeeren
Zubereitung
Butter und Schokolade über dem Wasserbad schmelzen, Zucker dazugeben und verrühren, bis alles gut vermischt ist. Auskühlen lassen.
Mehl, Kakao, Backpulver und Salz vermischen.
Gib die Schokoladenmischung in eine große Schüssel oder in die Küchenmaschine und rühre dann die Eier einzeln unter. Öl hinzugeben und gut verrühren.
Die trockenen Zutaten vorsichtig darunter mischen.
Zwei 20cm-Springformen mit Backpapier auslegen und die Seitenränder einfetten. Den Teig gleichmäßig auf beiden Formen verteilen. Solltest du nur eine Springform haben, kannst du die beiden Böden auch nacheinander backen. Dazu am besten vorher den Teig abwiegen, um sicher zu gehen, dass die Böden gleich groß werden.
Bei 175°C im vorgeheizten Backofen 25 Minuten backen. Stäbchenprobe machen. Wenn der Kuchen fertig ist, herausnehmen und fünfzehn Minuten in der Form abkühlen lassen, dann auf ein Kuchengitter geben.
Die Sahne aufschlagen und den Baileys darunter mischen. Die Himbeeren waschen.
Einen Tortenboden auf den Kuchenständer oder die Servierplatte geben. Falls sich oben eine zu große Kuppel gebildet hat, den Boden etwas begradigen. Die Hälfte der Sahne darauf verteilen, dabei darauf achten, dass sie nicht bis an die Ränder kommt – rundherum etwa einen Zentimeter frei lassen. Sonst läuft alles heraus, wenn das Gewicht des zweiten Bodens nachher darauf drückt. Himbeeren auf der Sahne verteilen. Dann den zweiten Boden darauf setzen (auch diesen etwas begradigen, wenn das nötig ist). Den Rest der Sahne auf den zweiten Boden geben, dann großzügig die restlichen Himbeeren darauf verteilen. Puderzucker darüber streuen und servieren!
English recipe
Brownie Irish Cream Cake
Makes 1 cake +++ Prep time 30 minutes +++ Baking time 25 minutes
Drucken
INGREDIENTS
140g butter

300g dark chocolate

300g sugar

130g flour

100g cocoa

1 tsp baking powder

0,5 tsp salt

6 eggs

220ml sunflower oil

400ml heavy cream

3 tbsp irish cream

400g raspberries
Drucken
METHOD
Melt the butter and chocolate over a bain-marie, add the sugar and mix until well combined. Leave to cool.
Mix the flour, cocoa, baking powder and salt.
Put the chocolate mixture in a large bowl and stir in the eggs one at a time. Add the oil and mix well.
Carefully mix in the dry ingredients.
Line two 20cm springform tins with baking paper and grease the sides. Divide the batter evenly between the two tins. If you only have one springform pan, you can also bake the two cake layers one after the other. To do this, weigh the dough beforehand to make sure that the layers will have the same size.
Bake in a preheated oven at 175°C for 25 minutes. Test with a chopstick. When the cake is ready, remove and leave to cool in the tin for fifteen minutes, then transfer to a cooling rack.
Whip the cream and mix in the irish cream. Wash the raspberries.
Place one cake layer on the cake stand or serving plate. If the top has formed a dome, straighten it a little. Spread half of the cream on top, making sure that it does not reach the edges – leave about a centimetre free all around. Otherwise it will all spill out when the weight of the second layer presses down on it. Spread the raspberries over the cream. Then place the second cake layer on top (also straighten it a little if necessary). Pour the rest of the cream on the second cake base, then generously spread the remaining raspberries on top. Sprinkle with icing sugar and serve!