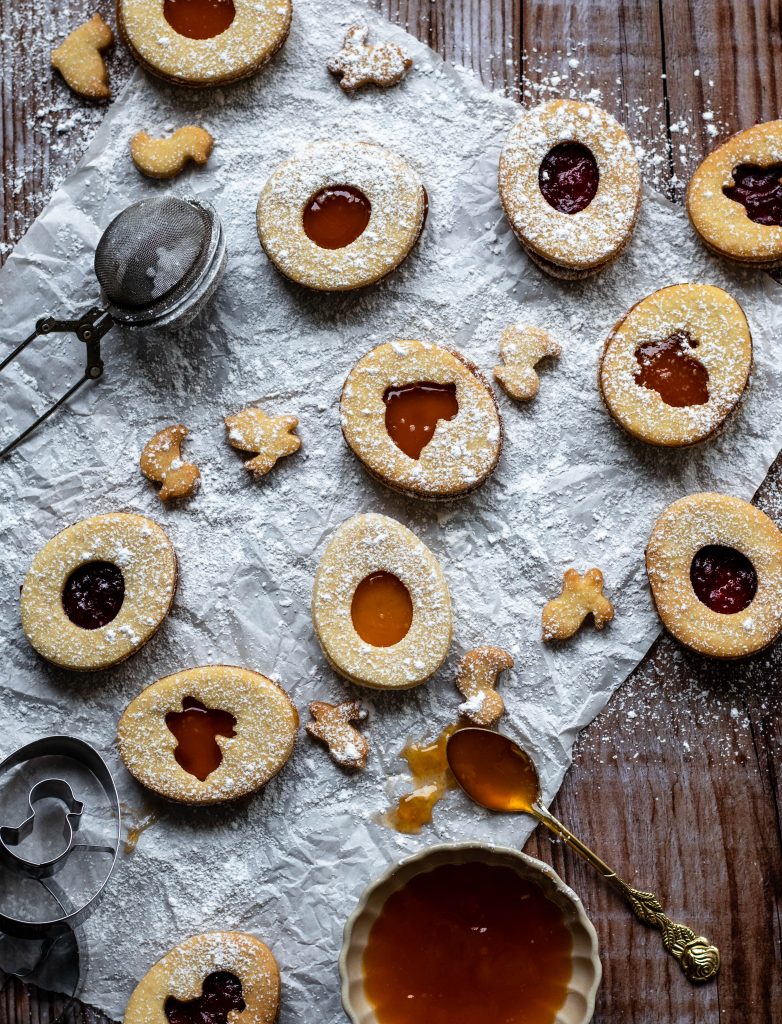 +++ Scroll down to see the recipe in English +++
Ostern ist nicht mehr weit und deswegen gibt es heute ein extra einfaches Osterrezept für euch. Wahrscheinlich habt ihr sogar alle Zutaten dafür schon zu Hause: Die Kekse bestehen nämlich nur aus einem ganz einfachen Mürbeteig aus Mehl, Butter, Zucker und Ei und werden mit Marmelade gefüllt. Welche Marmelade, ist dabei ganz egal – einfach die, die dir am besten schmeckt! Ich habe dieses Mal Aprikose und Preiselbeere verwendet, weil ich diese noch im Küchenschrank hatte, aber wie gesagt: Nimm einfach die, die du gerne magst. Alternativ könntest du auch Nutella nehmen – schmeckt garantiert auch 🙂
Warum immer nur an Weihnachten Kekse ausstechen?
Es muss nicht Weihnachten sein, um Kekse auszustechen, das geht an Ostern mindestens genauso gut 🙂 Für den oberen Keks der Doppeldecker-Kekse habe ich Ausstechformen in Eiform genommen, die noch ein zusätzliches Motiv eingearbeitet haben. Du kannst aber auch eine ganz normale Eiform nehmen und mit einer kleineren Form aus der Hälfte der Kekse noch ein kleineres Motiv ausstechen (alles natürlich vor dem Backen). Wichtig ist nur, dass die Hälfte der Eier kein Motiv haben sollte, denn diese bilden die Unterseite der Kekse und wenn sie ein Loch haben, läuft die Marmelade raus 😀
Einfacher Teig = bester Teig
Ein einfacher Mürbeteig ist was feines. Das Ergebnis sind superleckere, zarte Kekse. Natürlich kannst du den Teig mit verschiedenen Noten verfeinern, zum Beispiel mit Vanille-Extrakt, abgeriebener Orangenschale, Kakaopulver und vielem mehr. Das bleibt ganz dir überlassen, achte nur darauf, dass der Geschmack des Teiges auch ein bisschen zur Füllung passen sollte! Aber viel falsch machen kann man da eigentlich nicht 🙂
Easy Peasy Osterkekse
Zubereitungszeit
30
Minuten
Zutaten
300g Mehl

200g Butter

100g Zucker

1 Ei

150g jam of your choice, I've used apricot and cranberry

Puderzucker zum Bestäuben
Zubereitung
Die Butter in kleine Stücke schneiden und mit dem Mehl, dem Zucker und dem Ei zu einem glatten Teig verarbeiten. Darauf achten, dass alle Zutaten vor der Verarbeitung schön kalt sind. Den Teig für zehn Minuten in den Kühlschrank stellen.
Den Backofen auf 180°C vorheizen.
Die Arbeitsfläche bemehlen und den Teig darauf etwa 0,3 cm dünn ausrollen. Dann mit einer Osterei-Form Kekse ausstechen (natürlich geht das auch mit jeder anderen Form!). In die Hälfte der ausgestochenen Teig-Eier vorne einen kleinen Kreis oder ein anderes Motiv hineinstechen. Diese ergeben später die Oberseite der Kekse.
Die ausgestochenen Kekse auf ein mit Backpapier belegtes Backblech legen und für etwa zehn Minuten in den Ofen geben. Herausholen und auf einem Kuchengitter auskühlen lassen.
Die Kekse ohne Loch mit Marmelade bestreichen – sollte die Marmelade zu fest sein, diese vorher etwas erwärmen. Dann eines der Eier mit ausgestochenem Motiv aufsetzen und etwas festdrücken, jedoch nicht zu sehr, damit die Marmelade nicht an den Seiten herausquillt. Die Kekse wieder auf das Kuchengitter legen und mit Puderzucker bestäuben.
English recipe
Easy Easter cookies
25 cookies +++ baking time 10 minutes +++ prep time 30 minutes
Drucken
INGREDIENTS
300g flour

200g butter

100g sugar

1 egg

Icing sugar
Drucken
METHOD
Cut the butter into small pieces and mix with the flour, sugar and egg to make a smooth dough. Make sure that all the ingredients are cold before processing. Put the dough in the fridge for ten minutes.
Preheat the oven to 180°C.
Flour the work surface and roll out the dough to a thickness of about 0.3 cm. Then cut out biscuits with an Easter egg mould (of course, this also works with any other mould!). Cut a small circle or other motif into the front of half of the cut-out dough eggs with a smaller mould. These will later form the top of the biscuits.
Place the cut-out biscuits on a baking tray lined with baking paper and place in the oven for about ten minutes. Remove and leave to cool on a cooling rack.
Spread the jam on the biscuits without the hole – if the jam is too firm, warm it a little beforehand. Then place one of the eggs with the motif cut out on top and press down a little, but not too hard so that the jam does not ooze out the sides. Place the biscuits back on the cake rack and dust with icing sugar.