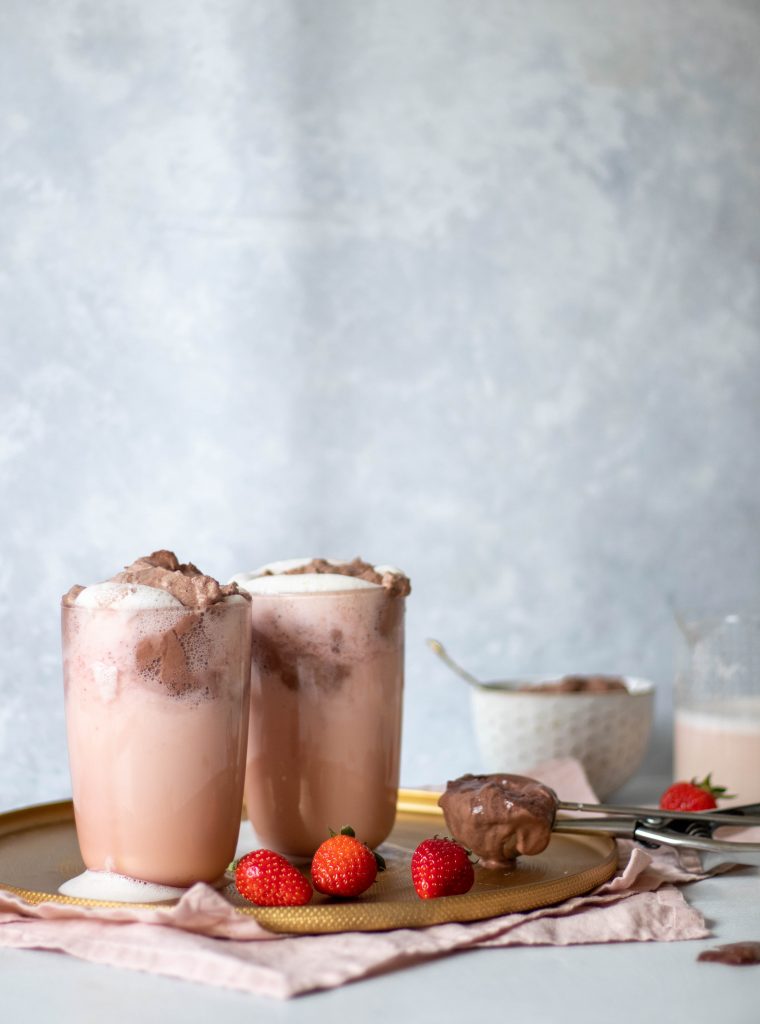 +++ Scroll down for English recipe +++
Ich mag keinen Kaffee. Ich weiß, verrückt. Ich glaube, ich habe nie etwas gesagt, über das die Leute mehr ihren Kopf geschüttelt haben. Und dann immer die gleichen Fragen: Wie kannst Du denn keinen Kaffee trinken? Machst Du das aus gesundheitlichen Gründen? Was machst Du, wenn Du müde bist? Magst Du auch keine Kaffee-Schokolade? Die Antworten: Nein, ich mache das nicht aus gesundheitlichen Gründen, mir schmeckt Kaffee einfach nicht. Wenn ich müde bin, trinke ich Cola oder schwarzen Tee (meistens letzteres). Kaffee-Schokolade mag ich auch nicht (Tiramisu aber schon).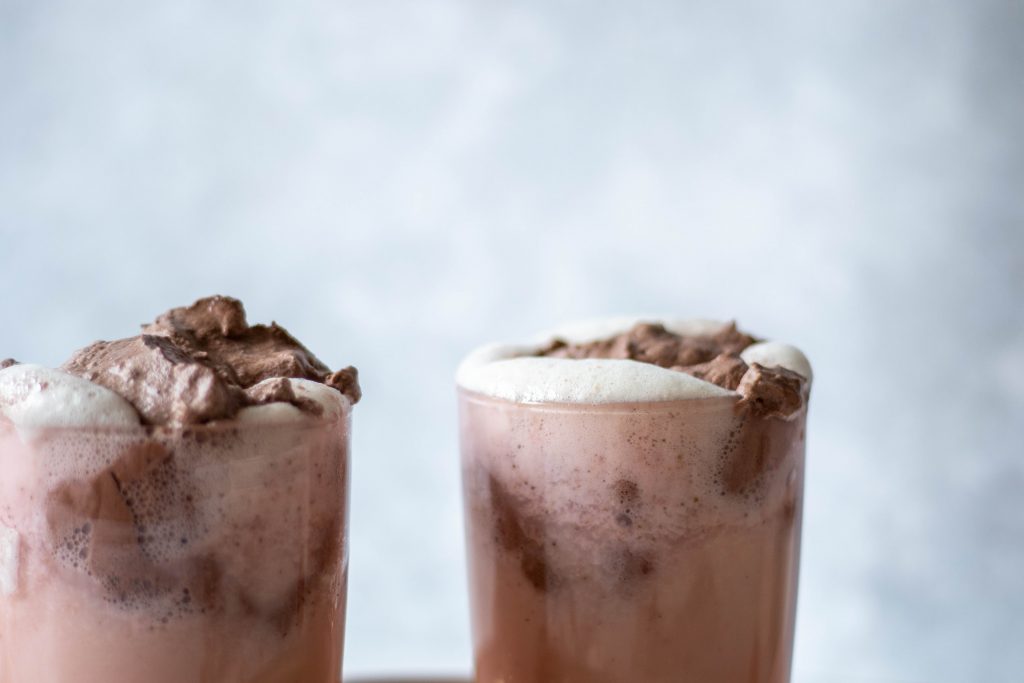 Manchmal wünsche ich mir aber doch, Kaffee würde mir schmecken. Meistens, wenn ich fancy Kaffee-Fotos auf Instagram sehe, auf denen in schönen Gläsern Kaffee und Milch langsam ineinander fließen. Und momentan gibt es dank dem Dalgona-Coffee-Trend extrem viele tolle Kaffee-Bilder! Ich finde übrigens auch, dass das verdammt lecker aussieht. Deswegen habe ich mir eine Dalgona-Coffee-Variante ohne Kaffee überlegt. Das ganze ist dann irgendwie ausgeartet – und raus kam dieser Erdbeer-Milchshake mit Schokoladeneis und Nutellasahne. Nutellasahne ist übrigens das beste, was ich seit langem gegessen habe. Sie tötet zwar alle Diätpläne, die man je hatte, aber darüber muss man einfach mal hinwegsehen 🙂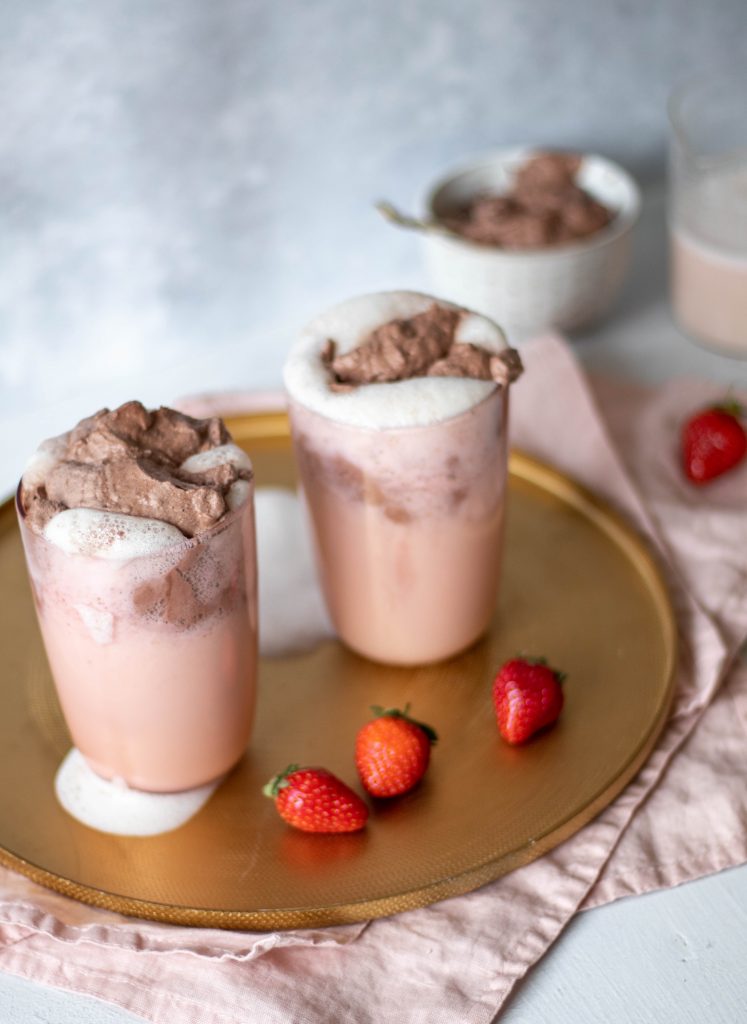 Ich hatte mir von Anfang an gedacht, eine Art Schokosahne zu machen. Nachdem ich Kakao in die geschlagene Sahne eingerührt hatte, war mir die Farbe aber nicht dunkel genug – also schaute ich ein bisschen in den Schränken, was ich noch nehmen konnte und fand das Nutella-Glas. Und Leute, das war ein guter Fund 🙂 Extrem mächtig die Sahne, aber lecker! Zum Schokoladeneis: Das könnt ihr natürlich auch selbst machen. Ich habe jetzt auf fertiges Eis zurückgegriffen, weil ich einfach schnell etwas zusammenstellen wollte. Wenn ihr aber die Zeit dazu habt – feel free!
Also wenn ihr gerade Lust auf etwas Süßes habt, ran an den Mixer und zaubert euch einen feinen kleinen Milchshake 🙂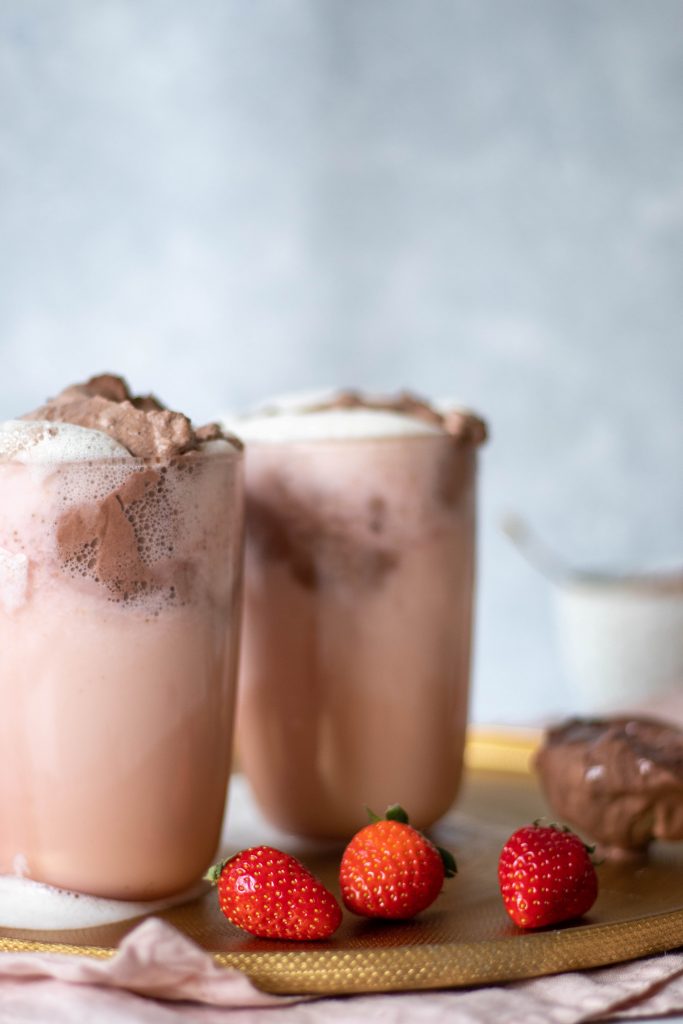 Erdbeer-Milchshake mit Schokoladeneis und Nutellasahne
Zubereitungszeit
10
Minuten
Zutaten
500 ml Milch

2 Handvoll Erdbeeren

500 ml Sahne

2 EL Zucker

2 EL Kakao

1 EL Nutella

2 Kugeln Schokoladeneis
Zubereitung
Milch und Erdbeeren im Mixer zu einer glatten Erdbeermilch pürieren. In zwei Gläser füllen.
Sahne steif schlagen, Zucker und ungesüßtes Kakaopulver einrieseln lassen.
Wenn die Sahne steif ist, Nutella einrühren.
Je ein Löffel Eis in die Gläser löffeln, mit Nutellasahne toppen. Falls sich oben viel Milchschaum gebildet hat, diesen vorher abschöpfen (sonst versinkt die Sahne zu sehr).
English recipe
Strawberry milk shake with chocolate ice cream and nutella whipped cream
Makes 2 glasses of milk shake +++ prep time 10 minutes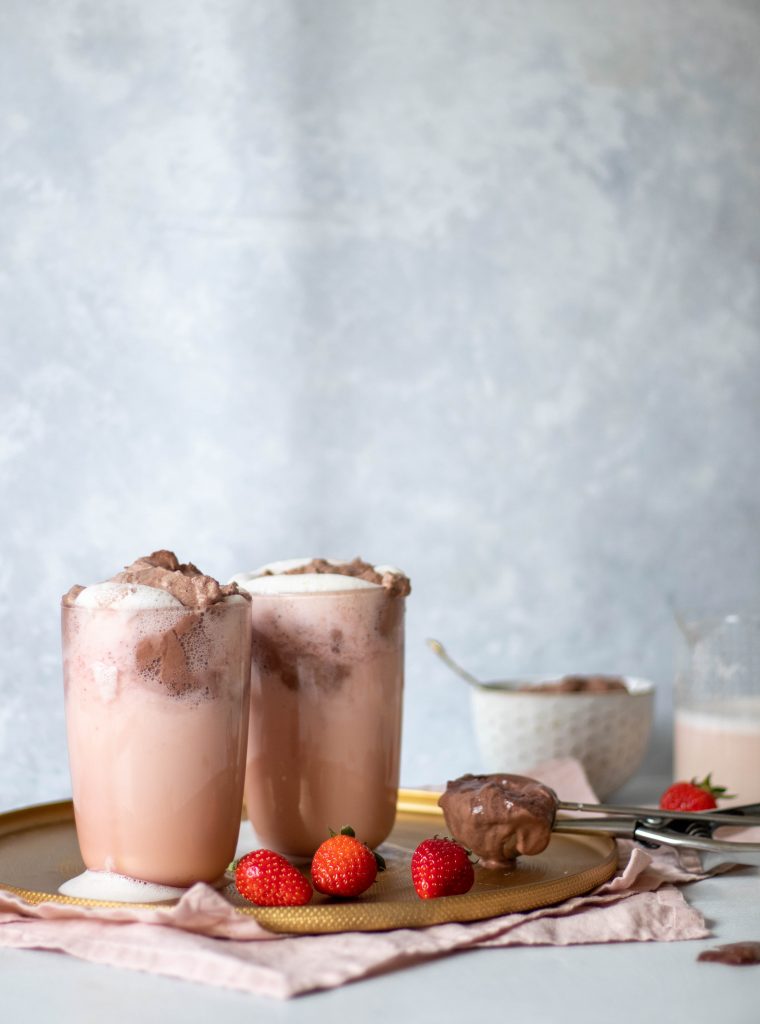 Drucken
INGREDIENTS
500 ml milk

2 hand full of strawberries

500 ml cream

2 tbs sugar

2 tbs cocoa

1 tbs Nutella

2 scoops of chocolate ice cream
Drucken
instructions
Blend the milk and strawberries in a mixer to a smooth strawberry milk. Pour into two glasses.
Whip cream until stiff, add sugar and unsweetened cocoa powder.
When the cream is stiff and forms peaks, stir in the Nutella.
Give a spoon of ice cream into each glass, topping with Nutella cream. If a lot of milk foam has formed on top, skim it off before (otherwise the cream will sink too much).