+++ Scroll down for English recipe +++
Der Frühling ist einer meiner liebsten Jahreszeiten und das liegt nicht nur an den wärmer werdenden Temperaturen und den blühenden Bäumen, sondern vor allem auch an dem vielen Obst und Gemüse, das dann endlich wieder Saison hat. Einer meiner absoluten Favoriten ist dabei der Rhabarber, und ich kaufe jedes Jahr unzählige Stangen und verarbeite sie zu den unterschiedlichsten Backwaren. Ich liebe einfach diesen säuerlichen Geschmack, vor allem, wenn er im Kontrast zu etwas sehr Süßem wie weiße Schokolade, Erdbeeren oder einfach einem guten Kuchenteig steht.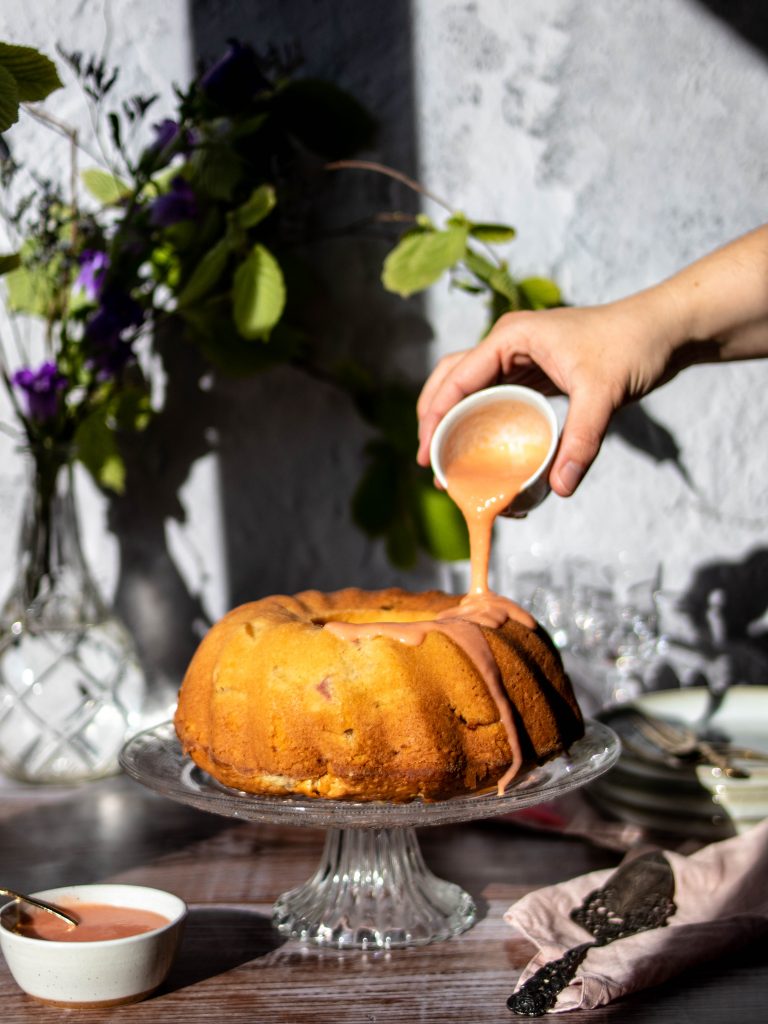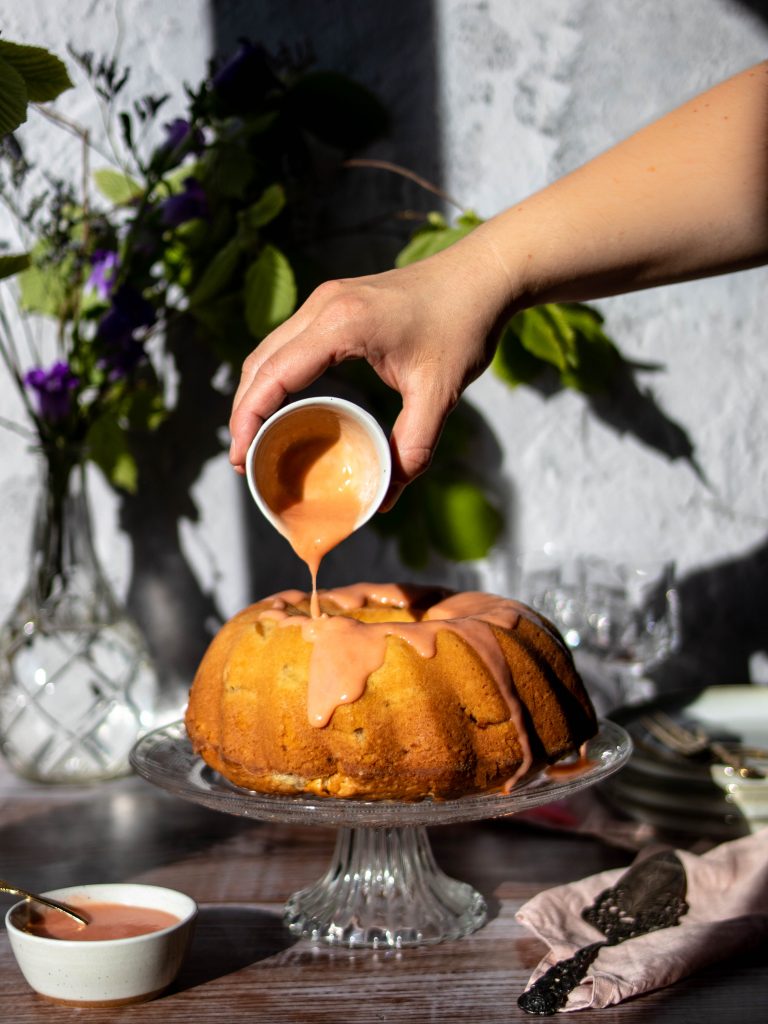 Rührkuchen mit Rhabarber – so einfach und so lecker
Meistens findet man Rhabarber ja auf Tartes oder unter Streuseln (was beides natürlich auch großartig ist). Ich hatte aber mal Lust, einen ganz simplen Kuchen mit Rhabarber zu machen, der nicht lange dauert und für den man nicht viele Zutaten braucht. Herausgekommen ist dieser Rührkuchen, der blitzschnell zusammengerührt ist und trotzdem mega schmeckt! Der Rhabarber muss nicht vorgekocht werden, sondern kann ganz einfach roh (nur in ein bisschen Zucker geschwenkt) in den Teig gegeben werden.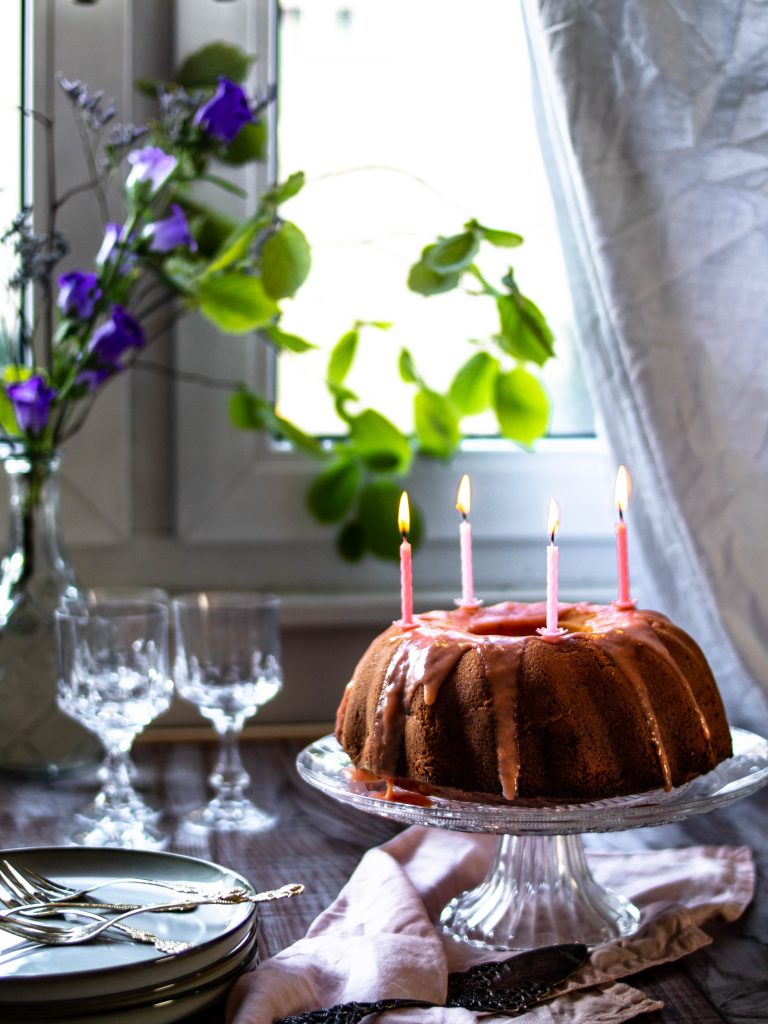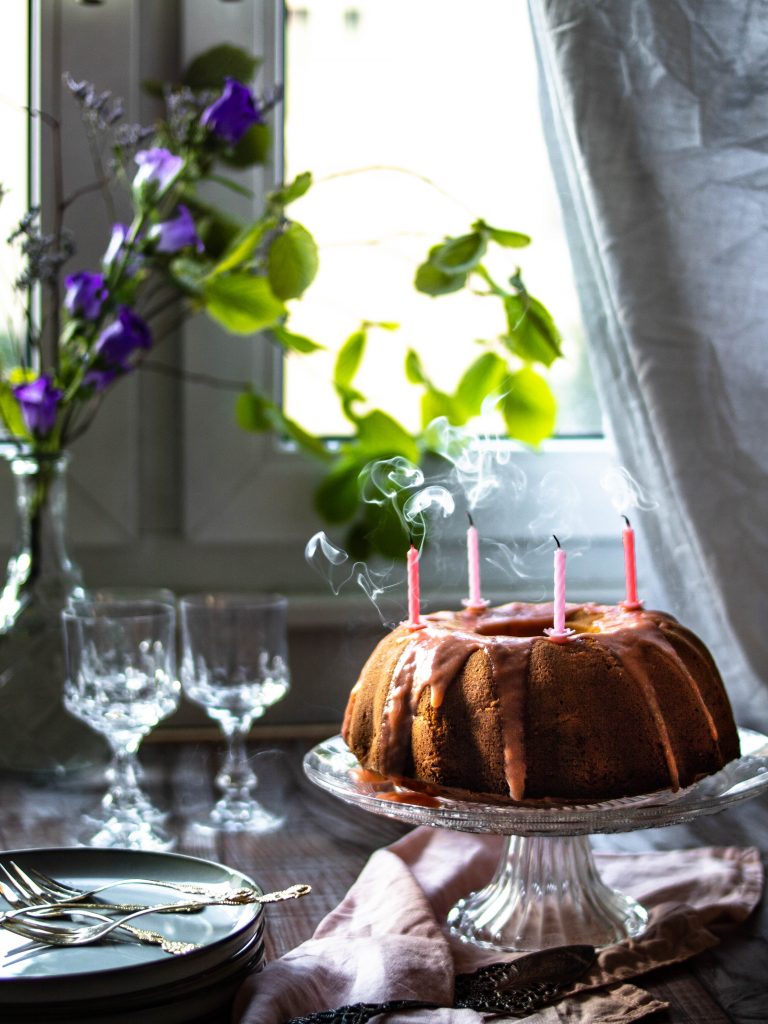 Geheimzutat: Schmand
Rührkuchen kann ja relativ schnell trocken und langweilig schmecken. Damit das hier nicht passiert, habe ich die klassischerweise für Rührkuchen verwendete Milch durch Schmand ersetzt. Das Ergebnis ist ein superweicher und saftiger Kuchen, der quasi auf der Zunge zergeht. Ich habe das erste Mal mit Schmand gebacken und bin extrem begeistert 🙂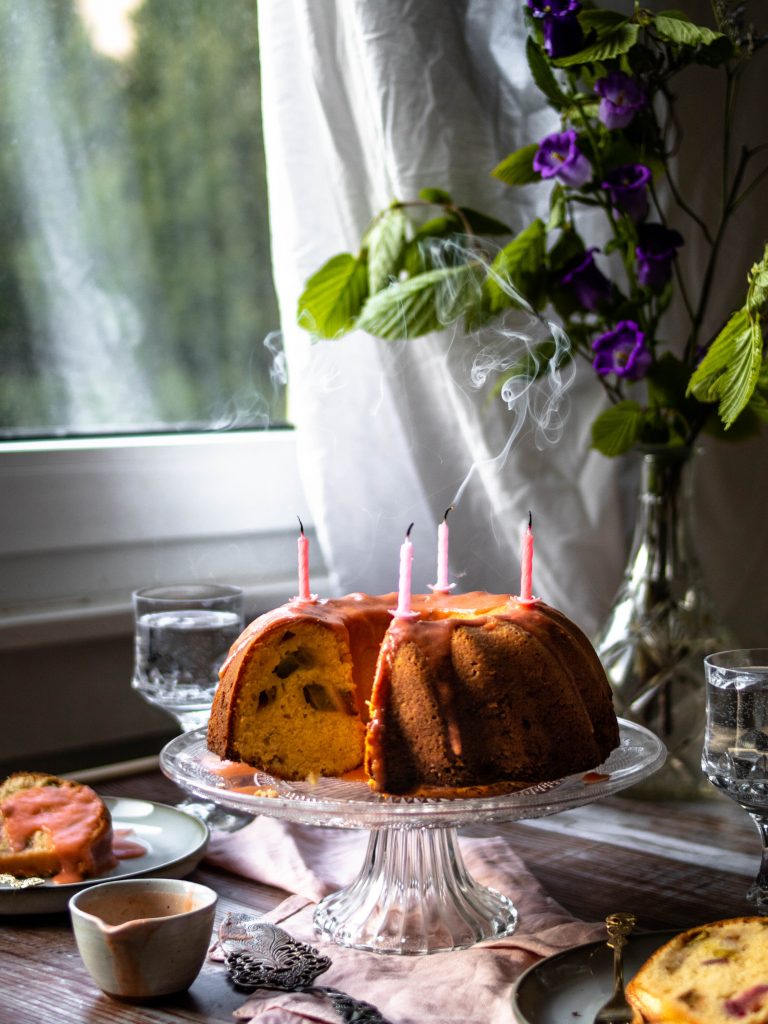 Rhabarber-Curd als krönender Abschluss
Der Kuchen schmeckt auch ganz ohne Glasur, aber ich habe mich für die volle Ladung Rhabarber entschieden und in mit einem superleckeren Rhabarber-Curd getoppt. Das sieht mit seiner rosa Farbe nicht nur bildhübsch aus, sondern schmeckt auch einfach gut und gibt dem Kuchen noch mal einen intensiveren Geschmack. Wenn euer Rhabarber eher grünlich ist und der Curd am Ende nicht die Farbe hat, die ihr euch wünscht, gebt ein bisschen rote Lebensmittelfarbe dazu, um den gewünschten Rosaton zu erzielen. Aber wirklich nur ein bisschen, sonst wird er zu knallig!
Der Curd ist nach einem leicht angepassten Rezept von lecker.de gemacht.
Rhabarberkuchen mit Schmand
Zubereitungszeit
60
Minuten
Zutaten
Für den Kuchen

250g weiche Butter

250g Rohrohrzucker

5 Eier

320g Mehl

2 TL Backpulver

200g Schmand

1 Prise Salz

1 EL Vanille-Extrakt

250g Rhabarber (etwa 3 Stangen, je nach Dicke)

30g Rohrohrzucker

Für den Rhabarber-Curd

200g Rhabarber (etwa 2 Stangen, je nach Dicke)

80g Zucker

50ml Wasser

3 frische Eigelb

1 Prise Salz

1 EL Zitronensaft

50g Butter
Zubereitung
Zuerst den Curd zubereiten. Du kannst das gerne auch schon ein paar Tage vorher machen, der Curd hält sich in einem gut verschlossenen Schraubglas etwa einen Monat im Kühlschrank. Zuerst den Rhabarber waschen, die Enden abschneiden und die Stangen in kleine Stücke schneiden. Mit ein wenig Zucker (etwa 2 EL) in einem Topf vermischen und etwa für eine halbe Stunde ziehen lassen.
Wasser hinzugeben und unter Rühren etwa acht Minuten bei mittlerer Hitze kochen, bis der Rhabarber weich ist, dann mit einem Pürierstab pürieren.
Eigelb, Salz und Zucker über einem heißem Wasserbad schaumig schlagen. Den pürierten Rhabarber und den Zitronensaft hinzugeben, dabei weiter schlagen. Den Topf vom Herd nehmen, jetzt die Butter hinzugeben und solange rühren, bis keine Stücke mehr zu sehen sind.
Den Rhabarber-Curd in ein Schraubglas füllen und im Kühlschrank kalt stellen. Sollte die Farbe euch zu grünlich/bräunlich sein, gebt ein wenig rote Lebensmittelfarbe hinzu, und der Curd nimmt ein schöne rosa Farbe an. Für den Kuchen braucht ihr nicht das gesamte Glas – den Rest könnt ihr zum Beispiel mit Joghurt oder als Brotaufstrich essen oder einfach noch etwas zusätzliches Curd auf euer Kuchenstück geben.
Weiter geht es mit dem Kuchen. Zuerst den Backofen auf 175°C vorheizen und die Guglhupf-Form einfetten und einmehlen. Ich habe eine recht große Form benutzt, in die etwa zwei Liter passen.
Rhabarber waschen, Enden entfernen und in kleine Stücke schneiden.
Butter und Zucker schaumig schlagen. Eier einzeln unterrühren. Salz und Vanille-Extrakt hinzugeben.
Mehl und Backpulver vermischen und dann in kleinen Portionen abwechselnd mit dem Schmand unterrühren. Dabei nicht zu lange rühren!
Rhabarber mit den 30g Rohrohrzucker vermischen und unter den Teig heben.
Teig in die vorbereitete Form geben und eine Stunde im Backofen backen.
Stäbchenprobe machen und genau gucken, ob alles durch ist. Wenn nicht, den Kuchen noch ein paar Minuten länger im Backofen lassen, bis das Stäbchen sauber aus dem Teig kommt. Danach den Kuchen eine halbe Stunde in der Form auskühlen lassen, dann stürzen.
Denn Curd über den Kuchen geben und servieren.
English recipe
Rhubarb bundt cake with sour cream and rhubarb curd
Makes 16 slices +++ prep time 60 minutes +++ baking time 60 minutes
Drucken
ingredients
To make the cake

250g soft butter

250g raw cane sugar

5 eggs

320g flour

2 tsp baking powder

200g sour cream

1 pinch of salt

1 tbsp vanilla extract

250g rhubarb (about three stalks, depending on thickness)

30g raw cane sugar

To make the curd

200g rhubarb (about two stalks, depending on thickness)

80g sugar

50ml water

3 fresh egg yolks

1 pinch of salt

1 tbsp lemon juice

50g butter
Drucken
METHOD
First prepare the curd. You can do this a few days in advance, the curd will keep for about a month in the fridge in a well-sealed screw-top jar. First wash the rhubarb, cut off the ends and cut the stalks into small pieces. Mix with a little sugar (about 2 tbsp) in a pan and leave to infuse for about half an hour.
Add the water and cook, stirring, for about eight minutes over a medium heat until the rhubarb is soft, then puree with a hand blender.
Beat the egg yolks, salt and sugar over a hot water bath until foamy. Add the pureed rhubarb and lemon juice, continuing to beat. Remove the pan from the heat, now add the butter and stir until no more pieces are visible.
Pour the rhubarb curd into a screw-top jar and chill in the fridge. If the colour is too greenish/brownish, add a little red food colouring and the curd will turn a nice pink colour. You don't need the whole jar for the cake – you can eat the rest with yoghurt or as a spread, for example, or just add some extra curd to your cake slice.
Continue with the cake. First preheat the oven to 175°C and grease and flour the cake tin. I used a fairly large mould that holds about two litres.
Wash the rhubarb, remove the ends and cut into small pieces.
Beat the butter and sugar until fluffy. Stir in the eggs one at a time. Add salt and vanilla extract.
Mix the flour and baking powder and then stir in small portions alternately with the sour cream. Do not stir too long!
Mix the rhubarb with the 30g raw cane sugar and fold into the batter.
Pour the batter into the prepared tin and bake in the oven for one hour.
Test with a chopstick and check that everything is cooked through. If not, leave the cake in the oven for a few minutes longer until the stick comes out clean. Leave the cake to cool in the tin for half an hour, then turn it out.
Pour the curd over the cake and serve.